The BET awards were held last week on June 26, 2011. This is one of those award shows that don't have a red carpet, exactly: this carpet was green and decorated with whimsical mushrooms. Lucky for us, this wacky red carpet means that there were some wacky outfits.
It was very hot and the sun was shining directly on the people on the red carpet so almost everyone is doing their best not to squint or perspire.
Let's take a look at these fashions after the jump.
Keke Palmer in Mandalay
It's a cute enough dress in a "this is what they'll wear in the future" way. She's wearing Mandalay but this dress is pretty much an exact copy of a
Balmain dress
. The only difference between the two is that this one has four horizontal skirt panels instead of three.
Elise Neal in BCBG Max Azria
This is one of the few cute, stylish, perfectly appropriate dresses. Too bad about the shoes.
Joyful Drake
It looks like a bridal gown, doesn't it? It's a little heavy for a beach wedding dress although it would work for a warm summer wedding at a park or something.
Rocsi Diaz
Many have said that she must have stolen this from an ice skater. Honestly, I don't think even an ice skater would wear this because it's clearly too tight around the hips and doesn't fit around the waist.
Shaun Robinson


The pattern is a touch busy but luckily the silhouette is gorgeous. She looks amazing.
Jacque Edmonds Cofer
She's an executive producer of shows on the BET network so she must be a fairly powerful woman. I guess when you're that powerful, you can wear whatever you want. Including a sheer caftan with sandals.
Tiffany Greene
She's the fan who read the viewer's choice winner incorrectly due to a mix-up. She may be famous now but when this picture was taken no one knew her. Fortunately, she made a good impression here, wearing a well-fitted dress and ok, if unexciting, accessories and shoes.
Alex_242
Most people have a number after their names when they're online, not in real life. Then again, people give themselves all kinds of names if it means that it'll draw attention to them. I suppose that wearing a sheer, too-long skirt is designed to draw attention to her, too.
Kerry Washington in Michael Kors
I want to like this but the only thing I like is the neckline and keyhole in the bodice. I like a skinny belt but not when it's paired with volume above and below and the front slit that turns into a train looks disproportionate to me. Of course her shoes don't help the overall look.
Meagan Good
It may be black and shiny but it still looks a lot like a prom dress. There's nothing wrong with wearing a prom dress to the prom... but to this award show?
Kamie Crawford in Sherri Hill
I have to wonder whether she's embarrassed having to wear that sash all the time? After all, it's kind of lame. And weirdly tiny. At least it takes attention away from the sequinned monstrosity of the dress.
Lola Monroe in Falguni & Shane Peacock
I have to admit that I love this getup, from the hair to the dress to the crazy shoes. If you can't dress a little crazy on a green carpet decorated with mushrooms, when can you dress this way?
Eve in Thomas Wyld
When I was in Junior High School, jeans with a zipper that started at the center front waist and went all the way under and back up to the back along with jeans that had zippers from the waist to the hem on the side seams were all the rage. Unfortunately, she looks like she's melting in the heat (and that top makes her hips look huge) which kind of defeats the sexiness of the pants.
Keri Hilson in Tibi
It's like the worst fashions from my youth are coming back. I wore black pleated pants with a narrow leg opening in High School.... but I never wore them with a purple bustier or tank top or as a jumpsuit. I didn't look any better in pants like these than she does.
Alicia Keys in Dolce & Gabbana
What is up with these gorgeous women wearing such shapeless outfits? This jumpsuit paired with this jacket are not at all flattering - they just make her look wide. Why do that?
Kelly Rowland in Notte by Marchesa
A cute, flattering dress. And having those ruffles mean that she never needs to worry about finding a tissue; she can just pull it off her dress. Flattering and functional - how can she go wrong?
Toccara Jones in Cynderella Couture
Well, this is.... interesting. The shape works for her, as does the colour, but that asymmetric hem looks weird in combination with the horizontal lines.
Amber Rose (with Wiz Khalifa)
Apparently they spent most of their time all over each other as if they were a pair of teenagers. At least she's not hiding anything in her ripped-up catsuit.
Nicki Minaj in Mark Fast
A knit dress with heavy tights on a warm day? She much have temperature-control issues as much as I do if she's comfortable in this.
Tenitra Michelle Williams in BCBG Max Azria
How is it that she can be wearing a flattering, lightweight jersey dress in the heat and not show any sweat marks? She must be superhuman. I love how the hem embellishment is picked up in her shiny shoes.
Ashanti in Jean Fares Couture
Another prom dress (with prom hair)... but this one doesn't seem to fit her all that well. At least, I don't think we're supposed to see both the horizontal wrinkles and her belly and ribcage.
LaLa Vasquez in Tom Ford
Is it just me or does her booty look enhanced? Maybe I'm just jealous because mine doesn't look nearly as good as hers does in this dress. This dress would be perfect if her extra-beautiful booty didn't raise the hemline in the back.
Willow Smith
She's Will Smith's daughter and I have to say that I'm rather loving her style: it's quirky and fun without being too cute. Love her hair.
Tracee Ellis Ross in Azzadine Alaia
Sure, the dress is sexy but the overall look is missing something. Is it too trashy? Does she need a bag or jewelry? Or different shoes?
MC Lyte in Elie Tahari


I do like a suit on the red carpet because it's so different from what we usually see. This suit looks fresh and cool on a hot day.
Laila Ali
Lots of people wear belts over their blouses. Most of those people aren't walking on a red carpet, however, and so it doesn't matter whether they look like (or are) wearing a fanny pack.
Estelle
I love this silhouette on her although it's way too long and the colour isn't all that flattering. Still, compared to some of the other outfits on this carpet, this one is a winner.
Porscha Coleman
The skirt isn't so bad but the top, with its lace and sheer bands, is a bit much. Especially once we factor in the lace arm- and neck-bands.
Jeanette Jenkins
Apparently she's a trainer who wanted to be a football player. You can tell by the way she's emphasized her shoulders.
NeNe Leakes in Herve Leger
She's one of those real housewives on tv, I don't think enough of them to actually keep track of who's who. I'm not sure that this is the best choice of dress for her, considering that her boobs look as big as her head.
Ledisi
I don't know what to say about this sequinned, short romper which is over the top and not all that flattering.
Jennifer Williams
She is or was some basketball wife of some kind. There's something about the angle at which this picture was taken that makes her boobs look as big as her head and her feet look huuuge. The dress is ok although it does contribute to how ginormous her boobs look.
Kyla Pratt in Society for Rational Dress
Pretty, if a bit shapeless. A more defined waistline would make her figure less of a rectangle.
Erica Atkins-Campbell (L) and Tina Atkins-Campbell of Mary Mary
They look like they're going to work in an office - or for an interview - rather than taking a walk on the red carpet.
Michelle Epps
If she thought the miniskirt was too short (and too tight), why didn't she choose another dress that fits and wasn't so sheer instead of wrapping that (too tight) "skirt" around her?
Jill Scott
The bag and earrings are a bit much. The dress is lovely, however; I especially like the embellishment at the at the waist because it's very slimming.
Alia Rose
It's a nice enough sundress with a flattering bodice. And even though she sure looks it, I don't think she's pregnant.
Kimberly Nichole in Missoni
Once again, this is an outfit out of my past: a half-shirt and slightly full skirt. I've even worn those colours, although in more flowered and less geometric patterns.
Porcelain Black
A lot of people out there didn't like this outfit but I love it. There just aren't enough opportunities to wear a padded cone bra and this, paired with the sheer skirt over granny panties.
Teairra Mari
She looks like a superhero to me what with the way her shoes that almost exactly match her hair, her stance, and that short, tight, revealing romper. Criminals aren't safe anymore!
April Woodard
Her shoes light up on the vamp (the top part). I guess they go with her 50s-inspire prom dress.
Diamond
I like the dress with its feather embellishments. It's white but it doesn't look at all like a wedding dress. Those shoes, however... you know, it's ok to be short. Really, it is. Everyone can tell when you're trying to look taller and they think you're silly for doing it.
Erica Gamble
I've bought I don't know how many jersey maxi-dresses for the summer. They're so comfortable and easy to wear and they look great. Personally, however, I wouldn't choose to wear one on the red carpet, no matter how hot it was that day.
Dondria Nicole Fields
How is it that this dress looks like a kids dress and looks to be too big for her? It's like she borrowed her younger, bigger sister's dress for the occasion.
Melyssa Ford
You know, I think that this kind of neckline is actually more attractive on a woman with small boobs than it is here, where it looks like her boobs could spring free at any moment.
Veronika Bozeman
I love the idea of this jumpsuit and if it was the right length and fit hr around the hips, I'd love it completely. The top is bold and sexy and it's well-balanced.
Cece Peniston
That's a whole lot of jacket for such a warm day! It's a good thing she's wearing these tight lace pants to let some air through or she might have broiled in the sun.
Skye P. Marshall
I'd be willing to overlook the crazy peplum on her high hip if the look had more on the shoulders to balance it. It's a cute dress and the embellishments add to it, however.
Claudia Jordan
It's so hot that even her ruffles are drooping and sad. It's just as well because they'd look silly (well, sillier) otherwise.
Demetrius Lucas
She's a blogger who got invited to this event but I don't think that's enough to excuse this dress. The best I can say is that it fits her.
Kechelle Whitney in Adrianna Papell
She's accessorized this outfit so that the dress doesn't actually look too bridal. I have to admit that I rather like the lace effect on the bodice; with the longer skirt it doesn't look too much like an ice-skating costume. The fact that the dress fits her so well doesn't hurt, either.
Mari Morrow
I love the way the stripes have been used on this dress although the whole outfit feels a bit casual for the event.
L-R: Dawn Richard, Sean Coombs, Kalenna Harper (aka rap group Diddy Dirty Money)
The ladies both look fantastic in each of their white jumpsuits: both outfits fit and flatter them even though they're completely different styles. Normally I don't like strapless outfits but somehow it works for Dawn as much as the halter bodice does for Kalenna.
Nia Long in BCBG Max Azria
She is pregnant here and while I don't love the long bodice ruffle, this dress looks easy to wear, suitable for the occasion, and fits her belly. The shoes are a bit heavy for my taste but if she's comfortable wearing them, who am I to say they're wrong?
Mary J. Blige in Herve Leger
I had no idea that she looked this hot. I'm not a huge fan of the turtleneck and straps but they're definitely her style. A plain dress just wouldn't have been right for her.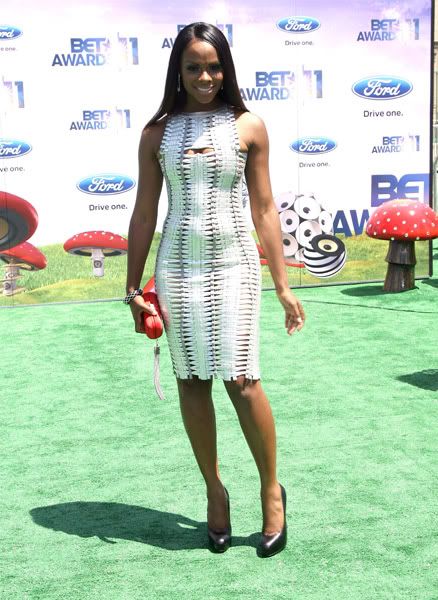 Tika Sumpter in Herve Leger
When we can see the wearer's bellybutton, the dress is too tight. I find this dress a bit too long as well; I think it would look better if it were two or three rows shorter. Even with the dress being tight and long, she look fantastic in it.
LeToya Luckett
When someone, like her, is wearing a dress with a lining that's supposed to be skin colour and the colour is too light, like it is here, it looks weird. At least her shoes (which I don't love) somehow work with the lining to make the overall look ok..
Nicole Beotchie
She's also a blogger who was invited to the occasion. Apparently she's known for wearing tutus so I guess we can't expect her to show up in anything but this. Fortunately, the bodice is nice. The shoes are lovely.
photo credits: zimbio.com, talkofnaija.com, fashionbombdaily.com