This is a very image-heavy post. There are a whole lot of pictures in this post because I wanted to show you all the gorgeous (and the not-so-gorgeous) dresses from the 2010 Emmy red carpet. Where possible, I've included the dress designer's name, and if I know the name of the show with which the person is associated, I've included that, too.
First let's look at the dresses that are sparkly all over. They might be my favourites because I do love almost all things sparkly.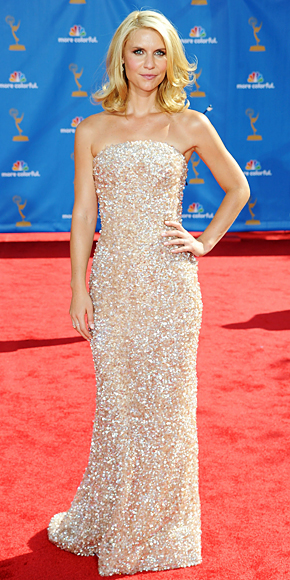 Claire Danes


(Temple Grandin)


in Giorgio Armani Prive
Gorgeous. She looks heavenly.
Wanda Sykes
in Zuhair Murad
Also gorgeous. This suits her to a T.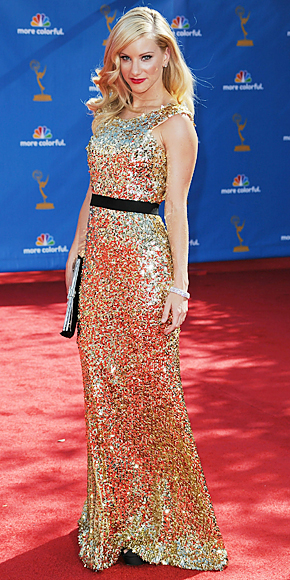 Heather Morris (Glee)
in Ina Soltani
Another hit! I love this dress, especially with the black belt. It makes this dress work.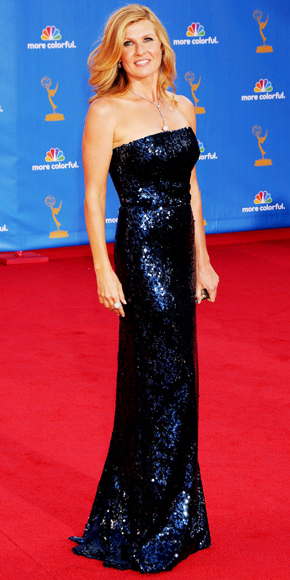 Connie Britton
(Friday Night Lights)
in Burberry Prosum
I do love navy blue and this sparkly, strapless navy dress is wonderful.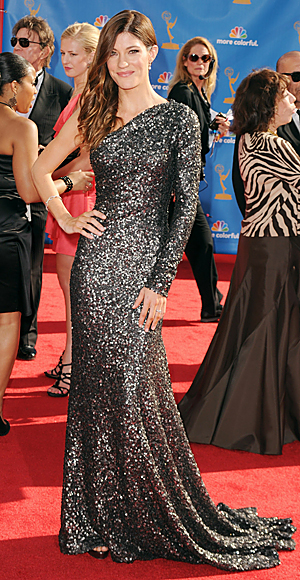 Jennifer Carpenter (Dexter)
in Oday Shakar
Spectacular!!!! There haven't been too many one-sleeved or one-shouldered dresses lately but this is a fabulous example.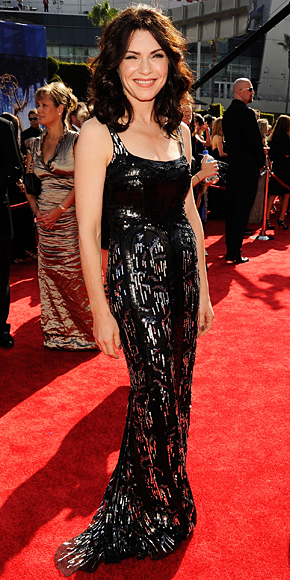 Julianna Margulies
(The Good Wife)
in L'Wren Scott
Ooooh... this one is beautiful, too. I love the silvery bits in this.
Susan Sarandon
in Donna Karan
Susan Sarandon is no spring chicken but she looks awesome in this dress. It shows off her curvy figure perfectly.
Paula Abdul
in Dolce & Gabbana
She doesn't even look out of it here! This is another lovely sparkly dress, although it's a little bit too long. Her hair definitely works with this dress.
Weren't those gorgeous? I love them, anyways. Let's look at the black (or almost all black) dresses next. There are lots of them; it was the most popular colour on the runway.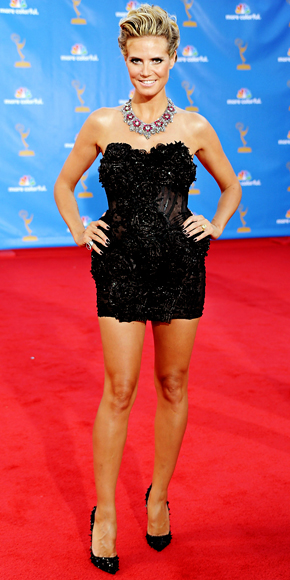 Heidi Klum
in Marchesa
Oh, my. These crotchtastic dresses aren't quite right for her anymore. She's turning into one of those people who decide that something looks good on her and never changes that look. She's not old and she does have great legs but a bit more shoulder or leg coverage would be better for her.
Mindy Kaling (The Office)
in Aguri Sagamori
I have no idea who designed this but it's definitely 50s-inspired. A bit more shape or less stuff on the bodice would have looked a lot better; right now, this is a miss.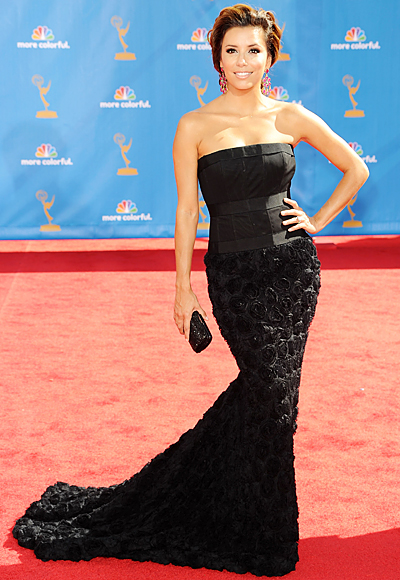 Eva Longoria (Desperate Housewives)
in Robert Rodriguez
Here's another one who's found what works on her and she sticks with it. This mermaid silhouette is going to go out of style soonish... although I think it'll end up being replaced by the mullet dress, which looks worse. I love the texture on this dress.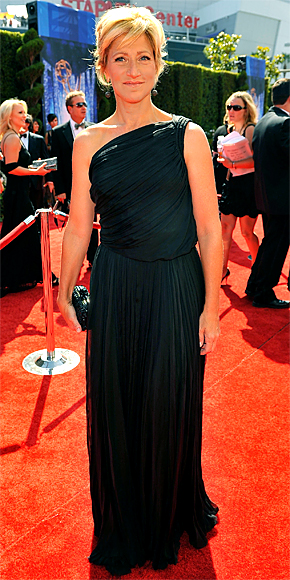 Edie Falco (Nurse Jackie)
in Bottega Veneta
This is ok but not great. It's a bit shapeless and should have been brought in more at the waist.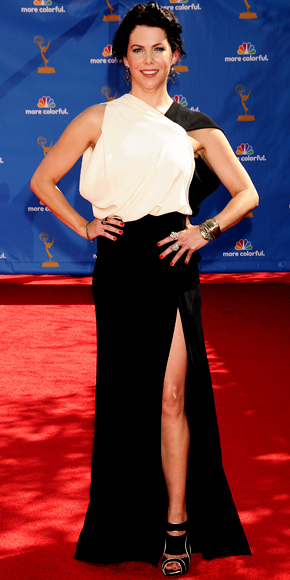 Lauren Graham (Parenthood)
in Yigal Azrouel
Another meh. The white bodice seems disproportionately big in relation to the rest of the dress. It needs something to break up the glacial expanse of white there. This wasn't her best look.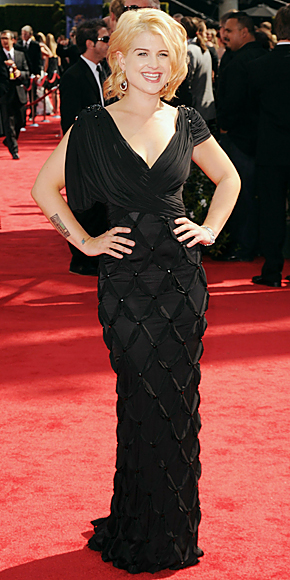 Kelly Osbourne
in Tony Ward Couture
Now this is perfection!!!! Kelly looks amazing here. She's lost weight but doesn't look too skinny and this dress shows off her curves like nothing else. I love the draping and textured skirt.
Kathy Griffin
(Kathy Griffin: My Life on the D-List)
in Oscar de la Renta
Those are mirrors at the bottom of the dress. This dress is ok. It fits her and is appropriate for the occasion but there's nothing really awesome about it.
Anna Paquin (True Blood)
in Alexander McQueen
Ack! It's a mullet dress! With football padded shoulders. And she looked totally out of it during the live show. This is not a good look.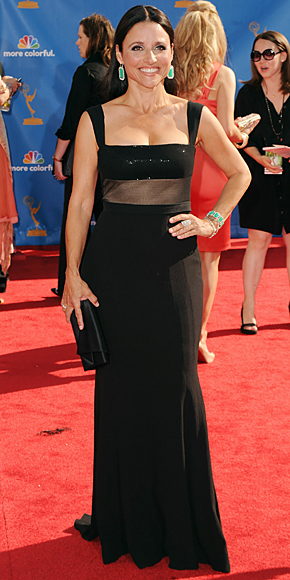 Julia Louis-Dreyfus
(The New Adventures of
Old Christine)
in Narcisco Rodriguez
I love her hair and earrings. The dress, on the other hand, isn't perfect. If the mesh band was replaced by something opaque or with a deeper texture than the rest of the dress, it would have given her more curves.
Angela Kinsey (The Office)
in Romona Kevesa
I love this dress! It fits her and suits her perfectly and I love the allover lace and ruffle at the top. It does look a bit too long on her, though. The designer is quite well-known in the wedding dress world.
Kate Gosselin
in Carmen Marc Valvo
I'm not a fan of Kate Gosselin and her brood of eight children and I wish that TLC hadn't given her a tv show once her husband left. The top of the dress gives her a curvy chest but the skirt doesn't suit her that well.
Navy was one of the most popular colours on this red carpet. Let's look at these navy dresses as well as dresses in other blues and greens.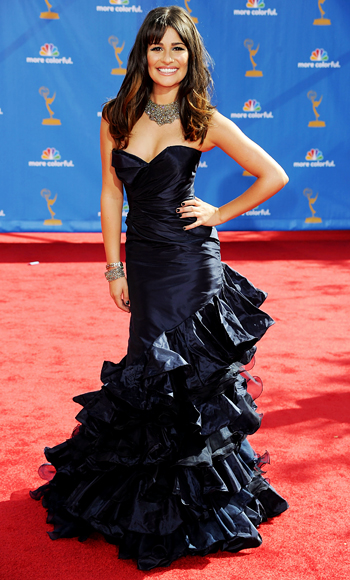 Lea Michele ( Glee)
in Oscar de la Renta
Lea does look lovely here, doesn't she? I don't love all those ruffles because it makes the dress bottom-heavy but the colour is great on her. Her look above the waist looks fantastic.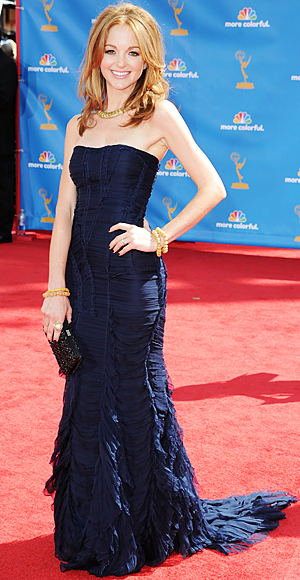 Jayma Mays (Glee)
in Burberry Prorsum
I like the little bits hanging off of this dress because they're not adding any bulk to the dress. They'll look interesting when she walks. The silhouette and colour look great on her.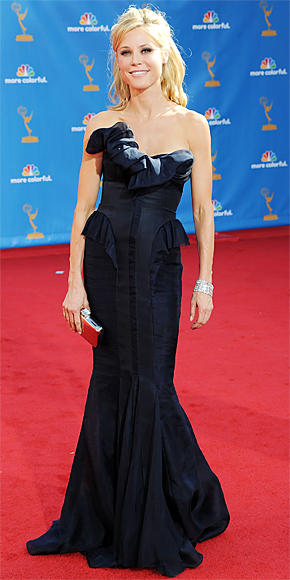 Julie Bowen (Modern Family)
in J. Rendel
I thought this dress was black but it's navy blue. It's sort of interesting with all the little bits hanging off of it but the whole look doesn't really work. Maybe her hair needed to be different? Maybe she's slouching? I'm not sure.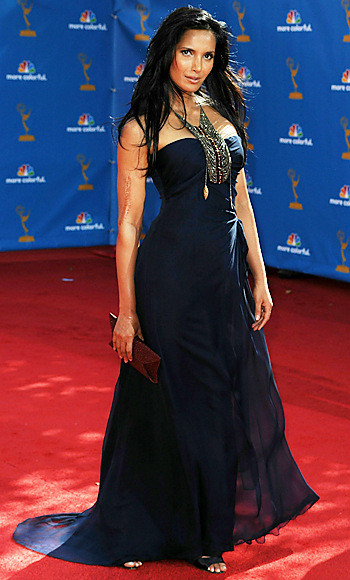 Padma Lakshi (Top Chef)
in Carolina Herrera
The necklace is her own and I'm not sure it really goes with the dress. The dress does look fantastic on her and the colour is perfect.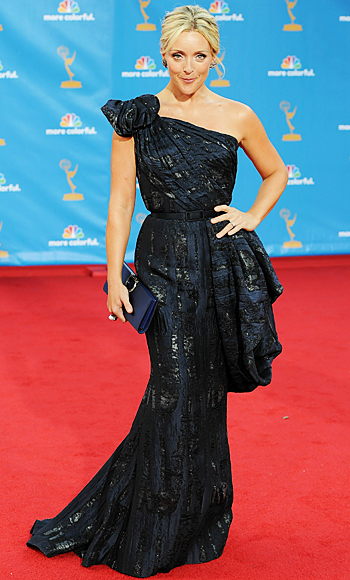 Jane Krakowski (30 Rock)
in Escada
There's something really bulky about this dress that I'm not loving. The drapey thing at the indented waist especially bothers me. I do like the top and the way the grainlines work in this fabric.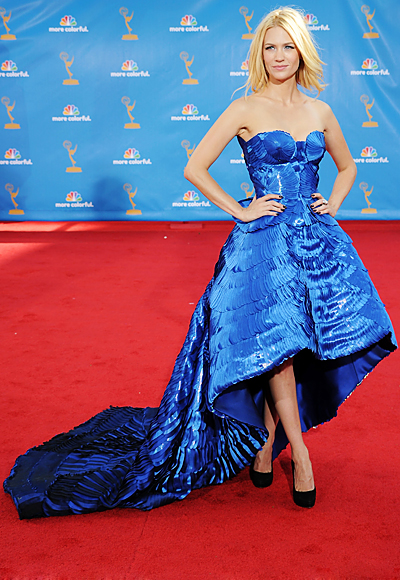 January Jones (Mad Men)
in Atelier Versace
This dress hit many "worst-dressed" lists. It's weird. The colour works on her but her hair doesn't work at all. I wouldn't mind this dress if it wasn't a mullet - short in front with a train in back.
Naya Riviera (Glee)
in Simin
Naya's dress looks like a wedding or prom dress; she looks like she's sewn a duvet to her hips. had the dress had less bulk at the bottom, this dress would have worked. Also had her hair not been so... full of bangs and beehive. Her hair would have been better down for this dress.
Lo Bosworth (The Hills)
in Karen Caldwell
Lo looks like she's going to a wedding, not the Emmys. Or maybe she's attending as a producer? There's nothing wrong with a green sheath dress if the dress fits you and the colour works. There's something weird going on at the middle of this dress; it looks too tight. And the colour is not quite right for her. To make this more situation-appropriate, she could have worn more sparkly jewelry or something.
After navy, purple was another of the more popular colours on the red carpet.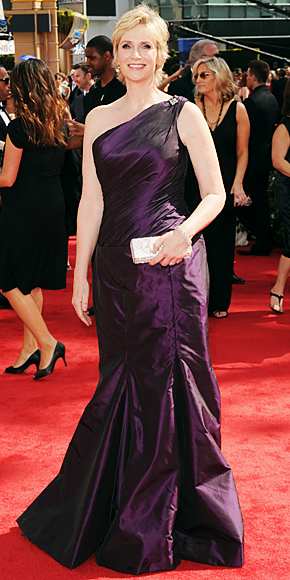 Jane Lynch (Glee)
in Ali Rahimi
The top of this dress is gorgeous. From the waist down, it just looks weird and doesn't suit her at all. I think she'd have been better off if there weren't princess seams and a mermaid silhouette on the bottom. Jane looks radiant in this colour, however.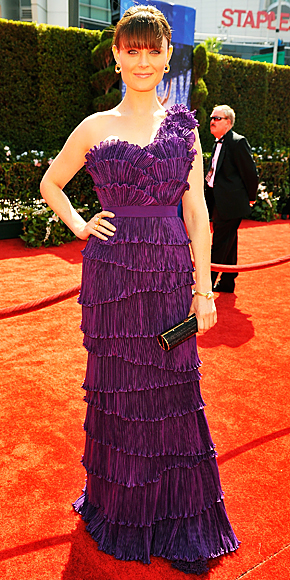 Emily Deschanel (Bones)
in Max Azria Atelier
I like the look of this dress but when I see it, I think it should move and be light. During the show it proved to be very heavy and didn't move at all. The top of the dress is too busy and that strap is also too heavy. This is a definite miss as far as I'm concerned. And I don't like her hair, especially the bangs.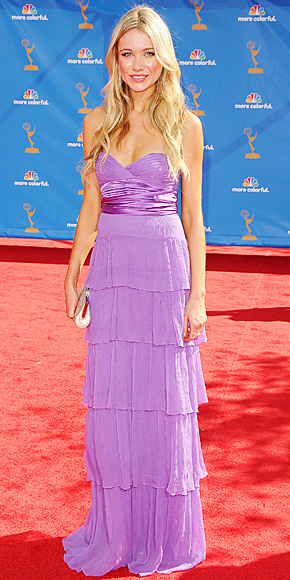 Katrina Bowden (30 Rock)
BCBG Max Azria
Another tiered column dress.... hmmm. it's not a look that works for most people, but at least this is a lighter fabric so it'll move when she walks. I do like the satin waistband, and the colour works for her. But there's nothing really special about this dress, you know? It's just ok.
Christina Hendricks (Mad Men)
in Zac Posen
Oh, my! This dress hugs Christina's curves like a second skin without looking too trashy in the process. I'm not in love with the feathery bits on the sleeves or hem but I absolutely love the waist area. The colour suits her, too, although I wish she'd worn a brighter version of this purple.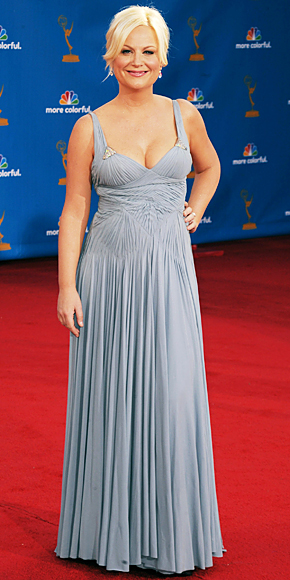 Amy Poehler (SNL)
in Max Azria Atelier
She's just had a baby, can you tell? Me, either. Again, I love the waist on this dress and I'm a sucker for dresses that hang straight down with all that fullness. The colour is fantastic on her, too. I wish that the brooch-thingies where placed higher, though, because they squish her chest down and make it look disproportionately short. That aside, this is a lovely dress.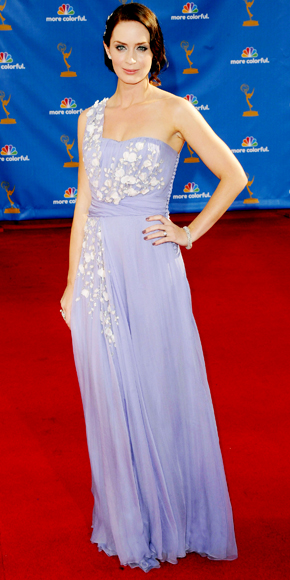 Emily Blunt
in Christian Dior Resort 2010
I'm not sure what to make about this dress. I think I like it, what with the white flowers over lavender (a favourite colour combination of mine). The silhouette works on her, as does the colour.
Have you had enough real colour on the red carpet? No? Me, either, and neither did the stars who attended the 2010 Emmys. In addition to navy and purple, there were a lot of red, pink, and burgundy tones, with a bit of organge and yellow thrown in for fun.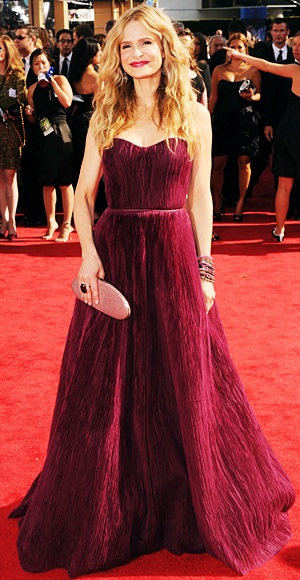 Kyra Sedgwick (The Closer)
in Monique Lhullier
I like the silhouette here, especially with the belt, but I thought that this dress would move and flow. It doesn't. it bends in strange ways when she picks it up to walk and it's very heavy. I wish it had been a little bit lighter of a dress.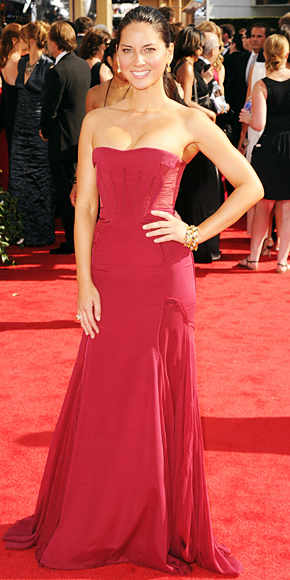 Olivia Munn (Daily Show,
Attack of the Show)
in Zac Posen
Olivia is lovely and this colour definitely suits her, but I think it would have looked better if it had a bit more up top. Also, I don't get how the seam detail at the top goes with the side insets on the bottom. Oh, and this dress is too long for her. She could have done better, I think. I love her hair and makeup.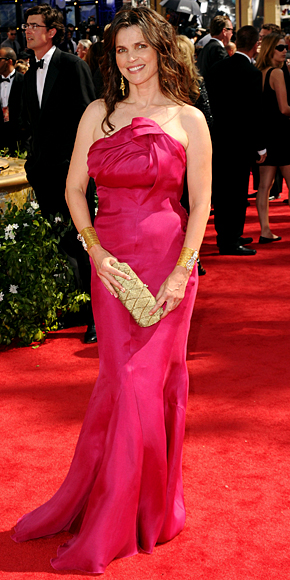 Julia Ormond (Temple Grandin)
in Escada
Gasp! She looks like a knockout in this dress in spite of (or because of?) the foldy thing at the top. What a cut! What a colour! I just wish her hair had been neater, but who's looking at her hair?
Kristen Quintrall
in Heike Jarick
Kristen appears to be walking on this dress, and that's not flattering to anyone. If the dress had been the right length, this dress would have worked for her. It's the right colour and is a flattering cut. Her hair looks amazing.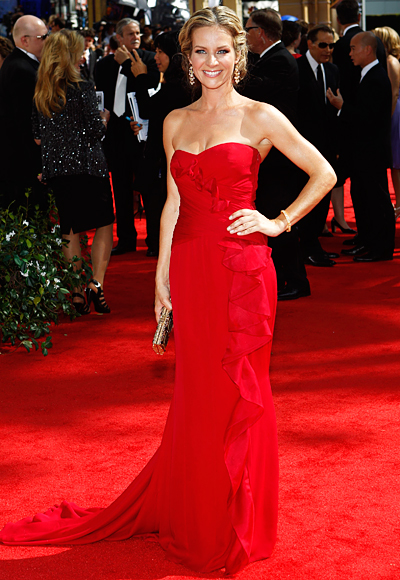 Jessalyn Gilsig (Glee)
in Nicole Miller
I love Jessayln's dress! I don't know how she matched the colour of the red carpet so exactly but it definitely works for her. The ruffle starting in the middle and then going down one leg is very lovely, too. And I love the waist detail. But the length - again, the dress is too long. Do all of these women not want their shoes to show when they're sitting down? Or are they not allowed to temporarily hem these dresses that they're borrowing?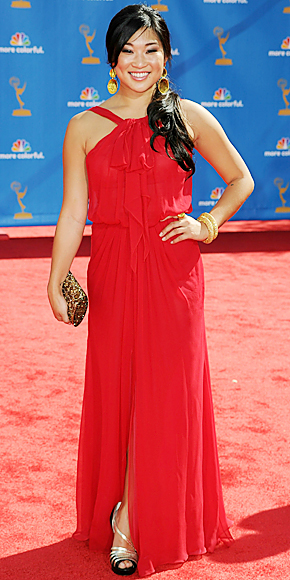 Jenna Ushkowitz (Glee)
in Kevan Hall
And here's a red dress that doesn't work. It makes Jenna, who has a fine figure, look like a rectangle. She needs more waist definition than this dress provides. At least her hair and makeup are fantastic and the colour looks good on her.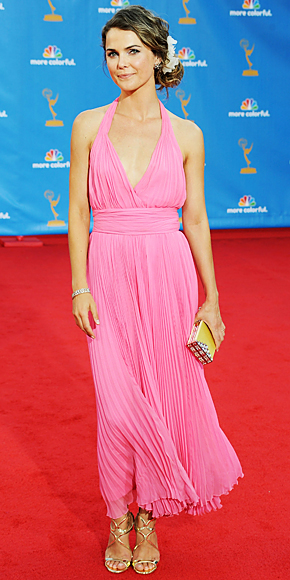 Keri Russell
in vintage Jean Louis
Scherrer Haute Couture
This dress is way too big for her. She doesn't have enough up top to fill out the bodice and it ends at a strange place. She looks like she's dressing up in her mom's clothes. Worse, the colour washes her out. This is a definite miss.
Maura Tierney (Rescue Me)
in Vintage The Way We Wore
Another vintage dress, but this one is much better. It's an unusual red/orange colour that works on her skin; I love the allover lace and the strapless line. The rise in the middle appears in a few dresses on this red carpet; is this the start of a trend?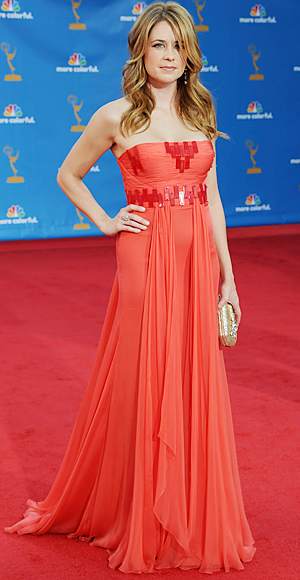 Jenna Fischer (The Office)
in Rare Vintage
I think this may be vintage as well, since this persimmon colour is so unusual. It fits her very well and shows off her figure but I'm not loving this dress on Jenna. It doesn't do anything to show off her gorgeous hair, for one thing, and her skin isn't glowing, either. Plus the top looks a bit strange, cut off at the top the way it is. This is just ok.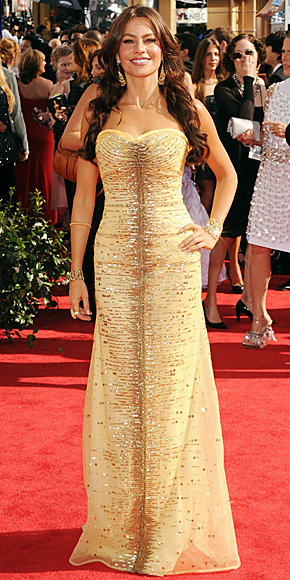 Sofia Vergara (Modern Family)
in Carolina Herrera
Many men loved this dress because it showed off Sofia's ample bosom and reins those puppies in at the same time. This is a striking dress and the colour looks amazing but I'm not in love with the beaded stripe down the center. I'd have preferred it if it was a little less obvious or narrower, I think.
Some women weren't content to wear a solid colour on the red carpet and chose to wear patterned dresses instead. Here they are.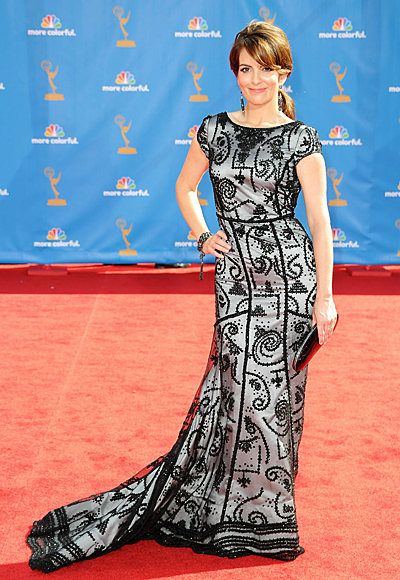 Tina Fey (30 Rock)
in Oscar de la Renta
I count this as a patterned dress because the black beading on grey ground creates the pattern. This is the best Tina has looked on a red carpet in practically forever. This dress fits, it makes her look curvy, and it's interesting. Plus I love her hair. I'd love to have this dress!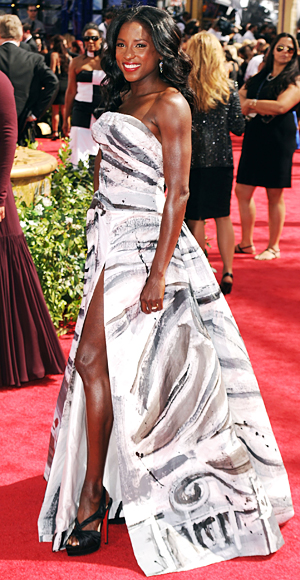 Rutina Wesley (True Blood)
in Douglas Annette
I'm not completely sure how I feel about this dress. Part of me likes the pattern, although I think that part would like the patterned fabric more off of the red carpet. Still, the silhouette and colours work for her so I guess it works well enough.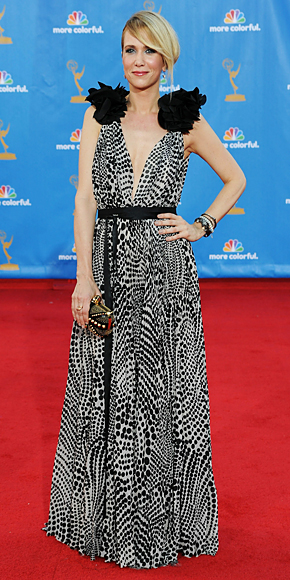 Kristen Wiig
(SNL)
I know how I feel about this dress: I don't like the shoulder poufs. They look silly and disproportionate to the rest of the dress. And the rest of the dress looks like a casual sundress. This was a terrible choice.
Jennifer Westfeldt
in Giorgio Armani
Not everyone liked this dress and I think I agree with them. There's something weird about the way the black part of the pattern is distributed. It looks like there's a seam at the bottom of the hip, which is very distracting. This could have been so much better.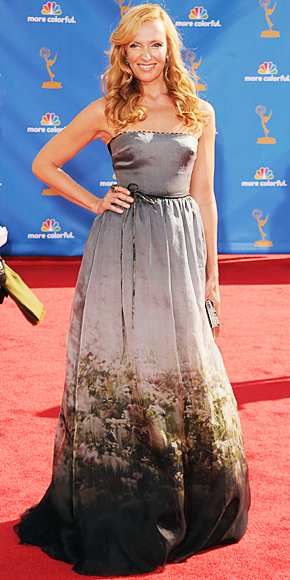 Toni Collette
(United States of Tara)
in Valentino
This is awful. It looks like she slogged through knee-high mud to get to the red carpet. The silhouette is ok but that colour on the bottom is hideous. Had it been dark purple, say, with a matching belt or something, that might have worked. This doesn't.
Carrie Preston (True Blood)
in Makato Takada
For some reason, the whole ensemble seems to work here. The silhouette works and so do the colours in the dress, although they're not what I would normally like. In an offbeat way, this was a pretty good choice. I love her hair.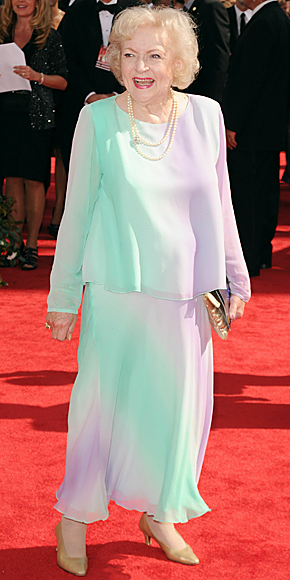 Betty White
in her own outfit
Although Betty looks a bit like a big mint, she also looks adorable. And for 88 she's definitely still got it going on. I'd have loved to have seen her in something a bit more fitted but I also understand that she might be looking for something a tad more comfortable. And the colours really do work on her.
Of course not everyone wore colours on the red carpet. Lots of women chose to wear grey (apparently it's the new neutral), nude tones, and white instead.
Glenn Close
in Rubin Singer
Most of the women who wore grey looked better than this, though. Oh, Glenn. As a pear-shaped girl myself I can tell you that this silhouette is about the worst you can choose. It makes your hips look ginormous and your chest look teeny. The colour is doing her no favours, either. This is a complete miss.
Gugu Mbatha-Raw
(Undercovers)
Now this is a grey that works - I love the texture on the bust! The proportions are perfect and the colour is flattering. her hair, makeup, and jewelry complete this perfect package.
Sarah Hyland (Modern Family)
in Pamela Roland
Many said that this dress was too old for Sarah, and I guess that might be true. It's a little bit too tight around her stomach, where you can see what appears to be her bellybutton. Aside from that, this dress skims her curves quite nicely. There's a cape with it that's kind of weird, though, and it's much, much too long; she looks like she's rising out of a puddle. She could do better.
Stephanie Pratt (The Hills)
in Marciano Edaline
Eeep. Just about everyone looked better than this. What was Stephanie thinking? Did she not know that she was going to the Emmys? Did she think that she was going to the MTV awards? This isn't just a miss; this is a fail.
Lara Spencer
(Kathy Griffen: My Life on the D-List)
in Gustavo Cadile
I love, love, love this dress. It hugs her curves and has that really interesting detail at the top, plus the colour is spot-on for her. Her hair is also lovely.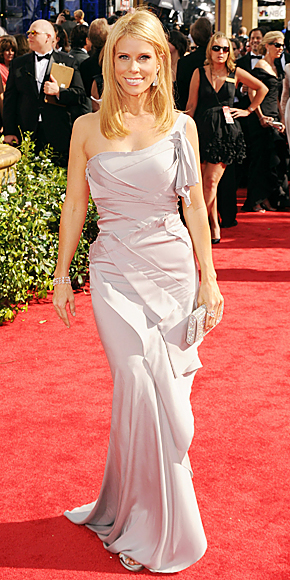 Cheryl Hines
(Curb Your Enthusiasm)
in Zac Posen
This is an unusual silhouette but I really like it on Cheryl. The one-shoulder, ruffles, and diagonal seamlines conspire to give her a curvy figure and the colour looks great on her.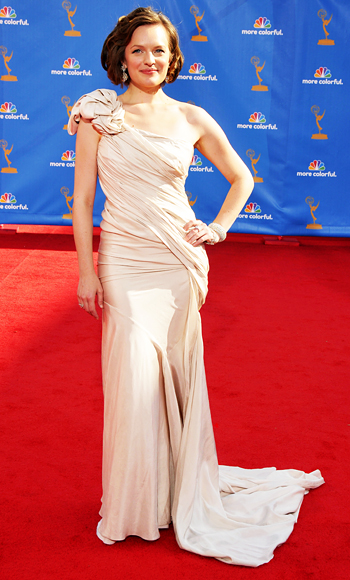 Elizabeth Moss (Mad Men)
in Donna Karan
This is another silhouette that works. Elizabeth looks amazing with the diagonal ruching and simple skirt; I even sort of like the shoulder pouf. I wish this dress was another colour, though, because this "dove grey" (it looks ivory to me) washes her out. Imagine this dress in navy - she'd have been a knockout!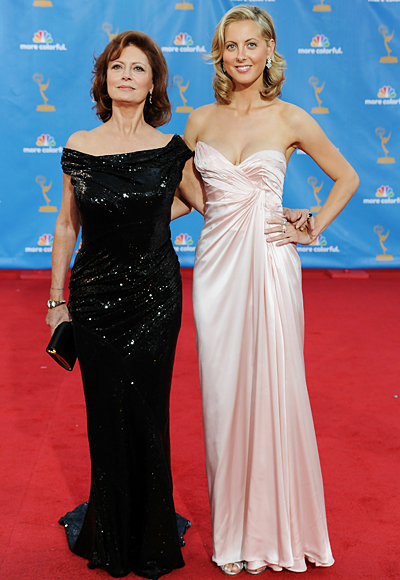 Eva Amurri (with Susan Sarandon, left)
in Thierry Mugler
Eva Amurri is Susan Sarandon's daughter - who knew? She looks amazing in this simple strapless dress.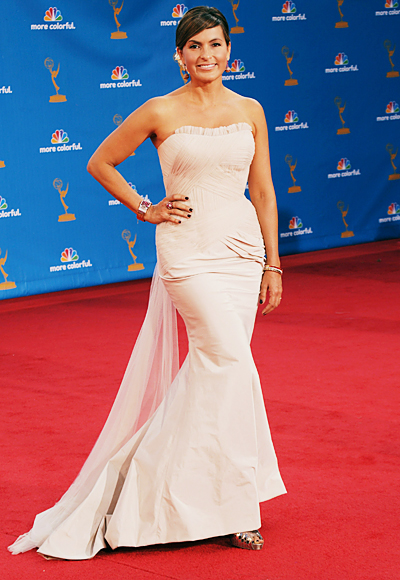 Mariska Hargitay
(Law & Order: Special Victims Unit)
in Vera Wang
This simple strapless dress looks stiff and uncomfortable and too much like a wedding dress. The silhouette doesn't look especially flattering; there's something weird up at the bust, so her hips end up looking blocky and her bust looks small. The colour is ok but a brighter colour would have been better.
Emmanuelle Chirqui (Entourage)
or Nina Dobrev (Vampire Diaries)
in Zuhair Murad
I have no idea if this is a picture of Emmanuelle or Nina; many different sources name each of them as the person in this picture and this dress. Whoever it is, the dress looks amazing. I particularly love the one-shoulder and the diagonal ruching going up to it. There are sequins scattered throughout the dress as well which would look awesome in the light. The colour works on her (whoever she is) very well, too.
Jewel
in Zuhair Murad
I loved the song Jewel sang during the show. She'd apparently written it to mourn the passing of someone close to her, and she sang it during the part of the show where we remember all the tv people who passed this year. About the dress.... hmmm. In theory, I like it. I love the lace, I love the layers, I love the bow, but I don't love the top. I think the original dress had a sleeve or two which would look so very much better than this strapless version.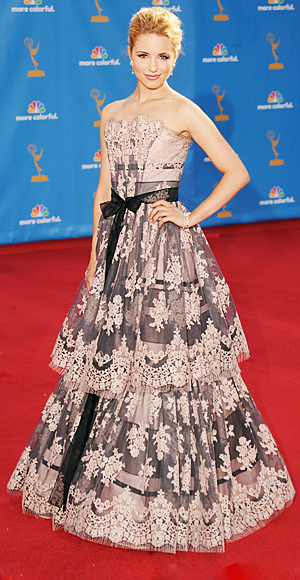 Dianna Agron (Glee)
in Carolina Herrera
This dress doesn't work for me. I don't like the double layer of lace and the black bow - that's just weird. And I'm not really a fan of pink lace on black net. And the pink washes her out while the double layers make her look like a doll. I almost get a boudoir vibe from this dress but then the dress is long... no matter what, this dress just isn't quite right for this event.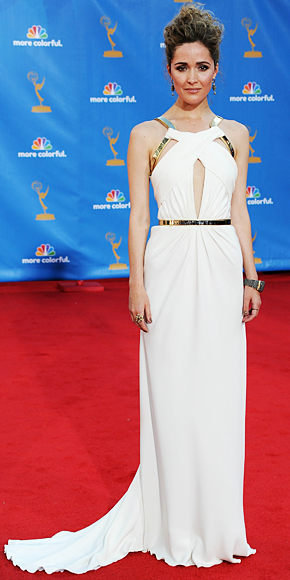 Rose Byrne (Damages)
in Gucci
I'm so in love with this Grecian dress! I love the gold accents, I love the shape of the dress... I love this dress. Rose has gorgeous thick hair but here it just looks strange; I wish she'd opted for something a little less birdsnest-like.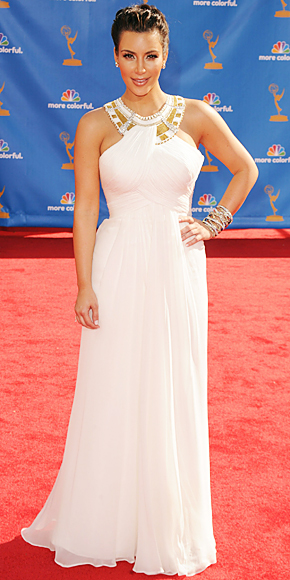 Kim Kardashian
in Marchesa
I barely even know who Kim Kardashian is - really, all I know is she does reality tv - but I have to say that this dress works for her. She's clearly not a skinny person and this dress emphasizes her curves without doing strange things to her figure. And I do love the Grecian-ness about this dress, too.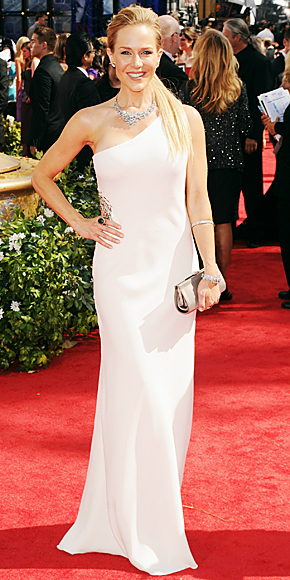 Julie Benz (Dexter)
in Pamela Roland Resort 2011
Ah, the simple, white, one-shouldered dress. With a tiny beaded cutout on one side. This dress would have been perfect without the cutout because the shape works and it looks so effortless and classy. The cutout looks almost too small for the dress and I don't love the beading around it.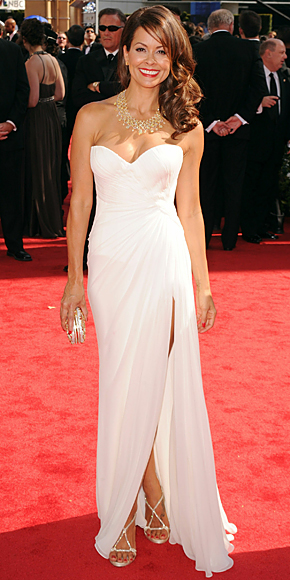 Brooke Burke
(Dancing with the Stars)
in Mark Zunino
Now this is a white dress that works. It's strapless but doesn't look like a wedding dress and it fits her perfectly. I love the necklace she's wearing, too; quite frankly, I think it's long past time that women started wearing necklaces with their strapless dresses (if they're going to wear strapless dresses at all - and honestly, I wish that trend would die out, too). Her hair and makeup are perfect, too.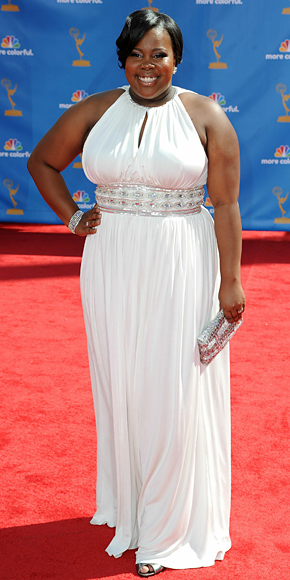 Amber Riley (Glee)
in Melissa Masse
Gorgeous! This dress shows off Amber's curves and fits her perfectly. I love the beaded waistband, the halter neck, and all that gathering - it makes the dress look easy and comfortable to wear. The colour looks amazing on her and I'm definitely loving her hair, too.
So that's it! The good, the bad, and the ugly from the 2010 Emmy red carpet. There weren't too many missteps and almost everyone looked ok.