Warning: this is a very long post with a lot of images (76, I think) so it might take a while to load.
As promised, this is my Golden Globes 2011 red carpet post. I'm only focusing on dresses worn by women on the red carpet. I've excluded outfits worn to the after-parties and what the men were wearing. Men's fashion doesn't interest me as much as women's and there just isn't room for all of the red carpet and after-party outfits.

Elegance seemed to be the order of the day. Most of the women on the red carpet looked ladylike, glamorous, and beautiful without looking trashy or messy.
There was a rainbow of colour on this red carpet with lots of sequins and beading and sparkle. Most dresses are shades of white or black but bold blues, greens, yellows, oranges, and reds were all over the red carpet.
Style-wise, dresses were varied mostly strapless or one-shouldered. Big shoulders appeared in a couple of dresses Texture through pleating and ruching is still prevalent but most of the texture comes from the elaborate beading and sequins or flowers. There are quite a few trumpet- or mermaid-style dresses where the hips are fitted and the skirt increases in width below the knee but there were numerous sheath dresses as well. Trains on skirts are getting shorter (finally!) and ball gowns look out of place.
Jewelry and accessories were understated. The chunky "statement necklaces" that have been everywhere over the last few seasons were conspicuously absent on this red carpet. Makeup was mainly subtle and natural, letting the dress take center stage.
With all that said, let's look at the actual dresses. Here they are, sorted roughly by colour.
Shades of white (including nudes and pale colours)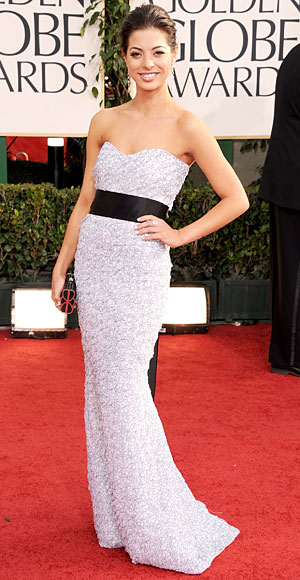 Gia Mantegna in
Lorena Sarbu
Pretty but kind of boring. The black sash helps because otherwise this dress would look like a big towel.
Hailee Steinfeld in Prabal Gurung
Gorgeous!!!! She's a teenager but her dress looks amazing on her. There's just enough sparkle to make it interesting but it doesn't overwhelm her. Even better, it's white but doesn't look like bridal wear.
Nicole Kidman in Prada
Not everyone loved this look - I think many found it boring - but I think it's fabulous on her. It's sleek and the overall sequins don't add too much texture, just lovely shine.
Vanessa Williams in Roberto Cavalli
This is the least crazy Roberto Cavalli I`ve ever seen, I think :) This dress, like Nicole Kidman's, is allover sequins but looks a bit flashier. The dress doesn't fit her all that well... notice the bellybutton?
Jennifer Lopez in Zuhair Murad
OMG. What do you say to this? It reminds me of so many other JLo dresses; she's not taking a risk here. The shawl is pretty and the dress simple and the look isn't bridal, so I guess this is ok.
Susanne Bier
I imagine she's wearing a Danish designer. This dress is lovely and fits her well, although it is a little bit bridal.
Jennifer Love Hewitt in
Romona Kevesa
She looks like she's standing in a pool of fabric which isn't attractive. The waist and skirt silhouette is attractive but the super-sized crumb-catcher is a little too much.
Tilda Swinton in Jil Sander
You have to admire her for going her own way, even when that way is shapeless. A fitted, stretch top would have worked better with the skirt. I do love that she doesn't wear makeup to these events.
Kaley Cuoco in Katherine Kidd
How pale and ethereal the skirt is! It's a pretty dress but the colour washes her out. Her hair is also a bit messy for the dress.
Dianna Agron in J. Mendel
I don't love this dress but she looks polished and comfortable. At least her boobs aren't fighting to get away and the colour suits her. I love her hair.
Leighton Meester in
Burberry Prorsum
Um, wow. The waist is strange on this dress, not to mention the sleeves. And the skirt. And the fabric.
Sandra Bullock in Jenny Packham
Like Scarlet Johanssen's dress, there's something weird going on with the sleeves. Of course it's hard to notice the sleeves because of her hair - especially her bangs. That cut does nothing for her or the dress.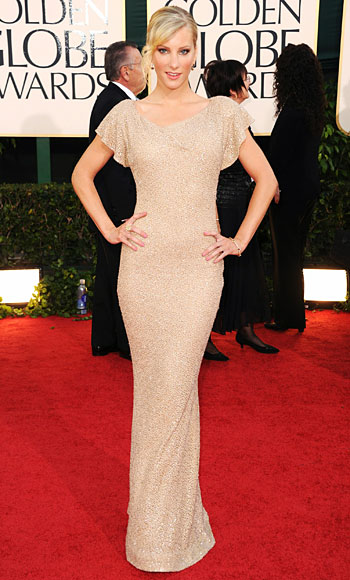 Heather Morris in Lorena Sarbu
Now this, I love. Love! the shape is perfect for her and makes her look sexy and beautiful. I love the sleeves and the allover sequins, too.
Sarah Hyland in Max Azria
I want to like this, I really do. The bodice is interesting and the lower skirt is fine but the dress is too flat over her abdomen, making it look big. The colour isn't quite right for her, either.
Michelle Williams in Valentino
She needs to learn to stand up straight. Posture is important! Then again, good posture wouldn't make this dress look more mature. The pattern is just a bit too juvenile and shapeless for the red carpet.
Julie Bowen in Tadashi Shoji
In many ways this is a lovely dress; I especially love the ruffles. I'm not keen on the striping effect on the torso, however, and the colour definitely doesn't suit her. She looks washed out.
Kelly MacDonald in J. Mendel
The colour is completely wrong on her and the silhouette does her no favours. The ruching and cowl neck and peplum all look droopy and sad.
Anne Hathaway in Armani Prive
A knockout! I didn't love the shoulders at first but they've grown on me because they balance the dress. Love the colour and overall sequins. Gorgeous.
Blues and greens
Amber Riley in Oliver Tolentino
This sequinned dress has a lot of texture and it looks good on her. It would look better if the texture weren't all over the dress - but at least the colour is gorgeous!
Jane Krakowski in Badgley Mischka
A lovely dress in a great colour! The only thing I don't like is the shoulder strap because it looks weird.
Jenna Ushkowitz in Rebecca Taylor
This colour looks great on her but the skirt looks strange. Maybe it's because it's too long and all ruffled.
Hope Davis in Bibhu Molapatra
I don't know why I love this dress, but I do. The colour and style are gorgeous and suit her well. I'm not sure what to make of the limp, straggly train, however. Take the train away and the dress is fabulous.
Amy Adams in Marchesa
A beautiful colour, but this looks like a bridal dress in blue. It fits her well and looks lovely on her. The big flower-things could possibly be a bit smaller but they still work on this scale.
Tina Fey in L'Wren Scott
I love this navy velvet dress! I wish that Tina Fey would learn how to pose in a dress, though, because her pose detracts from the beauty of the dress.
Mandy Moore in Monique Lhullier
Meh. This looks like a bridal gown in blue. I love the tulle in the bodice but I don't like the skirt shape or fabric.
Julia Kurbatova
Many people didn't like this but I think it looks lovely. I love the leaf embroidery on the bodice and the fit of the dress. I also love the colour combination.
Catharine Zeta-Jones in Monique Lhullier
Another bridal gown, this time in dark green. The colour is perfect against her alabaster skin and the dress shape suits her figure (plus her boobs aren't trying to escape). The dress looks very heavy to wear because of the overall texture.
Elizabeth Moss in Donna Karan
I almost love this except for the area around her hips. It looks a bit too big for her there. The bow on the bodice is also kind of saggy. At least the colour is fabulous on her. I do wish she'd worn a slightly brighter lipstick to bring more attention to her face.
Mila Junis in Vera Wang
Another strangely ruched green dress. Again, this colour looks great on her, but this dress isn't flattering to her figure. It makes her hips look huge.
Angelina Jolie in Atelier Versace
Many, many people are saying that this was the best dress of the night. Angelina Jolie looks vibrant and beautiful in this colour. The style seems a bit old for her, though. The allover sequins add an interesting texture against the smoothness of her hair and skin.
Yellows, oranges, reds, and pinks
Helen Mirren in Badgley Mischka
What a beautiful silhouette! I wish she'd chosen this same dress, which looks phenomenal on her, in a bolder colour. She'd look so much better if the dress was red or green.
Lara Spencer in Angel Sanchez
I love this dress. The details on the bodice aren't too overwhelming and the dress fits her well. The colour isn't quite right for her, unfortunately, and so the dress is wearing her. I also wish that she'd done something more sophisticated with her hair.
Kyra Sedgwick in Emilio Pucci
Not many people can wear this orange but she manages to pull it off. The pleating and ruffles give an interesting texture. I wish she'd done something else with her bangs.
Katie Lee in Christian Dior
I love, love, love this dress. I love the bodice, I love the skirt, and I love the colour. She looks amazing in this colour and style and her hair is lovely.
Emma Stone in Calvin Klein
This dress is pretty, but plain, and the colour washes her out. Some details of some kind would have improved the look of this dress on her.
Nancy O'Dell in St. John
Now this is how to wear this style of dress! She owns this dress style and colour. If only her hair weren't quite so messy.
Katey Segal in Douglas Hannant
When I saw her accept her award I thought she looked like Cuddy on House. Neither the colour nor the style of this dress are right for her, and her hair looks awful with it.
January Jones in Versace
If she wanted to wear the most talked-about dress on the red carpet, she succeeded. Some love this and others hate it but no one is indifferent about it. Personally, I think the colour is ok on her and the style looks all right. I don't like the knee-length skirt under the fringe; I think it should be shorter or longer. I also wish that she had a band over her cleavage as I think this dress is too revealing.
Christina Hendricks in
Romona Kevesa
The dress silhouette is fabulous! The colour works with her skin but not her hair and that flower is practically eating her head. I like the ribbon on the hem and I'd love the dress if that flower were much smaller.
Edie Falco in Valentino
Another red that looks wonderful against her skin but that doesn't work with her hair colour. I love this dress otherwise.
Sofia Vergara in Vera Wang
I love the fabric used for this dress because it shows both pink and dark coral, adding depth and interest. I really like the pleated neckline and waist, and the black belt definitely adds to the dress. The silhouette and colour work for her.
Julianne Moore in Lanvin
Pretty much everyone, including me, thinks that this dress looks terrible on her. The poufy sleeve, the wrinkles, the weird-looking hem, all conspire to make her look like she just wrapped fabric around her willy-nilly. Definitely a mistake.
Claire Danes in Calvin Klein
Pretty much everyone, including me, thinks that this dress is one of the best from the red carpet. The colour is fresh and looks beautiful on her and the silhouette is quite flattering. Love her hair, too.
Lea Michele in Oscar de la Renta
Another bridal gown, this time in pink. She looks like the diva she is. I think I'd like it more if it didn't have that comforter of a train.
Natalie Portman in Viktor & Rolf
The colour is lovely on her but the rose looks strange. If the rose weren't there this dress might be better although then it would look like a pink monstrosity. It might be better if the rose design were in a different colour and added to different parts of the dress.
Megan Fox in Armani Prive
I love the woven bodice but I don't love the matte skirt with the front slit. The colour is good on her and the silhouette is good, but this dress doesn't succeed like it should.
Julianna Margulies in
vintage Yves Saint Laurent couture
I'm not a fan of light pink with black. To me, the contrast is too much. I like the skirt on this but the bodice doesn't look right. That might be because of the way that she's standing; she needs help with her posture, too.
Maria Menounos in Pamela Roland
I love this and I wish I could wear it myself! The play of matte/shiny textures appeals to me and I love the neckline. The colour works for her.
Scarlett Johanssen in Elie Saab
This dress fits her very well and the colour is ok. There's something weird about the sleeves. I think I'd have liked it better if they weren't there or were longer and less full.
Naya Rivera in Douglas Hannant
I love this dress even though it doesn't fit her perfectly: the bust isn't perfect and the hips are weird, too. Maybe I just love the colour?
Blacks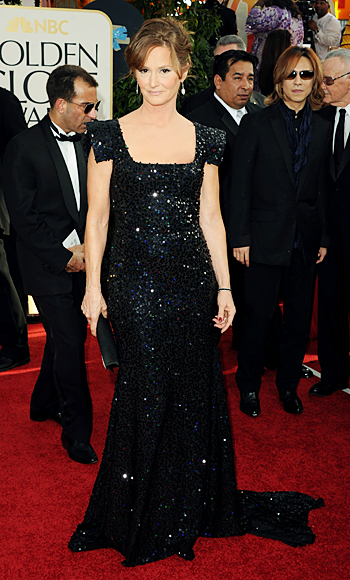 Melissa Leo in Marc Bouwer
The sleeves are different but I love this sequinned black dress. I especially love the neckline and silhouette and I think the dress suits her perfectly.
Annette Bening in Tom Ford
It looks like she woke up, rolled out of bed, and threw on the dress as she rushed out the door. The sack of a dress isn't all that attractive and her hair is a mess.
Jane Lynch in Ali Rahimi
I don't think this is the first time that Jane Lynch has chosen a dress with a lovely bodice and a not-so-lovely skirt. She looks like she's melting into the floor and like her hips are ginormous. At least the bodice works for her.
Piper Perabo in Oscar de la Renta
Piper Perabo is smiling like this in most of her pictures. I wonder how she felt about this the next day, because her mouth looks like an elastic band. The dress is gorgeous although the ruching on the right side ends too low.
Eva Longoria in Zac Posen
This is some kind of whale tail! Too bad she's melting into the floor. I know she's short but she can do better. And that skirt/train looks dated.
Halle Berry in Nina Ricci
I don't like mullet dresses (short in front, long in back), and there's something about this dress that I really don't like. Maybe it's the matte black chiffon train. I like the bodice but the skirt/train just doesn't work, in my opinion.
Julie Stiles in Romona Kevesa
This is a black bridal gown. I like the shoulder ruffles and the bodice but not the skirt.
Kat Kramer
I almost like this dress; I like the skirt and the bodice and especially the asymmetric lines. What I don't love is the lace thingy on the one shoulder. With the asymmetric lines the lace shoulder strap looks a little too designed. This dress makes her look short, but at least she's not melting into the ground.
Jessalyn Gilsig in David Meister
Another black bridal gown, this time covered in lace. The bodice is sort of interesting and the dress is flattering on her, but it does yell out "bridal!"
Giuliana Rancic in Zac Posen
Those things on her boobs look strange, don't they? It gives the bodice an unusual shape at the top. The pleating and gathering makes the skirt interesting.
Julianne Hough in Marchesa Resort
I love this dress: it's simple yet elegant and it looks comfortable, too. The collar is what makes this dress most interesting. She looks fantastic in this outfit.
Jane Fonda in Georges Hobeika
I'm not usually a fan of sheer sleeves and yoke but I love it here because of the way they've been embellished. I'm not sure how I feel about the extra shoulder thingies, but I think I don't like them. Still, she looks radiant here and the dress definitely suits her.
Jayma Mays in Alberta Ferretti
Now this is a sexy dress! Look at that plunging, sheer neckline and the texture of the sequinned lace fabric. Gorgeous! I don't love her makeup because the eye is too heavy for that lipstick colour. Her hair is lovely.
Jennifer Lawrence in Louis Vuitton
I almost love this dress. The straps are a little long and heavy for my taste but I love the fabric and silhouette. Unfortunately, the dress appears to be wearing her and not the other way around: she needed to do something different with her makeup or hair to stand up against the dress, I think.
Shaun Robinson in Oday Shakar
I love, love, love, love this dress. I'm a sucker for allover sequins but what I really love is the form-fitting silhouette paired with the single sleeve. This is a very sexy dress and she wears it to perfection.
Olivia Wilde in Marchesa
Many people picked this dress as their red-carpet favourite. I don't know. I like it, of course - how could I not, with the gradated sequins and gorgeous bodice? I think I'd prefer this dress if it weren't so full and if it was less of a ball gown. It looks like some tulle is escaping down there in the bottom right and I think it has the right idea. I don't like her hair for this dress, either; it's too every-day to really look right.
Kelly Osbourne in Zac Posen
Not everyone loved this dress but I do. I especially love that line of colour running asymmetrically down the dress. It works with the bodice and the one-shouldered neckline. This dress would be perfect if it wasn't too long and if she weren't melting into the floor.
Hayley Atwell
This is definitely an unusual silhouette with the big shoulders, nude bodice, and black skirt. The silhouette works for her but that nude colour just isn't right. I love the feathered hairpiece.
Prints
Gabourey Sidibe in Marc Bouwer
It's a shame that there aren't many good red-carpet choices for larger ladies. This dress is definitely flattering but it would be so much more gorgeous in a solid colour or an ombre or something like that. The print, while interesting, doesn't really work for the red carpet. Still, she looks amazing and radiant in it.
Jo Champa in Dolce&Gabbana
I haven't been able to find the designer for this dress. Kylie Minogue wore the same dress by D&G on New Year's Eve at the Jools' Annual Hootenanny but I still don't know who designed it. As perfect as the dress was for a New Year's Eve celebration, it was just as wrong for a red carpet appearance. She should have lots of red-carpet dresses to choose from, so why on earth did she choose this one? There's no need to announce that she's a cougar on the prowl; most people can figure that out themselves. The colour is great on her but the silhouette does nothing for her figure. This was definitely a bad choice.
Christina Aguilera in Zuhair Murad
Imagine this dress made of white beaded and sequinned lace over a white fabric (instead of black on nude) and what do you have? A bridal gown, of course. I think I have to stop watching all these bridal shows because I'm seeing bridal everywhere! Back to the dress. it should work and be gorgeous on her, and it definitely fits, but there's something wrong. Maybe it's just that it looks dated, like we're seeing the her from a few years ago. Maybe the dress would be better in less contrasting colours. Either way, it's long past time for her to change her look, maybe into something more natural this time.
Catt Sadler
This is definitely an unusual dress but I like it. It fits her and is eye-catching and it seems to suit her. The colour definitely works for her. Her hair is a little tall, however. She could have brought it down from the heights just a bit and it still would have looked great.
Heidi Klum in Marc Jacobs
I never thought I'd mourn for the days when she only wore short, tight, shiny dresses everywhere, but that's the point I'm at right now. Did she think that the red carpet would be laid out on the beach this year? The colourslook ok on her but the dress isn't flattering at all and her hair is much too casual for such a casual dress on the red carpet. I wish she'd find a look in between her old one and this frumposity.
Helena Bonham Carter in
Vivienne Westwood
Helena Bonham Carter is nothing if not interesting, and this getup is definitely interesting. The dress is unusual, if not particularly flattering and her hair is its usual mess. At least the colours work on her. I kind of like the idea of wearing different shoe colours on each foot because it makes matching prints so much easier. At least no one can say that she's dressing for anyone but herself. That's good, right?