Finally, here's the Emmy red carpet post! There were a lot of people at this event and a lot of outfits to evaluate. As always, some worked better than others.
I'm happy to report that fewer women are wearing strapless dresses and more are wearing dresses with straps and even sleeves. I rather like seeing people a little more covered up than usual because I'm a bit tired of seeing a lot of skin.
Have no fear that everyone was dressed perfectly appropriately as there were many women who were showing off way too much boob. There were also quite a few who made questionable dress and hair choices.
See for yourself what women wore to the Emmys after the jump. Enjoy!
Jane Lynch in David Meister
Outfit #1: The red carpet dress. It's a great colour for her, although the solid purple colour makes her look a bit like a very tall grape.
Jane Lynch in David Meister
Outfit #2: The opening dress. This is much better as it has shape on the bodice and flatters her shoulders. Unfortunately, it's like she's hiked the skirt up as high as it will go - which is just under her boobs.
Jane Lynch in David Meister
Outfit #3: Definitely the best look of the night, even with those sad armpit boobs. The colour, neckline, bodice, and pleated skirt suit her perfectly.
Jane Lynch in David Meister
Outfit #4: Funny how the exact same skirt can look fantastic with one bodice and not fantastic with another. She's looking a bit triangular here which doesn't just make her look taller but makes her head look tiny.
Kelly Osbourne in J. Mendel
I thought this was black but it's burgundy. Not that the colour matters because she looks fantastic. Everything from her hair to the straps to the fit to the shape is perfect.
Kyle Richards in Ines DiSanto
Well, it's certainly shiny. Look how well the fabric matches that hugemongous ring she's wearing! Her wide shoulders look extra-wide and her boobs extra-small in this dress and I'm not sure that't the look she was trying to achieve.
Nancy O'Dell in Lorena Sarbu
Red was definitely THE colour for this event. Some worked better than others; this is one that isn't working so well. It would be gorgeous if it fit her boobs properly. And if she didn't have those tan lines. Aren't fake tans supposed to cover up those kinds of lines?
Maria Menounos in Emanuel Ungaro
I love everything about this dress except the jewel neckline. The shape and fit are nothing short of spectacular and the colour is perfect for her.
Brooke Anderson in Lorena Sarbu Couture
There's more wrong about this outfit than there is right. The little cap sleeve looks more like a last-minute attempt to balance out her hips than part of the design, the purse is the wrong colour, her fake tan is too obviously fake, and the silhouette does nothing for her.
Shaun Robinson in Romona Keveza
I love lace, I really do. However, when it's laid flat over the hips and gathered below, it makes those hips look very wide. Especially when the "nude" lining isn't the wearer's skintone. I don't know what to say about her hair.
Giuliana Rancic in Roberto Cavalli
Apparently she's having a hard time getting pregnant so I don't quite know why she's wearing a dress that makes her look like she's got a bun in the oven.
Phoebe Price in Ema Savahl
I want to reach through the screen and scrub the makeup off of her face while poking and prodding her to stand up straight. I guess her boobs are bringing her torso down and she doesn't know that they sell bras to help with that. The fascinator makes this casual-looking dress even more casual.
Nina Dobrev in Donna Karan
Even though it looks like a bunch of napkins were atttached to the skirt, I like this dress. It fits her and it's interesting. This is one of the better choices.
Julia Stiles in Georges Hobeika
She should always wear this colour because it looks so beautiful against her skintone. Except for the belly-button knot, the dress style flatters her.What's up with all these ladies with long hair draping their hair to one side? It's sort of nice but I didn't think that it was this popular.
Cobie Smulders in Alberta Ferretti
I didn't know that tan lines were so in this year. If not for that and the fact that the bodice is about one inch too long, this dress would be perfect. I love the colour by itself and on her and the style is lovely.
Randee Heller
She played Mrs. Rosie Blankenship on Mad Men? Now that's some amazing makeup and costuming! The best part about this dress is the colour because it suits her so well. The shoes are a little on the old-lady side for my taste. There are nicer comfortable shoes out there for people who need them.
Kat Kramer
I want to like this. Well, I do like the idea but the band colour washes her out and I don't like seeing the black underneath the band. The silhouette works for her, however. Someone should have a little chat with her about her hair and that bag, however.
Loretta Devine in Deanzign Couture
While the colour is a little drab and her boobs are strangely misshapen, this dress is lovely on her. I love the draping on the sleeve as well as the neckline and empire band.
Louise Roe in Nicole Miller
Very few people can wear mustard curtains and she is not one of them. The colour makes her look sick and the heavy curtains emphasize how skinny she looks. Someone should have told her that she left the house without doing her hair before she reached the red carpet.
Lara Spencer in Carmen Marc Valvo Couture
I love love love love this fabric and I wish that the swirls had been put in more flattering places. Still, I'm so busy looking at the fabric that I can barely see how thick her waist looks.
Ariel Winter in Max Azria
Many people were surprised at just how much cleavage she was sporting because she's only 13. She can't help being well-developed up top but for a young teenager to wear such a cleavage-revealing dress feels a little creepy. yes, I know that models are young but they're made up to look older. Here it's obvious by her hair and makeup that she's young so the Lolita vibe is a bit much.
Carrie Ann Inaba in Carmen Marc Valvo Couture
I feel like the top of the bodice doesn't look quite right. Maybe it's her hair which looks sort of like straps or maybe it's that the bodice seems quite short. Or maybe it's that it's so plain. I don't know.
Jennifer Carpenter in Tony Ward Couture
She must be brave to show up at the Emmys with her straggly, casual hair because this is not a casual event and any dress that is that sparkly and shows off that much boob is not a casual dress. This gorgeous dress is wasted on her.
Jayma Mays in Zuhair Murad
Oh look, it's a life-sized cake topper. Sure, it fits, but the colour washes her out and the whole thing looks just a bit too precious.
Adrianne Palicki in Dolce & Gabbanna
She is totally working the vintage feel and body-conscious fit of this dress. Only the strange way her boobs are separated detracts from the overall look - and since she looks so hot otherwise, I'm willing to overlook that flaw.
Christine Baranski in Zac Posen
It's just occurred to me that there are a few dresses with sleeves on this red carpet. I hope these sleeves are ushering in a new trend and signifying that strapless days are over. I love the neckline details, sleeves, colour, and overall style of this dress. She's sexy without being vulgar and covered-up without looking dowdy.
Lea Michele in Marchesa
The best part about this dress is the back with that waist-length cowl exposing the back. Sadly, the front neckline doesn't fit her properly. I think that flaw could be overlooked if she'd don't something attractive with her hair but with it down like this she looks like she's playing dress up in her older sister's clothes.
Christina Hendricks in Johanna Johnson
We can tell that this dress was custom-made for her because her boobs are nestled perfectly into the dress and don't appear to be straining to be free. Unfortunately the colour washes her out and that front slit does her no favours. I look forward to the day when she wears something that fits perfectly and that looks spectacular.
Taraji P. Henson in Blumarine
She must not own any mirrors because if she's looked at herself in this ill-fitting, sheer "dress" i'm sure she would never have left the house.
Cat Deeley in Monique Lhullier
While I don't love this dress, it isn't that bad. The colour doesn't wash her out, the dress fits her, and she looks fine. She's gorgeous and could look fantastic so why she settled for fine I have no idea.
Michelle Forbes in Romona Keveza
The texture on the skirt and draping on the bodice is lovely. I'm especially drawn to the pointy bits at the top of the bodice because they make this dress interesting and more attractive. Some accessories would have made it look like she was wearing the dress and not just trying it on.
Eva La Rue
I think the dress designer was Simin Taghdiri but I'm not sure. Each part of the dress (except for the mesh-covered midriff, which is tacky) is interesting or pretty yet the whole dress doesn't quite work. Maybe the problem is that it looks more like a prom dress than a red carpet dress.
Aimee Teegarden in Ramona Keveza
Even though this is much like a mullet dress, I love it. The details - like the open bit on the back, the back pleats, waist, asymmetry, and ankle-bearing front skirt - elevate this dress from nice to elegant and beautiful. If everyone looked this great in such gorgeous dresses, I'd have next to nothing to say.
Aubrey Plaza in Juan Carlos Obando
At least this white dress doesn't look at all bridal. I like its simplicity although a little bit of embellishment or a unique accessory or two would have helped.
Rachael Harris in Nicole Miller
The bodice of the dress looks like it's fighting to fall to the ground. At least she's wearing the glasses so that our eyes are drawn to her face and away from the bodice.
Bonnie Bentley in BCBGMAXAZRIA
Was this event held near a beach? I only ask because why else would someone wear a beach coverup to a red carpet event?
Maria Bello in Kaufmanfranco
Even though there are certain toga-like qualities to this dress, I like it. It's sparkly, it fits her, and it's flattering. If only her hair was a bit more polished it would be a lovely overall look.
Angela Kinsey in Lorena Sarbu
I feel for Angela because she's so short but she's wearing a too-long red dress on a red carpet and so she looks like she's melting into the carpet itself. The midriff band should, in theory, define her waist but it's so long (or she's so short) that it just makes her look shapeless.
Julianna Margulies in Armani Prive
Ian didn't like this dress because it's got those clear glass bobbles on it and the bodice has its own form. Personally, I love those things about this dress, especially combined with the shiny fabric. It's an interesting and unusual choice.
Connie Britton in Maria Lucia Hohan
The "shredded-paper" skirt is kind of interesting, isn't it? Without it this dress wouldn't be anything special but with it, this dress at least has something unusual about it.
Kaley Cuoco in Ramona Keveza
Normally I associate this designer with wedding gowns, not prom dresses. Most women who will be walking the red carpet don't wear prom dresses for the occasion. Maybe she had these red accessories and wanted a dress to show them off?
Vanessa Marano in Eva Culture
Back when I got the Burda pattern magazine, each year it would include a pattern for a version a dirndl dress. This dress looks much like they did even though it lacks the gathering at the waist. Even if this design or silhouette worked on her (which it doesn't), the black and peach contrast washes her out.
Clarie Danes in Oscar de la Renta
I swooned when I first saw this dress. The silhouette is nothing special (although it fits her perfectly) but its simplicity just highlights the spectacular fabric. I love how each section has a different shine and the fabric has sort of a cracked-glass look to it (at least to me). The colour is gorgeous, too, and not just on her.
Jane Krakowski in J. Mendel
There's a beachy vibe going on here with the big bleached-blonde hair, fake tan, tight dress, and, ummm, cold environment. The dress fits and all - and I do love the fabric - but there's something missing here. Is it class?
Kerry Washington in Zuhair Murad Couture
At first glance I thought she had no legs because they're kind of obscured under the lace. But of course the legs are there. I don't love sheer, lace skirts because they can look trashy but it works for her here. Even if she does look like she's rising up from the red carpet.
Julie Bowen in Oscar de la Renta
Wearing a print on the red carpet can be tricky because some prints look a little too casual. Fortunately, this print is classy and elegant, as is the dress silhouette.
Elisabeth Moss in Marchesa
What is that on her head? She's so beautiful so I don't understand why she would poufify her hair like that. At least the dress is pretty. The embroidery on her shoulders is especially gorgeous but even that doesn't make up for her hair.
Gwyneth Paltrow in Emilio Pucci
This outfit was one of the most controversial of the night. Apparently she didn't know that this outfit was sheer. She must have known that her midriff was exposed, however, and many people (including me) question her taste for wearing this. This would be perfect for, say, the Grammys or anything involving MTV but it's a little much for the Emmys.
Kelly Macdonald in Stella McCartney
It's like she thought it was winter. And that she wasn't going to the Emmys but a memorial service for someone she barely knew and she wanted to look successful and luxurious.
Olivia Munn in Carolina Hererra
Where did that belly come from, and why is she showing it off instead of hiding it? Was she tired of looking like a skinny model?
Cara Buono in Donna Karan
The back of this dress is gorgeous and sexy but the front ... isn't. The front bib would be fine without the silver accent or if the accent were placed in a more flattering way. I'd expect the accent placed like that from a girl playing dress-up, not a grown-up woman.
Paz de la Huerta in Versace
I think she's incapable of smiling because she wants to portray herself as a tortured artist who's being forced to wear a pretty (if frothy) dress. She's doing her best to make herself and her outfit look as ugly as possible.
Sofia Vergara in Vera Wang
She looks hot and not at all tacky or trashy - well done! I hope she continues to dress this way and doesn't go back to the Carolina Herrera dresses that made her look like an aging cougar on the prowl.
Sarah Hyland in Christian Siriano
Is the belt (which is lovely) too tight? Her hips come out right under the belt in a not-so-attractive way. Also, why is she wearing a bump-it in her hair?
Gretchen Mol in L'Wren Scott
Oh, wow. I'm almost speechless here because I love this look. This dress hugs her curves in all the right places, showing off her gorgeous figure. The only flaw is the hint of a tan line above her bust but I can forgive that since she looks so amazing.
Heidi Klum in Christian Siriano
Do I like the crumpled-paper skirt? Well, no, not so much. The colours are dull and not so flattering against her skin tone. However, the skirt shape is unusual and the proportions, especially the asymmetry, work really well.
Evan Rachel Wood in Elie Saab
I hope those padded shoulders are not an indication that overly-padded shoulders are on their way back. I understand that the shoulders are the focal point but this dress would be lovely without the extra padding.
Dianna Agron in Roksanda Ilincic
What is with all of these beautiful women wearing shapeless, unflattering dresses? Are they trying to make a statement or to show people that they are more than just a pretty face? Can't they do that while wearing something a little more flattering?
Melissa McCarthy in her own design sewn by Daniella Pearl
I love that she designed her own dress because it's perfect for her. It's flattering, fits her perfectly, and draws attention to all the right places.
Katie Holmes in Calvin Klein
This is the kind of dress to wear if you've got narrow hips and want to make them look wider. It doesn't work quite so well with normal or wide hips like she's got.
Lena Headey in Alessandra Rich
I wonder if she knows that even though she's covered up, we can see that her boobs are too low? Is there no one to tell her that she needs a better bra?
Kate Winslet in Elie Saab
We were afraid that her boobs were going to bounce free of the dress when she ran up on stage. This might not have happened if she was wearing the right size dress instead of one that's at least one (and possibly two) sizes too small. It's a gorgeous dress and a great silhouette for her; imagine how beautiful she would have looked if it had fit her properly.
Kristen Wiig in Zac Posen
The shape and ombre fabric work really well on her although she looks like she was playing dress-up between her hair and lack of accessories. A gorgeous, streamlined dress demands gorgeous hair that doesn't compete with the dress lines. Some accessories would have finished the look.
Heather Morris in Masai Payan
I love bits and pieces of this look: the ruffles, the bodice details, the way the fabric has lots of depth when the light hits it. Somehow the bits and pieces don't create a cohesive, gorgeous whole. The bodice looks just attached to the skirt without a good transition. Her hips look disproportionately wide. And what was she thinking when she went out with that hair?
Kate Flannery
I wish I knew who made this dress because it's perfect for her. The ruching lines create interest, the silhouette is sexy, and the colour is gorgeous against her skin and hair.
Naya Rivera in Lloyd Klein
This dress has pockets!! Pockets aside, this is one gorgeous dress that would be perfect for women of many sizes. The bow and straps on the bodice draw the eye upward to the wearer's pretty face and the silhouette creates a curvy look. Beautiful.
Amber Riley in Simin Taghdiri
This lavendar confection is almost perfect. The embellished straps and bodice draw the eye up and create balanced shoulders and the diagonal ruching is always slimming. However, she looks super-short (or else her torso is exceedingly long) because the skirt starts at her lady bits. Had the skirt started about four inches above its current location I'd label this dress perfect.
Rashida Jones in Alberta Ferretti
This dress is pretty, if a bit... frothy, in a restrained way. Apparently restrained frothy fabric is in these days. I guess it's better than unrestrained frothiness where there are volumes and volumes of fabric, right?
Emily Blunt in Elie Saab Couture
OMG I love this dress!!!! The embellished fabric is gorgeous and it's used to perfection in this silhouette. And of course the silhouette, with its deep vee neckline and slim shape, is perfect for her. I just wish she'd done something as gorgeous with her hair.
Kathy Griffin in Oscar de la Renta
Redheads have a hard time wearing red because the red hair and the red dress can clash. Like they do here. The shiny red of the dress overpowers her hair, making it look dull. Sure, the dress fits and looks good, but the colour is all kinds of wrong for her.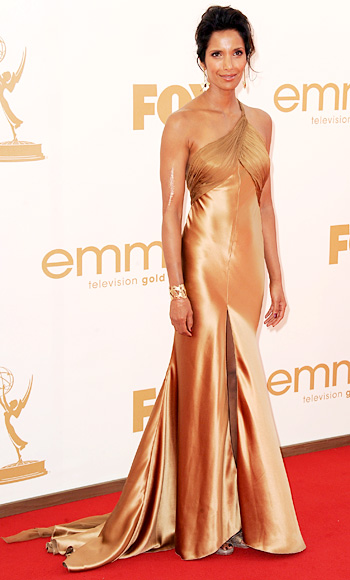 Padma Lakshmi in Armani Prive
In theory, she should look gorgeous in everything she wears. This dress proves that theory wrong. There just isn't enough contrast or similarity between the fabric on her boobs (which makes them look strange) and the rest of her dress.
Paula Abdul in Simin Taghdiri
Is it just me or does it look like her torso was pasted over her legs and both are pointing in different directions? Even if she looked like her top and bottom halves were connected properly, that sparkly belt looks too big for her waist. I can only guess that she was as out of it while getting dressed as she usually is on tv.
Kiernan Shipka in Balenciaga
She's all of 13 years old and already she's got style! This adult dress is a great choice for her; it looks age-approprate and perfect for the event and she's wearing the perfect shoes with it. Some jewelry would have made the look even better.
Martha Plimpton in Zac Posen
Oooooh, I love it! The overall sparkles and colour are divine! The best parts are the straps and neckline, which are stylish and so much more flattering than if the dress were strapless. She looks sexy without looking vulgar.
Jenna Ushkowitz in Ghadah Paris
This kind of crumb-catcher or stiff napkin might be useful if she was going out to dinner and wanted to surreptitiously bring food home. I don't think that's what happens at the Emmys.
Amy Poehler in Peter Som
Clearly there's a market for too-tight jewel-neck dresses with sleeves. I do have to wonder why the people selling these dresses aren't encouraging the wearers to wear their actual size. Surely a properly-fitting dress is more attractive and a better advertisement for the brand than a too-tight dress?
Archie Panjabi in Angel Sanchez
It looks like the bodice used to have straps or something at the shoulders and she just cut them loose to let them drape over the bodice. Clearly she didn't know that the bodice would also sag down and that her boobs would try to be free. Hopefully now she knows better.
Rachel Taylor in Giorgio Armani
There's something missing here because it looks like she's wearing a long, sequinned, fringed towel. I think she probably has a nice figure but you wouldn't know it here.
Jurnee Smollett in Pamela Rolland
Oooh, pretty. The bodice is gorgeous, as is the skirt; all those soft folds and gathers drape beautifully on her and that colour is perfect for her. I'd love it more if it didn't have the train but the whole dress is so lovely that I'll overlook that one thing.
Anna Faris in Reem Acra
Oh, dear. I can't imagine why she would want to make her hips look wider than they are because her figure is quite well-balanced. She must not have seen the giant diamond embellishment on her hips because she was so focused on her boobs exploding out of the slightly-too-short bodice.
Mayim Bialik
Apparently she's Jewish and deliberated
wanted to wear
a suitably modest dress. This is a lovely dress even though (or maybe because?) it's modest. It fits her perfectly and she wears it well. It would have looked even better if the dress wasn't black because the colour is too harsh for her. Had the dress been blue or green it would have been a knockout.
Margo Martindale
She
wanted Michael Kors to design her dress
for the Emmys but I don't think she succeeded because he usually designs more structured outfits. The only thing I don't like about this outfit is the neckline, shoulder, and bust areas which are shapeless and droopy. The last thing an older woman who's already fighting gravity needs to wear is something that emphasizes gravity's effects.
Anna Torv in Vera Wang
What was she thinking, wearing a black mullet mermaid dress? The vintage-inspired bodice is gorgeous but the skirt is much too heavy and mullety to work with the bodice.
Ellie Kemper in Aidan Mattox
Note: a shapeless, sequinned toga is not flattering. Allover sequins can make a person appear bigger than they actually are because they're reflecting so much light. With no shaping on the dress, the wearer ends up looking like a big, shiny, rectangular blob. At least then no one is focusing on her tan lines.
Minka Kelly in Christian Dior
She looks so beautiful! The lace neckline and sleeves are so delicate and they definitely suit her; even the tiered skirt works to emphasize her figure. The colour is gorgeous against her skin and her hair and makeup are polished and suitable. So why did she add a black belt to her beautiful navy dress? Does she have a black belt in judo and she wanted to show everyone?
Annie Ilonzeh in Romona Keveza
Here's another beautiful dress. I don't love that it's strapless but the colour and silhouette and great. I don't understand what she did to her hair, however. It looks like she was running late and left her hair as it was when she was having her makeup done.
Elizabeth McGovern
While the pleating on the bodice is intresting and colour is lovely, this strapless silhouette looks a little plain (as does her hair).
Jessica Pare in Pamella Roland
The dress is sparkly and feathery and it fits her reasonably well. However, it would have looked so much better if it had had straps instead of being strapless as there's something weird about the proportions. Love her hair and makeup.
Jennifer Westfeldt in Helena Barbieri (with Jon Hamm)
Maybe it's just her posture and stance but she looks a little bit pregnant to me. that would be fine if she were actually pregnant but I don't think she's currently expecting. I don't mind the slight mullet-like quality to the skirt because there isn't a huge difference between the front and back skirt. The best part about this dress is the colour, which is bright and cheery and that only overpowers her colouring a little bit. The bright colour is a refreshing change.
Jessica Brown-Findlay
There's nothing wrong with a long-sleeved dress on the red carpet; when there are cutouts as on this one, they can be sexy and gorgeous. However, when the wearer's hair looks schoolmarm-ish, as hers does, the long-sleeved dress goes from sexy to prim.
Brooke Burke (with David Charvet)
I had to double-check whether or not she grew up in Texas because she's sporting that big hair and extremely fake tan. She didn't, so I have no idea why she decided to make her hair as tall as possible. Her dress is a good colour against the fake tan although there isn't sufficient fabric to contain her boobs.
Anne Sweeney
It sort of looks like she took a length of fabric and pinned it shut hoping that no one would notice. We notice.
Melissa Rauch in Lela Rose
The fabric is gorgeous! It's lightweight and layered and it's used in an interesting way. The bodice with the sleeve is very flattering on her as is the rest of the dress. And look - she did something nice with her hair!
Cloris Leachman
I think she might be wearing Simin Taghdiri but I'm not sure. I'm happy that this dress isn't strapless but I'm not sure how I feel about the ruffled halter. The hot pink colour would be - how shall I say this? - overwhelming for someone half her age.
Kathryn Joosten
What a lovely colour on her! A slightly slimmer skirt would be a bit more flattering but it's still lovely on her. I especially like the different textures on the bodice and skirt.
Mireille Enos
I wish I knew who designed this dress because I love it. I love the curved, matte bands that frame her figure and the shiny ruched pieces filling the areas between the bands and I love the skirt. The colour suits her and for once I love the hairstyle.
Karen Kramer
I'm not a fan of orange but it looks nice on her. I think she's a little over-accessorized with the necklace, bag, and hair. It's a flattering silhouette for her, however.
Gail Simmons in J. Mendel
Purple is her favourite colour, apparently, and that's good because she looks great in purple. I wonder who attacked her and left those slashes on her dress; if it were me, I'd have changed before walking the red carpet.
Thushari Jayasekera
I do love saris! This one is beautiful and I love the colour on her. I sort of wish that more women wore saris because they're so elegant.
Aleksa Palladino in Pamella Roland
Clearly not everyone got the memo about posing on the red carpet. She looks terrified, doesn't she? And yet there's no reason for her to be scared. Her dress isn't (too) sheer, it fits, it's a fantastic colour, and her hair is only a little crazy.
Kate Linder in Kathryn Hynes, inc.
Who brings a fur wrap to the Emmys? The same woman who's daring her boobs to fall out of her dress, that's who. I figure that she wandered in from some streetwalker convention.
Joanne Froggatt
I would like this dress more if the skirt and bodice had the same colouration. She looks naked under the bodice but the skirt is so much blacker.
Mayra Veronica in Dolce & Gabbana
Who is boobsy-mcboobs-alot when she's not at the Emmys? I guess we can all be thankful that she's only showing off her boobs and not anything else.
Retta
What a gorgeous dress on her! The colour is amazing and the fit is fantastic. The best part of this outfit is that beautiful smile she's wearing.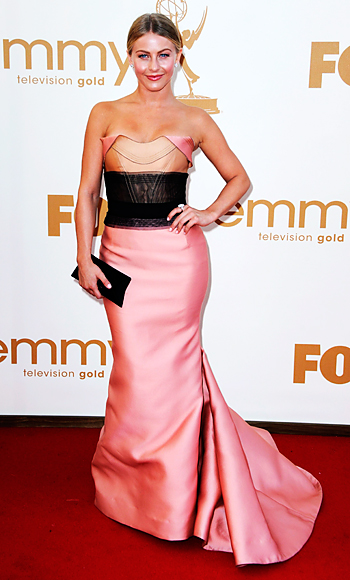 Julianne Hough in Carolina Herrera
I feel like there's too much black at the midriff and that instead of being slimming, it draws the eye right to her waist. And away from her shiny face (isn't she a spokesperson for Proactiv?) whatever she did to her hair.
Phyllis Smith (with guest)
Just because a woman is older and a bit larger doesn't mean that she has to dress in shapeless clothes. Black is slimming but not when it's a rectangle of black like this.
Roma Downey (with guest)
She's married to Mark Burnett so I hope that's him kissing her forehead. I'm surprised that she would wear something this unflattering. Look at how saggy her boobs are - that's practically a crime.
Megan Mullally (with Nick Offernan)
Most dress trains are on the back of the dress, not the front. It's kind of an unusual (not to mention impractical) design decision. Fortunately, the print and style are interesting so hopefully no one will notice the backwards train.
Anna Paquin in Alexander McQueen
The bodice is gorgeous with the cowl, halter, and gold bands. She's done a fine job of accessorizing her dress. And her hair is gorgeous.
Zooey Deschanel in Monique Lhullier Resort
This dress doesn't look unusual enough to be something she'd wear. Normally she goes for slightly "out there" looks but this fits and looks nice on her. Maybe this is Zooey Deschanel's normal twin.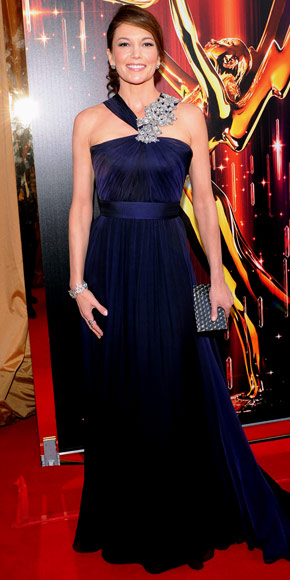 Diane Lane in Monique Lhullier
This dress is remarkably non-wedding gown like for this designer. I'd even go so far as to say that this is one gorgeous dress. The pleating, the neckline, the waistband, the embellishments - all stunning. She looks exquisite.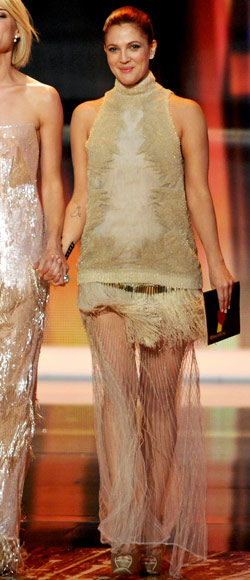 Drew Barrymore in Givenchy Couture
I don't know of anyone out there who thought that this was a good choice. It's sloppy, it's shapeless, the colour is totally unflattering, and it's got weird proportions. It's designed to be worn by someone who's about six feet tall; mere mortals like Drew just can't make this work.
photo credits: zimbio.com, instyle.com