The biggest party on Oscar night is the Vanity Fair party. The Academy Award winners often attend this party after the show is over which means that anyone who wants to rub elbows with the winners tries to be there. While other red carpet trends are seen on this red carpet, it is a party so just about anything is possible.
As usual, I'm only looking at the women's outfits and I've tried to include the designer name where possible. I've included as many unique outfits as I can find and excluded outfits that have already appeared in either the
Academy Award
or
Elton John
red carpet posts. Most people who attended these other events wore the same outfits to each one but a few did change between events.
Very image-heavy post after the jump! They're there so that they don't clutter up the page and so that people who don't want to look at or load that many pictures don't have to.
Let's get started!
Camila Alves in Zuhair Murad
This is definitely a dramatic dress and it fits her to a tee. The fact that she would blend into certain wallpaper styles is irrelevant.
Serena Williams in Ines di Santo
Not many people go to both big parties and those that do don't usually change outfits. Serena was one person who did change dresses between the parties. Of the two dresses I think I prefer this one because the colour is great, the dress looks good, and she's smiling.
Emma Roberts in Jenny Packham
If you're going to put sequins only on the bodice, this is the way to do it: make the bottom edges uneven and star-bursty. I love this dress - she looks dressed up and ready to party at the same time.
Jessica Biel in Versace
SQUEEE! I love the sequin blocking on this dress! the different shapes and sequin colours. The straps and little train are gorgeous, too. Her hair is perfect for the dress and occasion. I wish I could afford this dress and could wear it somewhere.
Leslie Mann
Weird. Somehow her hips look super-wide in comparison to her knees and bust. The colour is lovely against her colouring. It's quite similar to Anne Hathaway's dress, unfortunately for her.
Marisa Tomei
Is that a pocket up at the waist against her hip? I think it is, and I think the dress would have been lovelier without it because the skirt hangs funny. Great colour for her.
Anna Paquin in Monique Lhullier (with Stephen Moyer)
Looks like she started partying early with the way she's leaning. Good thing he's there to hold her up. The dress is an uneven, short hem version of a red bridal dress. The skirt looks like the fabric version of tarring and feathering.
Naomi Watts in Zac Posen
I'm not sure what to say about this. There's the weird sheer inset on the bodice and the front hip accents and the feathered side skirt. This isn't one dress but three without any one focus or place for the eye to rest. The best thing that could happen with this dress is that someone does step on that feathered train and rips it.
Jane Fonda (with Richard Perry)
She looks fabulous! Her exposed shoulders are sexy but not vulgar, the dress fits her to a tee, and the colour is fantastic against her skin and eyes.
Arianna Huffington
One problem (or advantage, depending on how you look at it) with using stiff fabrics for a dress is that the dress can practically stand on its own. This skirt on this dress is poufy in front and there's no way to get around that because the fabric is so stiff. Cutting it on the bias might have helped but as it is the shape is unflattering. As is the colour.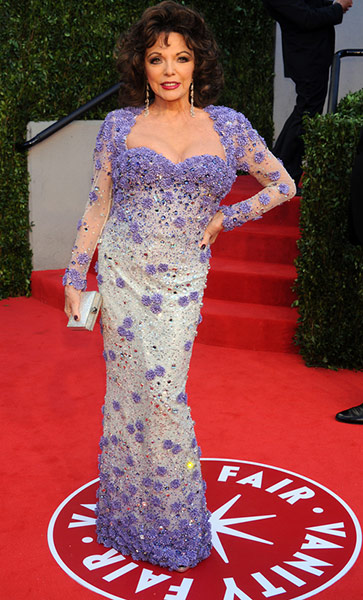 Joan Collins in Georges Hobeika
The light purple is a fabulous colour on her but I don't love the textured flower things. Between her escaping boobs - that bodice looks tight! - and the extra texture on her shoulders and boobs she's extremely top-heavy. It's a wonder she doesn't fall over. The ombre effect here makes her waist and hips look big which is no mean feat next to that bodice and shoulder pads. If the waist and hips were a darker purple this look would have been somewhat better balanced.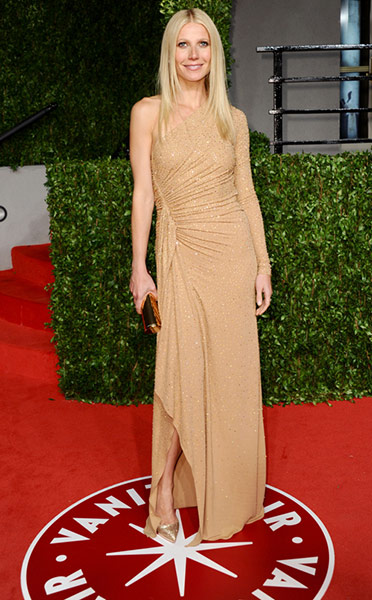 Gwyneth Paltrow in Michael Kors
This dress looks like the lining for some other dress - something lacy, perhaps, or something sheer. Sure, the dress fits like a glove (which might be part of the problem) and it's long and got a bit of subtle sparkle but the colour is so close to her skin colour that the overall look is kind of boring.
Kelly Lynch in Lanvin
It always happens - someone puts out a movie involving dancing and everyone suddenly wants to look like they're that kind of dancer. Look at that bun and those shoulders and arms and the flowy skirt. She's got "ballerina" written all over her. But if she wanted to look like a dancer, she could have chosen a more flattering dress that wasn't a weird length and that didn't have that strangely-placed shoulder strap.
Lily Collins in ADAM
Wonder woman, wonder woman - you're a wonder, wonder woman! Who told these people that this was a costume party? All she needs is gold cuffs to complete the look. She would have looked a lot better in this dress if it was pulled down about two inches because the top of the bodice and the waist are too high. Even so, it's a pretty good costume.
Lynn Collins in Gabriela Cadena
I wonder if these Collins ladies are related? If so, they're certainly differentiating themselves from each other by their dresses. Now, I love a print on the runway because they're so unusual but this print on this dress isn't working. Her boobs are trying to break out and she's got some underarm boob going on. There's some ruching in the hip area that's kind of wrecked by the belt (whose colour doesn't work with the dress). The overall look is kind of cheap.
Megan Mullally
She looks comfortable. From the waist up this is a fabulous look but below that it's not as good as it could have been. She'd have looked a lot better if she'd brought the hip ruching up by about two inches and taken the ruching up to her waist. As it is, the dress looks like it's sagging down at her hips, also making it too long.
Melissa Leo
I want to love this because she looks so happy but the embellishment makes her look short, as though she's wearing her taller sister's dress and hemmed it for the occasion. All of us short people know that when you need to shorten a dress, you can't just chop it off at the bottom. Had the embellishment ended at her hips instead of mid-thigh (and had the sleeves been shorter), this would have been gorgeous.
Mia Wasikowska in Stella McCartney
This is pretty. I don't love this silhouette - it would look better if she had more up top - but it fits her well and the lace looks right. The cap sleeves are a bit off and make her arms look like hoses. She's dressed well for a party even though she doesn't look especially excited about it.
Adrianna Costa
Even though this dress is just a touch too long, it's lovely and perfect for a party. It's form-fitting without being too tight and it's sparkly and eye-catching.
Jackie Collins
I like a pantsuit in the right fabrics for formal occasions. The charmeuse top adds a shine and interest to this outfit. I guess the same is true of the rhinestone shoulder decorations but I don't like them quite so much. Still, she's looks good and ready for the party.
Lourdes Leon in AllSaints
This is Madonna's teenaged daughter. I don't love the print but this is definitely an age-appropriate, cute party look. She looks cute and ready for a fun night. I bet it would have been fun if only she'd had a date other than her mom.
Madonna in Francesco Scognamiglio
Ummm, Madonna? You're showing your bum - did you forget your pants? I remember seeing a documentary about a young drug addict who forgot to wear a skirt to her psychiatrist's appointment and thinking that that was really sad. The lace is pretty and you have a hot bod and I know you don't want to look like a mom and all... but you went to this awesome party with your daughter. People can see that you're a mom and they wonder why you're dressed as a streetwalker.
Ellen Barkin in L'Wren Scott
When a dress is that tight around the boobs, waist, and hips, it's ok - even necessary - to go one size up. Squeezing oneself into something that's a size too small will always, always make that person look bigger than they are. And when the dress is satin, like this one, every lump and bump will show. What little pouchy tummy she has looks huge in this tight, shiny outfit. Of course that light blue embroidery appears to be cupping said pouchy belly which only makes it look bigger.
Removed per copyright request, Feb 12, 2014
Selita Ebanks in Valentino
This is an... interesting use of ruffles. I like the neckline ruffle but the side ruffles are a bit weird. Then again, I know I'd love to wear them because they'd be all fluttery and light even though they're not all that attractive. Unfortunately, this colour doesn't work on her at all and the light ruffle contrast colour doesn't go with the red.
Rashida Jones in Valentino
Look - it's a racy Little House on the Prairie dress! I remember long skirts with the big ruffle on the bottom (I remember that bedspreads had them, too). The ruffling on the bodice balances the ruffle on the skirt. The problem is that the colour looks like it used to be a lovely pink colour that was washed over and over and faded and became dull and it just doesn't suit her.
Selena Gomez in Dolce & Gabbana (with Justin Bieber)
She looks gorgeous in this beautiful surpliced bodice and floaty skirt. He's a mess - what is going on with his pants? It's so cute that her belt and his pocket handkerchief match.
Joy Bryant
It isn't all that often that a dress looks like it's been painted on. The bodice and hips of this dress is so tight that there's nothing left to the imagination. If the dress were a bit longer in front and just a bit bigger in the bodice I'd love it... but as it is it's a little on the tacky side.
Lea Michele in Roberto Cavalli
I want to love the sequinned design but it's kind of weird the way it forms an arrow to her lady bits and a star at her thighs and knees. It ends up looking like she's wearing her shortened taller sister's dress.
Gabrielle Union
Her waist looks tiny in this dress! I kind of love the fluttery aspects but I don't like the bow on the one shoulder or the limp train. This is a good colour for her.
Georgina Chapman in Marchesa
She's a Marchesa designer so it's no wonder that her dress has a bunch of frou-frou and ruffles. This mullet dress with its roses would be perfect for a prom but is a bit too young for this occasion.
Cameron Diaz in Carolina Herrera
The original dress was knee-length which was better-balanced with the ruffle thing. It seems that she's determined to show off her legs (and give flashes of her lady bits when she sits) regardless of how the skirt looks with the bodice. Of course I wouldn't tell her all that to her face - do you see the muscles on that shoulder and arm?
Ginnifer Goodwin in Erwin
Are those giant pockets on her skirt? No? Then why are there giant satin half-circles on that skirt? This dress is badly designed (possibly even over-designed) and even though it fits her very well it's terribly unattractive. Cute hair.
Zoe Galdana in Prabal Gurung
I like her shoes with this dress and the way they pick up the pink accents in this dress. I don't like this dress with the collar and sleeves and skirt and black belt but it suits her and it's a good choice for a party.
Kerry Washington in Escada
I want to reach through the monitor and twist her bodice back so that it's sitting properly. I like asymmetric looks but this particular asymmetric doesn't go far enough; it looks less deliberate than accidental. And while I love sequins and sparkles, I don't love the pattern of them on this dress. This is an ok look for a party (except for the train).
Taylor Swift in Zhuair Murad
If you squint your eyes at this, the contrasting sequins at the top and hem look almost like lace trim on a charmeuse slip. I want to like this but I don't and it's probably because she does sort of look like she's wearing sequined lingerie. But who's going to notice her dress with that lipstick?
Vera Farmiga
When Fergie wore those rhinestoned football shoulder pads during the latest Superbowl halftime show it make sense because she was performing during a football halftime. There's no such good excuse for these pads here and the dress is completely unbalanced with them. Maybe if it was floor-length those shoulders would look proportional but this knee length doesn't work.
Tory Burch
Yep, that's a dress, all right, with a remarkably hideous necklace. It's way too long and she (or someone else) could easily trip over it. I don't understand why the dress is so long; she's a designer, after all. Maybe this isn't her own design?
Amanda Seyfried in Valentino
I'm not sure what to think of this. Her hair and makeup look so fresh, as does that hemline, but the collar is way too much with the sleeves.
Eva Mendes in Donna Karan
The lines of her hair, that bodice, and skirt make her look like a triangle on legs. I suspect that's not the look she was going for. Less midriff, less tulle, and less volume would have suited her better.
Zooey Descanel in Valentino
How many black lace over nude looks were there? Sheesh. I'm a little tired of them. This one doesn't flatter her figure at all: the skirt (I love the skirt lace, btw) is too blocky and hits her leg at an unflattering spot and the bodice is too rectangular and light against the skirt lace. There's something off about her sheer black nylons as well, especially paired with those adorable ruby shoes. Nude legs and no sleeves would have been better but nothing could really save this dress.
Rosie Huntington-Whiteley in Valentino
Her poor boobs look uncomfortably squished and the ruching looks kind of tight even though I think the dress is the right size. The colour isn't right for her, either. Still, it's a party dress and she's going to a party.
Charlize Theron in Atelier Versace
I like the black sunburst embellishment on this one-shoulder look. If you're going to an upscale party and want to be comfortable and gorgeous, this is a good choice. Love her hair and makeup, too.
Anne Hathaway in Atelier Versace
She wore this on-stage and she must love it because she's wearing it now. I like her hair; it's party-ready. And I still like the bodice embellishment. I don't think a train - even that small one - is a the best choice for a party. Rrriiippp.
Elizabeth Banks in Vintage Versace
Oh I love this. I love sequins and sparkle - I'm a bit like a crow that way - and I really love this understated shine. The illusion neckline and sleeves balance out the short, non-tight skirt.
L'Wren Scott (and Mick Jagger)
Presumably she's wearing something of her own design and I love it. I love the slight ombre effect, the style, and the fit. Too bad she's standing next to that wrinkled mess.
Abbie Cornish in Elie Saab
There's an old-Hollywood feel about this dress with the sleeves and sequin design on the bodice and hem and her hair and makeup definitely work with this feel. Even if someone steps on her train, the dress isn't going to be pulled down. If you're going to wear a long dress with a train to a party like this, straps are a must to avoid an embarrassing wardrobe malfunction.
Mary Hart
I'd be surprised if she wasn't wearing a well-fitting, flattering, suitable-for-the-occasion dress. She's been in the public eye for so long that I'd expect dressing well is second nature.
Sarah Silverman
What a lovely coat! I think she's wearing a dress underneath but since her coat is so awesome the dress doesn't much matter.
Nancy Davis (left) and Barbara Davis (right)
Both ladies are dressing appropriate for their age and body type except for that silver cardigan. I love silver and I like cardigans but this one doesn't belong with that dress.
Anna Kendrick in Notte by Marchesa
The dress fits just fine but the ruffles look tacked-on and do nothing for her figure. The colour doesn't quite suit her and the black accessories are too heavy.
Sofia Vergara in Zuhair Murad
As usual, her boobs are trying to escape and as usual, the dress is form-fitting. She may as well be naked for all she's hiding in this dress - it looks like she's only wearing her undergarments and forgot to put on her dress. Instead of looking sexy she looks tacky and cheap.
Lynn Wyatt in Calvin Klein
No one could accuse her of wearing a revealing dress even though this dress is rather form-fitting. I don't much like the particular necklace she's wearing but I'm happy that she's wearing something there because otherwise the dress would be too plain.
Cheryl Hines in Johanna Johnson
I'm not a fan of the obvious cups on a dress bodice. I know that there are boobs there and I don't need the dress to point them out. Aside from that minor flaw (and the fact that the dress is a touch too long, which really isn't suitable for a party), this dress fits her like a glove and is gorgeous. The necklace, hr hair, and makeup set off the dress perfectly.
Emma Stone in Chanel
OMG it's a mullet dress. The train looks silly. I love the rest of the dress because it's cute, it's sparkly, and it looks fun. Her hair and makeup work with it too. But that train.... that train has to go.
Jena Malone in camilla and marc
Someone played a trick on her by telling her that this was a costume party. Look at her, trying to look cute and sexy even though she has that sinking feeling that her dress is out of place. Next time I hope she double-checks the dress requirements before choosing an outfit.
Jessica Szohr in Chris Benz
I love the fabric used for this overskirt - it's the kind of geometric that I'm drawn to. the bodice is flattering and the overskirt is gorgeous. So why oh why did the designer put that gorgeous fabric over white? That choice makes it look like she's wearing a slip and forgot to wear the correct underskirt. Gorgeous hair and makeup.
Kate Beckinsale in Julien Macdonald
Rawrr this is some kind of sexy! This form-fitting, completely covered dress is sexier and more attractive than any dress that shows off everything. The sheer sleeve inset is genius!
Elsa Pataky
This short, fringed sheath is a refreshing change from the long gowns at this party. This is a party, after all, and who wants to worry about someone stepping on your dress? This dress is formal but fun. I love it.
Tamara Mellon
At first I thought she was wearing a caftan over a dress but that's not at all what she's wearing. This is more like one of those half-dress/half-suit dresses. One side has the sheer fabric over a strapless dress and the other side is a dress with a strap. Weird.
Elaine Irwin
This looks suspiciously like either a wedding dress or a nightgown. There are some interesting design lines but the dress doesn't appear to fit all that well up in the bodice and neck area.
Brooklyn Decker in Joi Cioci
Running late after being pleasantly ravished in the cornfield and having nothing else to wear, she shoved her boobs into her torn and fluttery dress as best she could and arrived fashionably late to the party.
Anna Vyalitsyna in Versace
This isn't exactly the style of dress that one would find at most parties. Still, she's lucky enough or works hard enough to have a beautiful body and the dress doesn't show anything inappropriate. She would have looked more suitable for the event if she'd done something less casual with her hair.
Anika Noni Rose
You know, it's ok - some might even say a good idea - to hem a dress to the right length. This dress is a touch too long but I love the style and colour on her. I don't know why she'd want to wear Big Bird on her shoulders, though. That's weird.
Bryce Dallas Howard
The proportions on this dress are very strange: it looks like she has no waist and very long hips. I love vintage dresses but a person can't just throw one on without considering their own shape which is what appears to have happened here. Those shoes don't work at all, either. The only element that saves this dress is that the colour looks good on her.
Rosario Dawson in Diane von Furstenberg
The allover sequins prevent this dress from looking too much like an electric-blue bathrobe. The neckline and skirt are flattering but there's quite a lot of fabric in those sleeves that take away all of her curves. This loose dress looks comfortable, at least, and the colour is good on her.
Paz de la Huerta
I see England, I see France, I can see your underpants! She's wearing them, at least, and that view draws your eyes away from her droopy boobs. Even if we didn't get a glimpse of her lady bit area and her boobs were up and proud, the dress is a bad colour for her and her shoes are all wrong. Based on her facial expression I'd say that she's well aware of all of these problems.
Carolina Herrera
She designs some lovely gowns so I don't understand why she would wear something so fumpy. I realize that she's a real woman with a real woman's body but that's no reason to wear that skirt or that sad sleeve with the afterthought of an embellishment.
Diane von Furstenberg
Having nothing to wear to the party, she took a beaded curtain and wrapped it around her to create a skirt and bodice and then added a bit of curtain fringe to the empire line. Seeing that the dress wasn't quite right, she took her scarf made of rabbit fur balls, attached them to some ribbon, and made sleeves. Presto-chango! A party dress!
Anjelica Huston (with Danny Huston)
Oh, Anjelica. I know that this 70s batwing look is in these days - and who wouldn't want to bring back the hedonism of the 70s when they're going to a party? - but you need to take that inspiration and wear it in a way that suits you. The skirt looks like it needs ironing and because it's shiny it draws attention to your bottom half. Worse, that top takes your waist away and makes you look a little like you're wearing a red tree.
Jennifer Westfeldt
This one-sleeved empire-waist goddess-style metallic gown is lovely. There's enough sparkle in the fabric to prevent it from looking like a nightgown but there's not too much sparkle. The silhouette is easy-to-wear and looks comfortable and the colour suits her.
Rita Wilson
I keep saying that I like prints on the red carpet but then hating the actual prints themselves. To me this print is a bit too beachy for the red carpet and the style doesn't flatter her much. The halter neckline with the added necklace makes her top half look strange and the whole silhouette makes her look like a rectangle.
Catherine O'Hara
The colour is flattering and it's sparkly. The dress looks comfortable for a party. The helmet hair .... whoo boy. It's helmet hair. Now why would she do that?
Donna Karan
This is presumably her own design, and this is how you dress a real woman with a real woman's body. The draping, waist detail, and one-shoulder zigzag the eye over her body, making it look smaller.
Jane Lynch
I like it. Many of her dress choices have over-emphasized her hips but this gives her a balanced figure. And of course the jacket is metallic and shiny, which I like. She wore this to both parties.
Lauren Sanchez
She may as well be called Boobsy McBoobsalot. Cleavage can be a good thing but this is way, way too much. On the bright side, she can store food in there for when she gets hungry.
Juliette Lewis in Georges Hobeika
I can see it now: she steps on the extra-long skirt, pulling the dress and bodice down. Or someone else steps on her train and as she walks forward, the dress begins to descend. While this is a lovely dress and great colour, it's too long and that's dangerous for a party.
Liv Tyler in Givenchy Couture
It looks like either she's holding up the bodice or trying not to be sick. The train - especially with the strapless bodice - is not suitable for a party. It's a wardrobe malfunction waiting to happen.
photo sources: stylebistro.com, guardian.co.uk, glamour.com, starandstyle.com, nydailynews.com, osoblog.tv, tomandlorenzo2.blogspot.com, zimbio.com