Finally, here's my Oscar red carpet post! I've included all of the pre-award show red carpet looks I can find as well as all of Anne Hathaway's on-stage outfits. I know that those outfits aren't strictly red carpet but they were as talked about as the red carpet dresses so I thought they should be included. If you didn't know, all of Anne Hathaway's on-stage outfits were chosen and styled by Rachel Zoe. I think she chose fantastic outfits and styled them beautifully. I didn't always like Anne Hathaway's hair but the fact that she completely changed outfits, jewelry, and hair seven times in this one award show is such a feat that I can overlook some messy hair.
I have not included any after-party looks in this post. Many, if not most, celebrities changed outfits for the after-parties. To me, the outfits worn on an award show red carpet and party red carpet have different purposes and so should be discussed separately. If you're lucky I'll discuss them :)
There are two main new trends that showed up on this red carpet: sleek silhouettes and allover sparkle. Very few women are wearing those long dresses with the trains that make them look like they're being swallowed up by the red carpet. I'm thrilled by this change because I was getting tired of those dresses. Embellishments - aside from the allover sparkle - are more minimal on this red carpet than they've been in the last few years. Lace is still making an appearance in these dresses.
Colour-wise, most women wore black, whites and other neutrals, and anything in the blue, purple, and red spectrum. There are a few outliers and a couple of prints but most dresses are these. I like seeing colour on the red carpet; black is ok but it's kind of a fallback colour. Just as the little black dress is the go-to dress for most women, so is the black gown.
Jewelry was fairly understand except for earrings and either a necklace or bracelet/cuff. Hair tended to be shiny, wavy, and loose. A few women went for a modified bedhead look, as though they'd started out with nicer hair and then messed it up in the limo.
Warning: image-heavy post after the jump! The images are there so that they don't take up the entire page and so that anyone who doesn't want to look at them doesn't have to scroll through them.
Maria Menounos in Johanna Johnson
Black velvet is back and I don't mind at all. I like the bodice on this dress and I think the skirt is ok but she's melting into a puddle. Thankfully the extra hem fabric trend is going away. I hope that this "pouf" hairstyle disappears, too.
Helena Bonham Carter in Colleen Atwood
I love that velvet top paired with the skirt. Only HBC would wear this outfit with that hair and those glasses and that fan clutch. It's her aesthetic perfectly adapted for the red carpet; she looks beautiful and edgy.
Melania Trump in Dolce & Gabbana
She isn't an actress - what's she doing, walking down the red carpet? Ruching is supposed to be slimming but this horizontal ruching across her hips makes them look super-wide. Diagonal ruching would have looked better. At least her hair looks good.
Sharon Stone in Dior
Why does she have a fluffy animal up at the top of this dress? The skirt is so sad and limp - is it afraid of animals, maybe?
Busy Philipps in Douglas Hannant
The hip swag saves this mermaid dress from looking too bridal. But that swag together with the pleated bodice is a bit much. This isn't horrible.... it's just not great.
Camila Alves in Kaufman Franco
She looks lovely here with the deep V neckline and full skirt: this dress is perfectly proportioned for her. I wish she didn't look so good because she was such an incomprehensible host for Shear Genius and so I want to not like her. She looks fabulous.
Cheryl Hines in Johanna Johnson
At first I thought there was nothing at all to this dress but when I looked more closely I saw the pleating over the hip and the train. I like it. I love her hair.
Reese Witherspoon in Giorgio Armani Prive
The dress is simple and lovely but paired with her pageant hair and pose makes her look like she's about to give her opinion on how she, as a presenter, can use her position to foster world peace.
Virginia Madsen in Romona Keveza
The proportions, fit, and style are all very flattering to her figure. I'm a little tired of this mermaid look with the train but it works here with the one-shouldered white bodice. I don't understand what's happening with her hair; how can it look messy and partly styled all at the same time?
Anne Hathaway in Lanvin
I love that for her second on-stage look she wore pants with very sparkly Brian Atwood shoes because the shoes make the look. Of course she wore this outfit because she and James Franco did a little role-reversal - he wore a pink dress that looked nowhere near as good on him as this tux did on her. The ponytail isn't quite as flattering as her other on-stage hairstyles but it works with this outfit.
Sunrise Coigney in Jean Paul Gaultier
Meee-owww! This is a statement dress and I think I love the statement it's making! It hugs her curves and gives her extra-luscious curves and drama with the curved gold chain inset. Her hairstyle and makeup are perfect with this sexy, edgy dress.
Anne Hathaway in Tom Ford (with James Franco)
Of all the looks she wore on-stage, this is my least favourite. I like the way the rhinestones have been applied to create areas of greater density at the edges but I don't like the lace. I think this would have looked better had the dress not been lacy or had not had that nude effect so that the seams and darts are clearly visible. Her hair looks fantastic, however.
Anne Hathaway in Vivienne Westwood Couture
On-stage look number three. She does sort of look like a cake topper but at least she's an attractive cake topper. I'm not in love with her hair but that necklace - oh, that's beautiful.
Oprah Winfrey in Zac Posen
Strictly speaking, this isn't a red carpet picture but Oprah is so famous that I couldn't ignore her and her outfit. This dress fits her perfectly: her girls are where they should be, she has a waist, her shoulders balance out her hips, and the dress hugs her curves in all the right places. I love the bodice style and the ombre sequinned skirt both as part of the dress and when I look at them on their own. She looks regal and is impeccably dressed.
Annette Bening in Naeem Kham
The beading on this dress is gorgeous - I love how the beads in each section have a different orientation and I especially love the rhinestone design lines. However, the bodice just doesn't look quite right. Her boobs appear to be flattened and too big, since they're escaping out the top, and the design lines don't sit right over them. Still, she looks radiant.
Julia Ormond in Anne Barge
This black lace over silver bridal gown fits her very well, and I sort of like how the smaller lace is used at the top and hem. Even though this silhouette works for her, I'm not loving it.
Next up: white, silver, and nude-coloured dresses:
Erin Andrews in Kaufman Franco
Whoooo.. sexy! She looks totally hot but not in a skanky way. The colour and style suit her and I love her cascading hair.
Jackie Weaver in Collette Dinnigan
I'm in love with this bodice and not just because I'm drawn to sparkly things: I love the art-deco deasign there as well as the neckline and sleeves. The skirt is ok, if a bit light for the visually heavy bodice and a bit wide. A darker, narrower skirt would have been perfect with that bodice and that big smile.
Anne Hathaway in Oscar de la Renta
SQUEEE!!!! This, her fourth on-stage outfit, was my favourite. I love it not just because it's sparkly, which it is, or because it's sexy, which it also is, but because it's got fringe. And I loved that she did a little twist on-stage to set that fringe flying! I also love the contrast neckline, which gives the dress just that bit of definition that it needs. I just wish that she'd done her hair differently - the messy bedhead look doesn't work so well with this fabulous dress.
Anne Hathaway in Givenchy Haute Couture
This is the first dress she wore on-stage as a presenter. It's a pretty dress but it makes her look a bit hippy. I do like the bodice design work because it creates interest in this grecian-style gown. I love her hair.
Melissa Leo in custom Marc Bouwer
This dress was custom-made for her. Even though it sort of looks like she's wearing a doily I love the lace-over-fabric technique and the bits of metallic fabric shining through. The silhouette works for her, although I'm not a fan of the front slit or the collar and wish they'd been reworked ever so slightly.
Gwyneth Paltrow in Calvin Klein
Beautiful. I'm completely in love with this look. I love that the metallic fabric is used for this simple column silhouette because it really showcases this lovely fabric. She looks like she's glowing.
Nicole Kidman in Dior Couture
Apparently this was one of the most talked-about dresses on the red carpet but it leaves me speechless. If she wants to look washed out and to wear panniers over her hips then who's going to stop her?
Celine Dion in Giorgio Armani Prive
I wish the dress had held up better on the way to the event because the silhouette is lovely, as are the colour and fabric. I'm a sucker for this kind of shine. Unfortunately, the shine line seems to point straight down to her lady bits which might have been avoided if the dress was just a touch bigger around her hips. Even so, she looks amazing. Love the sleeves.
Malika Sherawat in Marc Bouwer
At first I liked this and then I noticed the shoulder strap on the right side. Had that been wider and met up with the strap coming from the left, this would have been perfect. As it is, that strap from the left looks like it's a mutant trying to eat her face. The colour and silhouette look great on her.
Michelle Williams in Chanel Couture
I really want to love this because lots of others did and it's interesting but there's something about it I don't like. The sleeves and bodice look droopy and somehow even though the dress is fairly form-fitting, it comes across as a sack. I think that had the sleeves been just a bit shorter or had the neckline been a bit wider or had the seam detail shown through more, this dress would have been beautiful.
Daphne Zuniga in Nicole Miller
I've heard it said that well-endowed women should stay away from necks and draping because it over-emphasizes the bust but I've never seen such a clear example of the problem. You can't not look at those boobs but when you do manage to tear your eyes away you see that she must have been attacked by scissor-wielding dwarves on her way to the red carpet. What was she thinking?
Mandy Moore in Monique Lhullier
That bodice with the illusion neckline and sleeves - gorgeous! So why was it paired with that skirt? From the waist seam to the hip line to the folds, that skirt is boxy and unattractive. She must have known that something wasn't right because she paired this outfit with that hair and heavy makeup.
Halle Berry in Marchesa
Normally I sort of like this type of skirt with its floaty, ethereal piecing but here it just seems to be a bit much. The top of the dress is lovely, if a bit light for her skin colour, and I think she would have looked better if there was less floaty, poufy stuff there.. and if she got rid of the train.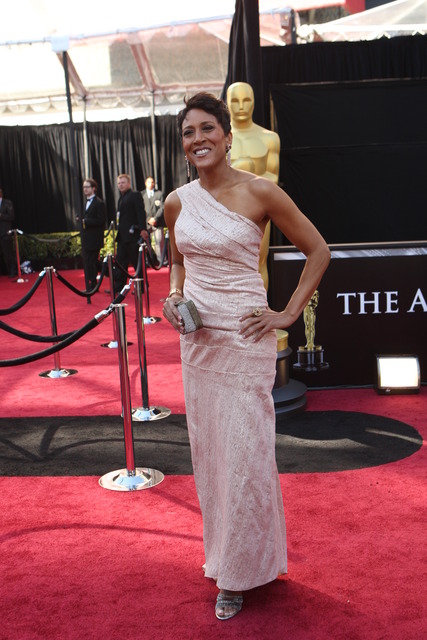 Robin Roberts in J. Mendel
This simple, understated dress is perfect for the occasion, given that she was interviewing celebrities. the colour doesn't suit her that well and the dress length doesn't work. Then again, she's not the focus so the dress doesn't much matter, does it?
Hailee Steinfeld in Marchesa
Apparently she drew out the dress she wanted and Marchesa made it for her. I'm impressed that she was able to design something for herself that is tasteful, beautiful, and completely appropriate - that's talent! This 50's-inspired dress is perfect for her figure, age, and colouring. Beautiful.
Florence Welch in Valentino
This is her red carpet dress: she wore a different dress for her performance. She really rocks this long, romantic, lacy look, doesn't she? While I don't love the colour or style of this dress, it works for her because she's so tall and striking and the colouring is right for her.
Next let's look at the navy, purple, and red dresses. These cool colours were most prevalent after blacks and white/nudes.
Marisa Tomei in vintage Charles James
The colour and silhouette are lovely, and I love her hair. She looks radiant. However, the dress doesn't fit her as well as it could: the bodice and hips are a bit too big and the waist is a bit too small.
Dale Dickey in Kaufman Franco
She looks stunning in this dress: the colour and style work with her colouring, hair, and jewelry to create a gorgeous package. If I could change one thing, I would make the sleeve straps wider because their width doesn't balance out the style of heaviness of fabric. Still, I'm a sucker for blue sequins and I love this dress.
Amy Adams in L'Wren Scott
Oh I love this dress... the blue, the sparkles, the silhouette, the sleeves - I can even accept the shoulder pads. I actually like the necklace worn over the dress (although I wish the pendant was something other than emerald). I do wish her hair was less heavy because the dress is fairly heavy, but aside from that, this outfit works for her.
Anne Hathaway in Giorgio Armani Prive
I've decided that she should only ever wear strong, clear colours like this one in her sixth on-stage dress. I thought that the fringe dress was my favourite but this liquid-looking dress is another favourite of mine. This silhouette is better for her than most of the other ones because she's got a bit of a pear shape and the sleeves balance her hips. Her hair looks amazing here.
Susanne Bier in Elise Gug
Charmeuse and other those flowy and drapey and soft fabrics, shows every single lump, bump, and seam. In this case, the bodice seams aren't as flattering as they could be. As well, the neckline, shoulder strap, and matching shawl are a bit dated even though the colour and silhouette are lovely. If she'd ditched the matching shawl and had the bodice re-worked just a bit, this would have been a knockout.
Shaun Robinson in Christiane King
Oooh, what a gorgeous colour! The bodice flower looks amazing and balances out the minimalism of the rest of the dress. She looks effortlessly elegant and composed.
Nancy O'Dell in Vera Wang
This colour is stunning against her skin and hair and the dress itself is quite flattering. I think it would look better without that ridiculous train and if the dress weren't quite as long.
Hilary Swank in Gucci Premiere
I like this dress: I love the ombre effect and the judicious use of feathers and sparkle throughout the dress. Unfortunately, I'm not really seeing her so much as I'm seeing the dress. The dress is wearing her, the colour isn't quite right, and her hair is a bit too harsh. The overall look just isn't there.
Cate Blanchett in Givenchy Couture
This was also one of the most talked-about dresses of the night. Between the barnacles on the skirt and bodice, the contrasting barnacles along the neckline, and the back of this dress, there's a lot to talk about. There's not a lot to say, however, because how many different ways can you describe something as ugly? Well, I can say that I do like the general shape of the dress from the front, and her hair and makeup are beautiful.
Mila Kunis in Elie Saab
She is beautiful in this colour and I think I love her hair. But the dress.... oh, the dress. I want to love it, and I do love the bodice. The skirt has too much going on for my taste between the panel and the lace tiers and the sheer parts; my eye doesn't quite know where to land (ok, that isn't precisely true: my eye is drawn to her boobs and I wonder how the double-sided tape doesn't show under that lace, but we're talking about her skirt). The skirt would have used much less embellishment to make this dress really work.
Natalie Portman in Rodarte
You can still see that she's pregnant here but her baby bump isn't quite so in-your-face. The colour and silhouette look beautiful. I love the beaded accent along the neckline; it's just enough sparkle to bring the eye to the face and it doesn't take away from the beauty of the dress.
Scarlett Johanssen in Dolce & Gabbana
Ian pointed out that the strapless cups under the lace look weird and that the dress would have been better if the entire dress was lined. I would have liked this dress better if the lace used in the body and the lace used in the trim had been different colours. The colours are similar but they clash - and not in a good way. The fit and silhouette work for her but her bedhead hair is out of place. She could have done much, much better.
Anne Hathaway in Atelier Versace
I love this fifth on-stage dress with that beautiful embellishment on the bodice and center front. It looks like the embellishment and silk chiffon aren't exactly the same colour which annoys me. Even so, this is a spectacular dress and the colour works for her. Love her hair.
Kathryn Bigelow in Yves Saint Laurent (with Mark Boal)
Oh, wow. It looks like the sleeve seam has fallen off her shoulder, making the slit wider. And with that high neck and shoulder detail, why is her hair down like that? This column dress would have looked better with a belt that wasn't cinching in the dress at the waist; if she needed to define her waist that much, she should have chosen something else to wear.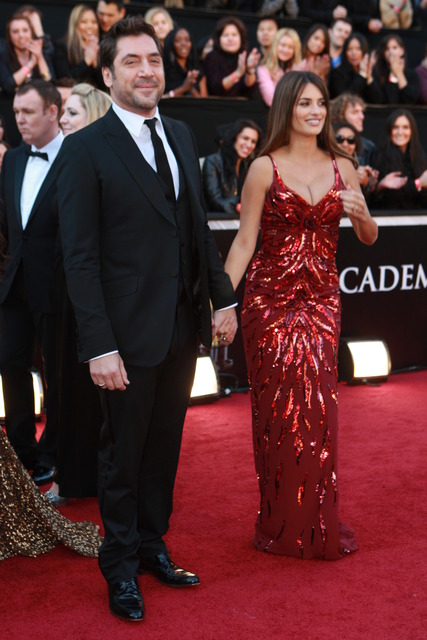 Penelope Cruz in L'Wren Scott (with hubby Javier Bardem)
Fire on the runway! Unfortunately, the flames aren't exactly flattering for her figure even though they're kind of awesome. You can also see how desperately her girls want to escape the confines of that bodice: clearly, it doesn't fit her properly. To be fair, she looks totally hot because of (or in spite of) the fact that she just had a baby, but surely there was a more flattering dress for her somewhere.
Anne Hathaway in Valentino archive
This is her red carpet dress. She wore seven different outfits - complete hair, jewelry, dress, and shoe changes - on-stage in addition to this dress. That's good because this dress doesn't quite work. In certain photographs, the petals covering her nipples are clearly visible. Which is worse: visible nipples or visible nipple covers? I can't even say.
Sandra Bullock in Vera Wang
The dress is pretty but there's something about the colour and style that make her look tired and drawn. Well, she probably is tired and drawn - how could she not be remembering how she had a husband standing by her at this time last year, when she won her Oscar - but she should be wearing something that brightens her face. The dress also has some interesting details at the bust and hips that aren't readily visible on camera.
Jennifer Lawrence in Calvin Klein Collection
I love the trend towards minimalism on the red carpet but this is going too far. Between her hair and this dress, she looks like she's on her way to dinner from the beach or the boardwalk. Minimalism shouldn't mean casual.
Jennifer Hudson in Atelier Versace
I want to love this dress but I recoil when I look at it. There's something about the way her light-coloured boobs are forced out of the bodice that really bothers me: the boobs are too small there compared to the size of the bodice and they're so light-coloured that they look completely out of place. Why, oh why, did she try and give herself cleavage like this? These girls should have been fully covered by that bodice and if she still had to show them off, they should have been self-tanned so as to not look so freakish.
Rhea Durham in Naeem Khan (with hubby Mark Wahlberg)
Naeem Khan always does interesting things with sequins and colour and this dress is no exception. I love the flowy, drapey orange skirt paired with the nude top. The sequinned flowers added to the top add interest. The dress might have worked a bit better if the sequins in the top picked up the skirt colour. She would have looked better in this outfit if her hair were less... straight and plain. A low, asymmetrical ponytail would have been perfect.
Finally, here's everything else - bronze, green, and prints. They don't fit into any other category but they deserve a mention, too.
Aishwarya Rai in Armani Prive
This Bollywood actress looks lovely in this simple, bronze, strapless dress. The colour looks amazing with her colouring and the dress style hugs her curves in all the right places. Plus who can resist all of those sequins?
Lara Spencer in Teri John
This unusually-coloured dress really works for her, as does the silhouette. I love love love the pleating around the asymmetrical neckline. Those earrings really harmonize with the dress colour without looking matchy-matchy. And her hair is smooth and sophisticated. Gorgeous.
Gayle King
Great colour but the style doesn't work on her figure. Or maybe it's the monstrous clutch that's not working. No, the dress definitely doesn't work. The bodice twist adds interest but something at her shoulders to balance her hips would have been better. Her hair doesn't work so well with this look, either.
Lisa Marie Falcone in Zaldy Goco
The abstract swirls look just like the ones I used to doodle in my notebooks back in the day. I think they looked better there than here. the strap on the tunic serves no real purpose and appears to have been added at the last minute. And while the tunic and skirt would have looked amazing if each were paired with something else, together they're a bit much.
Cody Horn
1980's Madonna called and she wants her lace glove back. I'm all for gloves but mesh globes paired with a long black and grey print dress are less red carpet and more beachy fetish nighclub.
Giuliana Rancic in Christian Siriano
I'd celebrate a Project Runway alum on the red carpet but I'm not sure that this dress should be celebrated. The silhouette is interesting and so is the print, and I like the bodice, but this dress is a bit much. Especially for someone who's interviewing other people on the red carpet.
photo sourcess: NYTimes, stylebistro.com, hollywooddame.com, instyle.com, webparks.blogspot.com, jsonline.com, tomandlorenzo2.blogspot.com, dailymail.co.uk