I was starting to go through red carpet withdrawl so I was thrilled to discover that there was a red carpet for this past weekend's
Juno awards
. They're the Canadian music industry awards and they were held in Toronto. The number of people on this red carpet was much smaller than at some other events, of course, but it's still enough to satisfy my need for a red carpet post.
One thing I like about these smaller red carpet events is that the people who attend them don't necessarily have designers giving them clothes or stylists and makeup artists helping them out. The people are more likely to wear what they already have and to do their makeup and hair themselves. Therefore, I'm more interested in whether they chose outfits that flatter them and suit the occasion and I try to be less harsh in my critiques.
As usual, I'm only looking at the women's outfits on the red carpet. See all the photos after the jump.
Shania Twain in Zuhair Murad
I want to like this, I really do. But there's something about the beaded stripes paired with the periwinkle ombre chiffon that I just don't like. The colours suit her but the dress style isn't flattering.
Sarah Maclachlan
Because this is a music award show, the looks tend to be more casual. And this was in March in Toronto so it wasn't all that warm out... but somehow I expected a bit more here. She looks too much like a mom who wore this kind of outfit fifteen or twenty years ago to go clubbing. I do love the coat.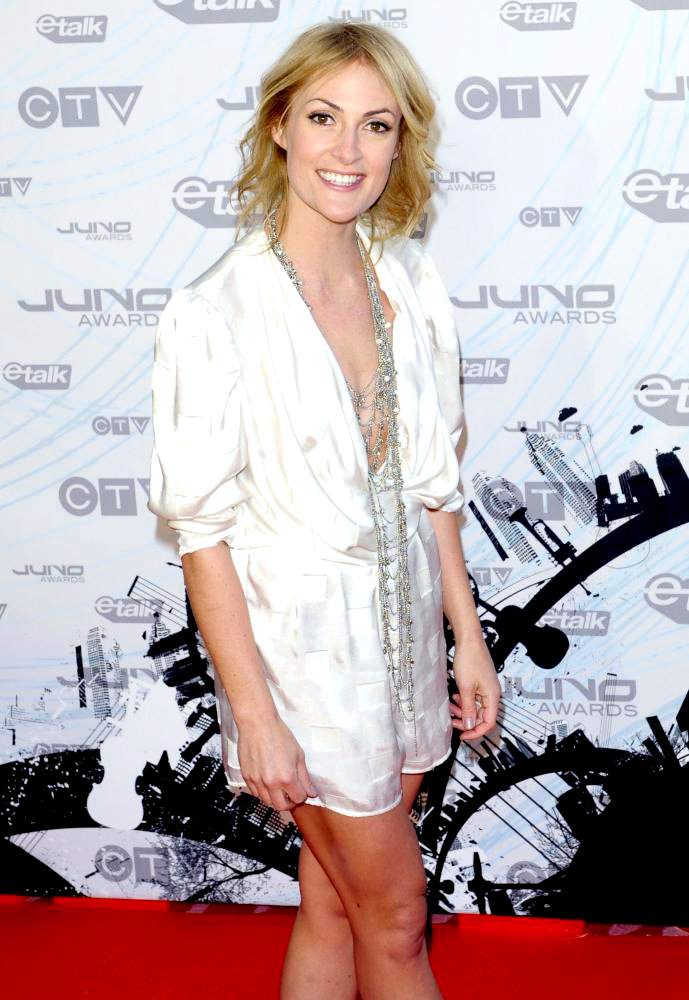 Emily Haines in Ka'kia
She's wearing a low-cut, loose-fitting romper. I'm not sure what I think of this. I know that jumpsuits and rompters are coming back but without any waist definition she looks boxy and rectangular. I like the necklaces but she'd have been better off wearing a belt.
Sheila Carabine and Amanda Walther
That royal blue is definitely a flattering colour for Sheila and the dress style is ok (if uninspired). I like the hair, which is cute and functional but a little fancy. I don't like the taupe pumps and matching pantyhose, however, because the colour looks so close to her natural colouring that it looks like she chose something too dark. At the same time the colour is too light to look like a deliberate dark choice.
Amanda's look is not nearly so successful. The dress colour makes her look washed out and that turquoise necklace is jarring. Those boots would be cute if she was wearing short shorts, maybe, but they look strange with this dress.
Chanel Iman in Dsquared2
Now this is a great outfit for a music awards show. She's almost completely covered up but she still looks sexy. She's not overdressed or too casual. I love that her gloves are grey instead of black because they add a bit of lightness to the whole look. Her hair is fantastic both for the event and with this outfit.
Sarah Slean
I know that there's some sparkle on the sides of the bodice but that decoration doesn't make up for the bare expanse of her chest, shoulders, and arms. The colour is lovely on her and the style suits her but somehow she looks like she she ran out of time while getting ready for the event. This hairstyle doesn't add any polish or finish to the overall look, either, because it's just pulled back into a ponytail - as if she pulled it back to put her makeup on and then left it.
Leah Miller (with Dallas Green)
Normally she looks great, or at least ok, but not this time. What is that on top of her head? Did she put it up so that she could wash her face? And I know she's short but does she have to wear the hidden platform pumps? They make her feet look strangely heavy and deformed. Not to mention the fact that the shoes are much too heavy for the dress.
Jacynthe
At first I thought she'd forgotten to put on her pants but then I realized that she's wearing a romper (aka a short jumpsuit). I don't know who told her that it would be ok to wear a flimsy romper with a leather jacket and black patterned pantyhose but she should ignore them next time because this look is not ok. Those nylons on the sleazy side of unusual and don't work with the pretty romper. Or the big hair.
Keisha Chante in Romona Keveza
This is the most formal gown worn on this red carpet. I love the ombre effect (I'm a sucker for ombre) and her hair and jewelry is quite lovely. The dress itself is lovely and definitely suits her.
Mia Martina
While I love the stripes on this dress, the style appears to be a little more beach cover-up than red carpet dress. Still, it fits her well. I love her hair which is both polished and a bit casual - perfect for this kind of event.
Hannah Georgas
This looks like one of those infinity dresses that you can twist and wrap around to create sleeves and different necklines. I like it. it's sexy without revealing too much. I love her hair and the clutch as well. I'm not a bit fan of nude peep-toed platform heels with this dress; something with more straps would have been better.
Trixie Whitley (with Daniel Lanois)
She looks like she's going to a PTA meeting rather than an award show. It's a very practical, put-together look. I love the coat.
Carolyn Dawn Johnson (with Dean Brody)
At first I thought this was a practical outfit but then I saw the shoes. I know how difficult it is to find comfortable, practical shoes but I have to say that comfortable shoes don't have to look like that. A closed-toe shoe would have been better.
Measha Brueggergosman
She is so beautiful and I love this outfit on her. The colour suits her, she looks comfortable and dressy, and she looks put-together.
Melanie Fiona
The colour, fit, and style of this dress definitely suit her. Her boobs do appear to be trying to escape but it looks like they won't get far.
Tre Armstrong in Freda's
You don't see a formal dress made out of a print all that often but this one looks great. I love the grey panels in the center and the black panels on the bodice. She'd look a whole lot better if she just smiled, however.
photo credits: zimbio.com, aceshowbiz.com, ottawacitizen.com, beautyisdiverse.com