Finally! Here's the Academy Awards red carpet post.

Interestingly, most of the women are not wearing black. It used to be that everyone wore black to an event like this but now people are moving away from that colour. It's a welcome change, I tell you, because the details of those black dresses could be difficult to see on the monitor. These days, the most popular dress colour family is the opposite of black: whites and pale beiges or pinks (aka "nudes"). Shades of blue are also everywhere on this red carpet and there are a few reds, purples, and greens to round out the colour spectrum.

Fabric-wise, allover sequins are making a strong showing, as are different textures within the same gown through the use of lace, tulle, chiffon, charmeuse, and velvet. Draping and origami-type constructions weren't as widely used as they have been over the last few as the trends have shifted in favour of embellishment over fabric manipulation.
Three are two trends I'd like to see end: too-tight dresses and too-long hems. There are too many women at this event wearing dresses that show off their bellybuttons. This was a black tie event and to me, torsos that look like stuffed sausages have no place at such an event. I realize that this issue and the too-long hem issue arise because these gowns are borrowed and so can't really be fitted to the wearer. The idea is that the designer gets their name out there because their designs are being worn on the red carpet. Do they realize that they're also sending out the message that their gowns aren't flattering and that they're a tripping hazard? Do they care?
I'll stop ranting now. Let's have a look at all the pretty gowns after the jump.
Nancy O'Dell in Chagoury Couture
I love lace and I love chiffon and I love most shades of yellow. Somehow the lace, the chiffon, and the yellow just don't work here. Between the length of the lace points, the overpowering banana yellow colkour, the narrow top, and the too-long skirt, her bottom half looks much bigger than it really is. A few major tweaks would make this dress awesome.
Maria Menounos in Maria Lucia Hohan
At first I loved this dress with its seemingly simple bodice and layers of chiffon forming the skirt. But then I realized that the dress is backless; the front bodice is more of a fabric shield than a bodice, and this I do not love.
Shaun Robinson in Romona Keveza
I'm not a fan of this "old gold" colour but I think the silhouette is divine. The midriff defines her waist perfectly while the skirt drops elegantly to the ground.
Robin Roberts in Marc Bouwer
This is one gorgeous dress... but it's not right for her. In addition to the fact that the waist is too high and the skirt is a bit snugat the hips, the neckline over-emphasizes her strong shoulders.
Rachel Smith in Pamella Roland
The armoured neckplate she's wearing is a bit too much for this dress. This strapless mermaid-style dress makes the wearer's hips appear disproportionately long and so is unflattering, At least the colour is pretty on her.
Giuliana Rancic in Tony Ward Couture
Many others have mentioned that this dress has a certain ice-skating costume look to it. My issue is less with the dress and more with the rest of the look. She's clearly lost a lot of weight and she's much too skinny now. Her weight wouldn't be so noticeable if her hair and makeup weren't so harsh. Maybe her makeup artist specializes in heavy 80s blusher. And maybe her wig blew away.
Sarah Hyland in Alberta Ferretti
I don't really get the asymmetrical sleeve there; it looks kind of like an afterthoughts considering that the rest of the dress is symmetrical.
Lara Spencer in Carmen Marc Valvo
This asymmetric sleeve makes sense because it comes out of the bodice. I love pretty much everything (except the length) about this dress: the colour, the style, and the silhouette. She looks gorgeous.
Penelope Ann Miller in Badgley Mischka
It's like she's wearing the updated version of those Solid Gold dancer's costumes. Remember those? They were basically sheer or nude catsuits with rhinestones or sequins over their lady bits. This updated version gives her more of an earth mother effect and less of a sexy dancer look what with the way the dress emphasizes her boobs and tummy.
Milla Jovovich in Elie Saab
Many people loved this and to be honest, the dress - while a little long - looks great on her.. All I can see is that giant football shoulder pad she's wearing on the one side. There are a lot of trends from the 80s that I'd rather not see come back: the giant shoulder pad is definitely one of those trends.
Louise Roe in Black Halo
There's a lot I like about this: it's like a modern take on a mid-eighteenth century dress with the full skirt and overcoat. Or a modern take on a mermaid dress. Either way, it's interesting, although clearly the top part doesn't fit properly over the skirt.
Lea Thompson in Armani Privé
She made her own shawl for this outfit, which is something I commend. Unfortunately, the shawl doesn't much improve the look. Not that the dress was all that great for her: the empire style makes her look pregnant and the subtle stripes aren't that interesting. At least the colour is gorgeous on her.
Wendi Deng in her own design and Bing Bing Li in Georges Chakra Couture
Both women look gorgeous, don't they? Let's look at them separately.
Wendi Deng: I love her dress with it's 30s-inspired skirt and top; I've always loved velvet and silk charmeuse fabrics together in one garment. The bodice embellishment that extends to the skirt is just gorgeous.
Bing Bing Li: Her dress is gorgeous, too. It's got nude panels on each side of the skirt which are lovely and not sleazy.
Wendi McLendon-Covey in Simin Haute Couture
This is one hot mess of a dress. The bodice is too big. To compensate, the
waist stay
a grosgrain ribbon attached to the vertical seams at the waist and fastened separately from the dress; it's designed to provide support to the dress) is too tight which makes the area between the waist and hip pouf our unattractively. The tulle skirt poufs out again but somehow looks sloppy and unfinished, like it needs more layers of tulle for depth. I could overlook all that if she was wearing the right size.
Anne-Sophie Bion
Many people thought that this dress is actually a garbage bag safety-pinned together. After careful examination, I can tell you that this dress is actually made of woven fabric, not garbage-bag plastic. I actually like the silhouette although the dress could have used a good pressing and she could have worn a bra.
Bérénice Bejo in Elie Saab
Do your boobs hang low, do they wobble to and fro - oh, hello there. This is a lovely, if too-long, dress for another person. The distance between her boobs and waist is too short to be attractive and that, coupled with the sheer shoulders and sleeves, is unattractive on her. Nice colour, however.
Jane Seymour in Pamella Roland
Well, isn't this gorgeous? I love the contrasting stripes that add interest to the dress, and of course I love the fact that it's red and sequinned. she looks amazing, even though the colour isn't perfect with her hair. I wish she'd carried a contrasting clutch, however.
Rose Byrne in Vivienne Westwood
How could I not love a black sequinned dress? Let me tell you. This dress is too tight on her boobs and comes up just a little bit too high on the bodice. Fix those two issues and this would be one smashing dress. I do love the back view and her haircut but those don't make up for the issues with the front of the dress.
Jessica Chastain in Alexander McQueen
This is a gorgeous dress, isn't it? In some ways it's very similar to the one that Nancy O'Dell is wearing but it's better balanced, even if the skirt is a little full for my taste. I don't even really notice who is wearing this dress... and therein lies the problem. Her makeup, hair, and jewelry don't match the drama of this dress so the dress is wearing her.
Ellie Kemper in Armani Privé
I love this dress on her: it fits her perfectly, flattering every curve, and the colour is perfect against her skin and hair. The fabric used is fantastic, in my mind, with it's autumn-colouration and changeable sequins. Her look would be perfect if only she had done something different with her bangs.
Shailene Woodley in Valentino
For a while there I thought that women were finally wearing red carpet dresses of the right length but I was wrong. This is another dress that's too long - only by a couple of inches, but that length is still noticeable. There's something of a 70s hostess dress about this with the long sleeves, sleek bodice, and drapey skirt. It's nice enough and the colour works but it doesn't seem like a black tie red carpet dress to me.
Judy Greer in Monique Lhullier
You wouldn't know, looking at this dress, that Monique Lhullier first made a name for herself as a wedding dress designer. When I first saw this dress, I loved its drama and slim fit. However, the more I look at it, the less I like it (and not just because it's too long). There's something a little sportswear-like to this dress that I don't like so much. Still, she looks amazing in this.
Melissa McCarthy in Marina Rinaldi
Do designers just not know how to dress a woman this size or does she and her entourage not know what flatters her? Sure, the waist embellishment makes her waist look small and the bodice ruching is flattering, but the skirt and sleeves (and that pathetic train) just don't work. A few changes to this basic silhouette would have made her look so gorgeous.
First, take the sleeves away completely (or make them them more close-fitting) to remove all that extra bulk that just makes her look bigger than she is.
Second, either add more fabric to the skirt so that the draping on the side looked like actual draping, or take fabric away from the side to make it look smooth. Either option would be preferable to the sad, sort-of draping going on at the sides.
Finally, that pinky-nude is not her colour. With her colouring and hair, a stronger blue or green would make her light up.
Sherri Shepherd in Gustavo Cadile
This dress is very similar to Melissa McCarthy's, above, but this dress looks so much better. Not that Melissa's dress would work on Sherri any better than it did on Melissa, of course! The wide neckline, straight skirt, and gorgeous blue colour combine to flatter her figure and colouring. Well done.
Octavia Spencer in Tadashi Shoji
Apparently Octavia and Sherri Shepherd, above, are often mistaken for one another. I guess they do look similar in that their skin colour is the same and they're of similar size but they're clearly different people: look at the differences in their clothes. This dress is absolutely gorgeous. The silhouette and embellishment are flattering to her figure: the sleeves and neckline are the perfect length to balance out her hips and the sunburst beading makes her waist look small. She looks regal and elegant, well befitting someone who was the favourite to win an Oscar in her category.
Missi Pyle in Valentina Delfino
This dress was a winner in the Red Carpet Green Dress challenge: the outer fabric is hand-dyed organic silk and it's lined with recycled polyester. If this is the winner, I wonder what the losers looked like! The colour is fantastic, especially against her skin, and the dress is gorgeous from the top to that band just above the knee. Well, except for maybe the sleeve thing, which I like but which kind of looks like an afterthought. Still, that sleeve thing adds much-needed width to the top of the dress.
If the dress ended at that band above the knee, it would be gorgeous - but no, that limp skirt was added that doesn't have the luminescent colour of the top nor the underlying structure. Take away that band and add another layer to the skirt and it would be better.
I do have to say that I love the idea of this challenge to make eco-friendly dresses for the red carpet... I just wish that the winning dresses looked better.
Kristen Wiig in J. Mendel
There's something so sad about the colour of this dress, isn't there? At least the length is right and it fits her. Some sparkle or colour would have been welcome, however.
Stacy Keibler in Marchesa
The reviews on this dress were mixed: people either loved it or hated it. Personally, I love it. The colour is fantastic, I love the asymmetric neckline with the sleeve thingy (which doesn't look like it was an afterthought, for once), and I especially love the flower draping at the hip. She looks elegant and beautiful.
Maya Rudolph in Johanna Johnson
Not everyone loved this dress. I do like it, although it would look better if the front neckline were lowered just a bit. The back is lovely and this dress fits her to perfection.
Viola Davis in Vera Wang
Many people thought that this dress was fantastic, clearly overlooking the way the dress fits her boobs. her boobs look like they're only barely contained by the fabric and will want to fly free at any moment. Aside from this one major flaw, the dress is all right. I don't love the way it fits at the waist with that seam there although the skirt almost makes up for it.
Virginia Madsen in Kevan Hall
For some reason, many reviewers disliked this dress. Personally, I think it was a good choice for her, and certainly better than what others chose for themselves. The neckline and sleeve are beautiful, as is the skirt (which is the right length!) The only problems are that the waist doesn't fit all that well and her boobs look a little squished. Sure, she could have done a bit better, but this silhouette definitely works for her. And that colour is fantastic against her skin.
Esperanza Spalding in Prophetik by Jeff Garner
Even though the skirt is miles too long and needs a good pressing, I'm rather in love with this dress. It fits her beautifully and the aquamarine colour is very flattering. I also love the contrast and balance between the shiny, tight bodice and the voluminous, matte skirt.
Busy Philipps in Dolce & Gabbana
I can't help but think of this as a rather drab gown. The gathered fabric makes her hips look even bigger than they are which in turn makes her figure look unbalanced. There's also something weird going on at the hem: the fabric that was gathered at the center waist is shorter in front. It's as though her stylist altered the dress to fit her better (and it does fit well) and didn't take into account the way the changes would affect the hem.
Rooney Mara in Givenchy Haute Couture
There are opinions aplenty on this dress. Many people love it because it goes with her personality (which people seem to be confusing with the personality of
Lisbeth Salander
) and is still elegant enough for the occasion. Others note that her boobs look sad and strange and the lower back with the zipper looks unattractive.
I think the original runway dress with the panels flying around below the boob semicircles 9which gave them a reason for being) looked better than this version, and I think the dress fits her well, but I don't like the back zipper area. I also think that the design is a bit unfinished or didn't go far enough: there are interesting ideas here but they don't, in my mind, make a cohesive whole.
Glenn Close in Zac Posen
Here's another dress that some loved and some hated. I love it: I love the colour on her (although it is a bit grey for my taste), I love the combination of textures, and I love the fit.
Kelly Ripa in Carolina Herrera
Yet another dress too-long dress. You'd think someone so thin wouldn't have a problem finding a dress that fit but since we can see her bellybutton and the fabric is pulling around her boobs, it's clear that this dress is too tight. I love the silhouette and the seaming on the skirt but I wish she'd both worn something that fit and relaxed a bit when she posed.
Kelly Osbourne in Badgley Mischka
I love this dress on her. The embellishments and panels between the dress and sleeves give her a spectacular hourglass figure. I especially love the colour of the embellishments because they're interesting but not overwhelming. The only problem is that the black is a little harsh against her colouring and neither the teal nor black works with her lavender hair.
Melissa Leo in Reem Acra
I didn't think that a sequinned dress could be sad-looking but this dress proved me wrong. It's shapeless and has that collar that looks kind of out of place. What brings the look completely down is the shoes which have a sort of geriatric look to them. Not that there's anything wrong with that, of course, but if one has a choice, why not choose something a little more youthful?
Kate Mara in Jack Guisso Couture
That expression looks as evil as the one her character wears in American Horror Story, doesn't it? I have these visions of her right arm getting away from her and stabbing her dinner companions with a fork unless she's restrained it with her dress. At least then the dress would be functional if not flattering or attractive.
Tina Fey in custom Carolina Herrera
This isn't the worst outfit she's ever worn but I'm not sure it's the best she could have done, either. The colour is ok and the bodice is all right but the skirt and peplum are kind of shapeless. Her hairstyle and lack of jewelry make her look plainer than she is.
Michelle Williams in Louis Vuitton
Almost everyone loved this dress with its peplum and skirt and all those layers of fabric. I thought it was ok until I saw the back. There are very few pictures of the back of this dress out there and I can see why. All those beautiful layers everywhere else and the back bodice looks like lingerie. Apparently the dress took 300 hours to finish; I guess they actually needed 305.
Nina Garcia in Jean Paul Gaultier Couture
Of course she looks impeccable, even though the dress does show off her tummy a bit. I'd expect her to wear something perfectly tasteful and appropriate - which she did.
Emma Stone in Giambattista Valli
I love this dress even if it is a little long. The colour is great on her (even though it's not perfect with her hair) and the fit is spectacular.
Anna Faris in Diane Von Furstenberg
Finally, a black sequinned dress that looks great! Sure, it's a couple of inches long, but it seems that this is what everyone is wearing these days. I love that the dress covers her up completely except for her back. She looks fantastic.
Jennifer Lopez in Zuhair Murad
This is a lovely dress for the Grammys but it is completely wrong for the Oscars. Only JLo would wear something this vulgar to a black tie event.
Meryl Streep in Lanvin
She didn't always dress like this, did she? Neither the colour nor the silhouette is especially flattering; the whole ensemble looks a bit sloppy, really. She's so beautiful and so talented and yet she's choosing the strangest outfits for these red carpet appearances.
Annie Mumolo in Pamella Roland
The colour is lovely and the fit is ok but that leg embellishment is just strange. Putting the ruching over on the leg isn't especially flattering to the wearer. It is a great conversation starter, however.
Natalie Portman in vintage Christian Dior (spring 1954)
She looks so beautiful in this dress: it fits her perfectly and is the right length and colour for her. The black clutch is perfect and the diamond jewelry by Harry Winston completes the look.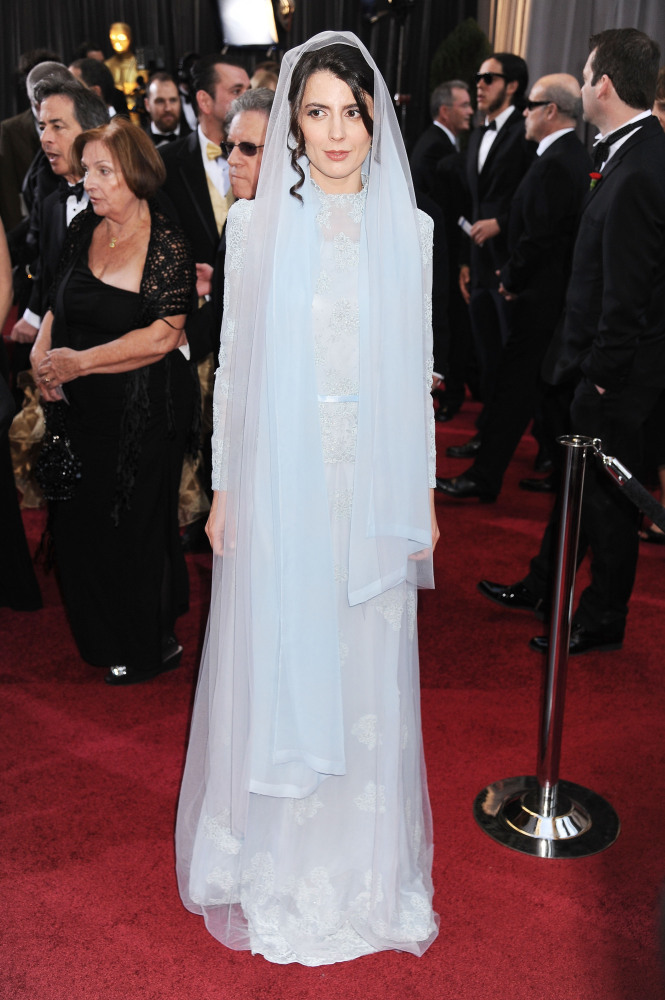 Leila Hatami in Escada
There are more long-sleeved dresses at this event than I expected to see. I love this dress with its layers of lace and chiffon: it looks so floaty and ethereal, like it was made of air.
Penelope Cruz in Armani Privé
This is my favourite dress of the night. I love absolutely everything about it: the style, the fabric, the colour, the fit - everything. The layers of the lightweight silk are so beautiful and the skirt has the perfect amount of fullness to balance the ruched bodice and sleeves. Her diamond jewelry is lovely but I think I'd have worn sapphires or tanzanites with this gorgeous dress.
Gwyneth Paltrow in Tom Ford
I don't understand why these celebrities insist on wearing dresses that are the wrong size. This dress is so tight that we can see her belly and bellybutton. Even so, this dress does look lovely on her and that cuff she's wear is lovely with it.
Julia Ormond in David Meister
If there's one thing a fuller-busted woman shouldn't wear, it's a bodice that's too tight. Perhaps it was thought that the horizontal wrinkles at the bust would be confused with the draping at the waist and hips but we know better, don't we?
Cameron Diaz in Gucci Premiere
Once again, this dress is much too tight: her hips and thighs look like a stuffed sausage and I think I can see the outline of her thong underneath. I do love the ruffles and embellishments there even if that area does look a little pageant-y.
Princess Charlene Wittstock of Monaco
She never really looks happy; there's something melancholy in her expression and the way she carries herself. I wish I could say that this dress is one of her better choices but sadly, it isn't: it's too loose at the bodice waist and it's too rectangular to be truly flattering.
Sandra Bullock in Marchesa
The idea of this dress is great: white bodice with cowl back, fitted black skirt, and gold embellishments where they meet and on the shoulders. Unfortunately, the execution of this idea didn't work out. The top is much too baggy and the embellishments look garish. Plus we can see the invisible zipper.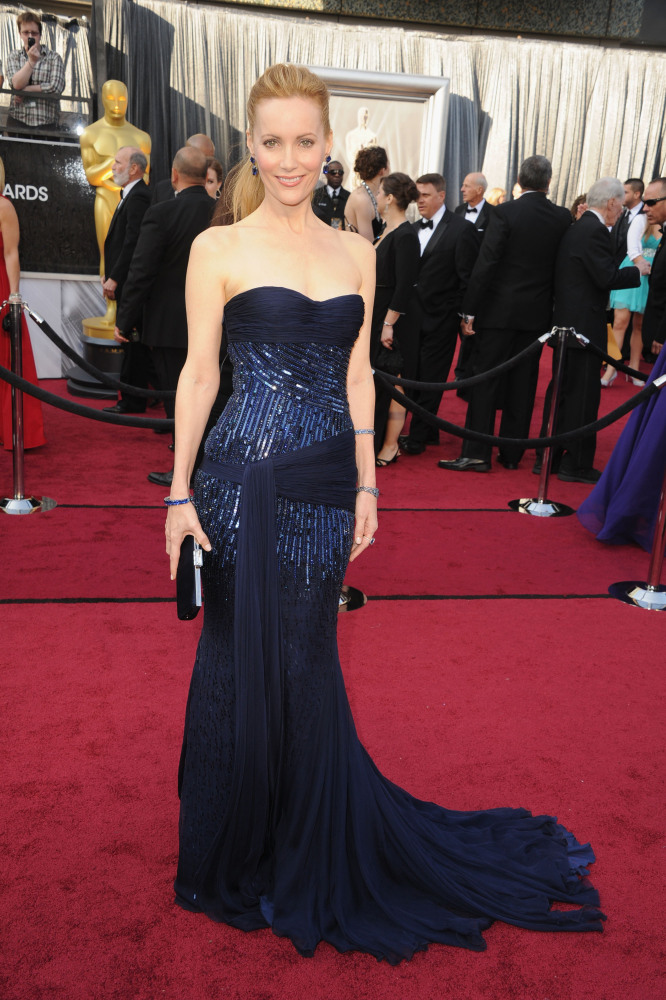 Leslie Mann in Roberto Cavalli
The navy-blue is gorgeous with her colouring and this dress, while basically plain, is livened up with the sequinned embellishment. That black clutch she chose to carry doesn't work as well as one in just about any other colour.
Angelina Jolie in Atelier Versace
Her dress has become unimportant in favour of her weirdly-positioned right leg. This pose looked silly enough on the red carpet but looked ridiculous on stage while presenting an award. In case we didn't know how silly it looked, The Descendants screenwriting team
mocked imitated it while accepting their award
. Some say that her eyes were moist after that happened. If that's true, well, she could have avoided the situation if she'd stood on-stage like a normal
person
actress. Oh, and her dress? It's black and heavy and I can't really see any details. This one really is all about that skinny leg.
Dorith Mous in Dennis Diem
This might be my second-favourite dress at the event. The deep vee neckline is gorgeous and works perfectly with the low waist embellishments. Of course the skirt is dramatic and streamlined as well. What takes this look from pretty to gorgeous is the chartreuse lining that peeks out in the bodice and under the skirt.
Jennifer Yuh Nelson
The slit in this dress is much more tasteful than the one Angelina Jolie wore.I love those waist cutouts because they're sexy without being vulgar. Overall, she looks beautiful in that dress. If only she'd worn more attractive shoes, this would be a knockout look.
Georgina Chapman in Marchesa (her own design)
I think I'd like this dress better if there was slightly more definition at the waist. I'm not sure about the sleeves, either, but they are interesting in their way.
Elaine Taylor (with Christopher Plummer)
I want to love this 30s-inspired dress in that gorgeous silvery-gray silk charmeuse because the style is lovely. However, a dress like this one shows the wearer's every lump and bump, as you can clearly see here. Some spanx would have smoothed out her belly so that the dress lay over it more smoothly. If spanx weren't possible, another dress might be a better choice.
Amara Miller in Valentino Couture (with Nick Krause)
With this dress (and that sleepy expression of someone who's been smoking a little ganja), I'd expect her to be barefoot and to be wearing flowers in her hair, not attending the Academy Awards.
Janet McTeer in David Meister
While I like the red on her, the dress doesn't fit properly. It's too tight at the hips and boobs and too loose under the arms; somehow, these fitting issues add up to a very casual-looking dress.
Livia Firth in Valentino (with Colin Firth)
At first I thought that the things on her boobs were some kind of strange beak or crumbcatcher but now I see that it's a very big, oddly-placed bow. This would be a great dress to wear if she were shoplifting: no one would think she could hide anything because of the sheer sleeves and bodice when in reality she could practically hide a tank under that skirt.
Alexandra Edenborough in Roberto Cavalli (with Gary Oldman)
The sequinned design on this dress is gorgeous. It adds interest and shaping to what would otherwise be a basic black strapless dress.
Sheila E
When your boobs are trying to escape the dress like hers are, the dress doesn't fit properly. Unfortunately, the too-small bodice combined with the ruching on the skirt are not very flattering.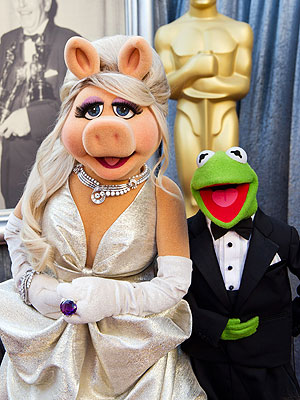 Miss Piggy in Zac Posen (with Kermit the Frog)
Miss Piggy always knows how to dress well, doesn't she? This dress is perfect for the red carpet with its deep vee neckline and the bow. Might I add that the fabric and colour are gorgeous on her? I love that she's wearing a ring with some colour to it: diamonds are lovely, of course, but that extra pop of colour in her ring makes the look more interesting.
Uggie in a Chopard collar
Uggie wasn't invited to the red carpet so we have to settle for a picture of him in the press room. Uggie's first two owners took him back to the pound because he was too energetic; the trainer fostered him and decided to keep him. The rest is history. This collar will be auctioned off with the proceeds going to a charity benefiting homeless animals. Uggie recently won a
Golden Collar award
(he was up twice: once for
The Artist
and once for
Water for Elephants
) and has used that award to get himself a job as spokesdog for Nintendo. Way to go, Uggie!
photo credits: zimbio.com, tomandlorenzo.com, elle.com, huffingtonpost.com, mirror.co.uk