The Academy Awards ceremony isn't the end of Oscar night - there are many parties that go on before, during, and after the ceremony. The two biggest parties are the Vanity Fair and the Elton John parties. Many of the celebrities who walked the Oscar red carpet attend one or both of these parties and change their outfits to attend. You know what that means - more outfits to evaluate!
Of the two, I think the Vanity Fair party is bigger and more interesting so I've chosen to evaluate the outfits worn on its "red" carpet.
I've gone through these outfits quite quickly and haven't written nearly as much as I had written for the recent red carpet posts. I've also taken a rather irreverent approach that I hope you'll like. Shall we take a look?
Naomie Harris in Monique Lhullier
This is a gorgeous bridesmaid's dress. Is there a wedding going on?
Zoe Saldana in Givenchy
What kind of party does she think this is to show up wearing a nightgown?
Naomi Watts in Emilio Pucci
The gold areas are interesting in a "make her look like a rectangle with no waist" way.
Zooey Deschanel in Valentino
Does she always do the tilted head "I can't believe how cute I am" Zooey pose, or only when she's wearing a too-big 70s hippie dress?
Tory Burch
This dress is most likely her own design and it's a great colour. The best thing about her outfit is the hand jewellery.
Leslie Mann in Andrew Gn
For a 70s-stye caftan that would fit right in at a swingers party, this is nice and fits her well.
Amy Poehler in Herve H. Leroux
She's apparently subscribed to the Kristin Stewart school of hair brushing - which is to say, stay as far away from combs and brushes as possible. Then again, if she combed her hair we'd notice the dress and how weird it makes her bust look.
Diane Kruger in Giambattista Valli
I have to admit that I love
this dress
because it's got a
watteau back
even though it looks a little shapeless because the same fabric is used for both the dress and back. This is a fun choice for a party.
Patricia Clarkson
No one is admitting to being the designer of this dress. Maybe that's because it's less "designed" and more "fabric thrown a dress form and belted".
Rashida Jones in Vivienne Westwood
Here's another dress that works. The fabric looks like a starry night and all that draping highlights her curves.
Diane von Furstenberg
She can't possibly be pregnant, right? So either she didn't want to wear (or forgot) her Spanx or she's super-bloated. She's a clothing designer but if this was my own design I wouldn't admit to it, either.
Joan Collins
She can't be pregnant, either, but she sure looks it. As we ladies get older our tummies tend to get bigger (thanks, menopause!). The wrong choice of dress, like this one, can lead to the unfortunate impression of a miracle pregnancy.
Jackie Collins
Can we please send that jacket back to the 80s where it belongs? Just because her success began in the 80s doesn't mean that she can't dress for today.
Jennifer Westfeldt in Christian Siriano
I used to think that mermaid's scales were blue and green but clearly they can be black, too.
Greta Gerwig in Christian Dior
Surely she can afford to pay for a cape that covers her entire dress?
Catherine O'Hara
Gloves have been making an appearance on the runways lately so seeing them here isn't a surprise. The colour is odd, however, and the gloves look like they're floating in the air against her black dress and shoes.&nbsp
Kelly Lynch
I feel like the background needs some changing. This dress is nice but it belongs on someone who's walking with her date along the boardwalk or sidewalk by the beach on a hot summer evening. If I was any good at Photoshop I'd make a new picture but I'm not so you'll need to use your imagination.
Anna Scott


Her husband is host Graydon Carter. I don't mean to be vulgar but all I see when I look at those feather embellishments is a

merkin

gone terribly, terribly wrong.
Julie Chen
Here's another lovely bridesmaid's dress! If I was getting married and my colours included this one, I'd totally make my bridesmaids wear this. It's the perfect dress to wear again another time.
Lily Collins in Zuhair Murad
This dress would be perfect if the sequin stripes didn't look stretched to the max at the center front waist - if they were as narrow as they are at the back it would be more flattering. Taking out that cutout below the waist at the back would do a world of good to this dress, too.
Miranda Kerr in Valentino
And here we have another 70s-style nightgown. Clearly this is not the kind of party I thought it was.
Natasha Barnard
She's a swimsuit model, but you wouldn't know that looking at her in this unflattering dress which manages to make her boobs smaller and uneven while also removing her waist and hip curves. I guess when you're a model you don't want everyone to see your figure all the time.
Isla Fisher in Monique Lhullier
Let's just look at this gorgeous colour of this dress instead of how the dress minimizes her bust and gives her a thick-looking waist, ok?
Emily Mortimer in Zac Posen
All those wrinkles are signs that this
interesting dress
is just a bit too tight. If you buy this dress (and you can since it's from a ready-to-wear collection, although you might have to sacrifice a car for it), make sure it fits so that the shoulder embellishments work.
Eve Hewson in Antonio Berardi
I can't think of any stylistic reason why she'd wear a mullet peplum over a perfectly lovely dress so I wonder what she's hiding under there.
Faye Dunaway in Tom Ford
I can't figure out why she's wearing those yellow gloves. Was she cleaning her house, or was she using them to put on compression stockings? Either way, how could she forget to remove them when she was done?
Teresa Palmer in Talbot Runhof
This is one of those dresses that really only
looks good on models
who are super-tall, super-thin, and have no hips. She's not any of those things - she's an actress with a normal figure - and you can see the resu;t for yourself.
Allison Williams in Valentino
This would make a gorgeous wedding dress. Wouldn't it be lovely if the strapless trend for bridal gowns ended and more of them looked like this?
Natalie Portman in Dior
She's not pregnant anymore and she's lost the baby weight so I assume she chose to wear a shapeless sack because it's super-comfortable.
Hailee Steinfeld in Valentino
A leather tuxedo dress! What's not to love?
Alessandra Ambrosio in Zuhair Murad
She's a model so I guess she can pull off something this tacky. The sheer fabric and gold embellishments would make great curtains.
Rosie Huntington-Whiteley in Valentino
She looks like one of those porcelain dolls in the layers and layers of ruffles. I don't understand why someone would put a black neck ribbon on a doll dressed in lavender, though. Does she not have any that match the dress?
Hilary Swank in Valentino Couture


It's a mix between Rihanna's 2013 Grammy dress and Sally Field's 2013 Oscar dress, except more sheer than both of them.
Elizabeth Banks in Alexander McQueen
This dress is a welcome change form the unflattering, monochrome dresses at this event. Of course I'm a sucker for a digital print like this one, especially when it's accessorized with a belt like that one.
Naomi Campbell in Monique Lhullier
I can't take my eyes away from the pointy hem. I don't know if it's because the hem is unusual or if it suits her apparently prickly personality - maybe it's both?
Marisa Tomei in Valentino
This halterneck beaded jumpsuit looks formal enough for the event and comfortable to wear. However, it's in desperate need of a belt to finish off the look.
Minnie Driver in Joanna Johnson
That's a whole lot of chest showing there - maybe a little too much chest, given that we can see the outline of her ribs under her collarbones and half of her breasts. It's a little more skin than I find attractive.
Rose Byrne in Lanvin
A backless bodysuit with a wrap-around towel seems more appropriate for a pool party than an Oscar afterparty. For all I know there is a pool at this party and she's the only one dressed for it.
Jane Fonda in Reem Acra
This silhouette is very similar to what she wore on the red carpet. I like this better because it doesn't have a cutout in the back. And because I love polka dots.
Olivia Munn in Atelier Versace
We get it, the slit goes all the way up your thigh and the dress is little more than a light lace held up by strings.
Julie Bowen in Max Azria Atelier
This isn't just a strapless mermaid dress; it's a strapless mermaid dress with a peplum. Why she needs to have extra fabric widening the waist and hips I can't even guess.
Molly Sims in Temperley London
This could easily be mistaken for a nightgown especially if the belt comes off. It's a fancy nightgown, but a nightgown just the same.
Emmy Rossum in Catherine Deane
There just aren't enough occasions these days where people get to wear tiaras, are there? Good on her for wearing it - if you've got one, an upscale party is the place to wear it. (even if some guests are showing up wearing nightgowns)
Maria Sharapova in Amanda Wakeley
Even though the skirt is a little long this dress is lovely. The bodice is interesting and sexy without being tacky.
Arianna Huffington

in Valentino


Just because the label says Valentino doesn't mean the dress will be flattering on you. Yes, the construction will be exquisite but if you're going to spend that kind of money, spend it on something that is beautiful on you.
Vanessa Hudgens in Moschino
She's going to party like it's 1979 - Studio 54, here she comes!
Kate Beckinsale in Monique Lhullier
Fireworks! The only thing that would improve this dress (other than if the petticoat wasn't falling down) would be if the fireworks actually lit up with fiber optics. That would be the most awesome dress ever..
Jessica Perez in BCBGMAXAZRIA
I don't think the fabric is supposed to puddle under the bust like that. Well, maybe it is, but then it just looks like the bust is really, really droopy so that would be an unflattering design choice.
Anna Paquin in Alexander McQueen
This is an Alexander McQueen dress? I expect more embellishments and sparkles and interesting techniques from this designer.
Kristin Chenoweth in Giorgio Armani
I'm reminded of women on tv trying on bridal gowns: the sample size is too big so the back is pulled back and held with clips. The result is a front that fits perfectly and a back that's a bit of a mess. Not unlike this dress.
Amy Adams in Oscar de la Renta
Fringe! Now this, I love - it's perfect for a party and 20s-inspired but not worn in the 20s.
Kate Bosworth in Giambattista Valli
And heeeerrreee's Kate Bosworth! (thanks, photo-bombing hands!) The full skirt on the dress makes her already-skinny legs look extra-skinny, and they don't need help looking skinny.
Chrissy Teigen in Alexander McQueen
This dress wouldn't be allowed at the Grammy's - look at all that side- and under-breast showing! She may be a swimsuit model but that doesn't mean that she needs to show off her wares everywhere.
Anne Hathaway in Saint Laurent
Now why didn't she wear this on the red carpet? It's a great party dress but it would also have worked on the red carpet - certainly better than that Prada dress she wore.
Mary Elizabeth Winstead in Andrew Gn
More people should wear party dresses with pockets. Pockets are just so practical: you can hide your kleenex, your drugs, phone numbers you receive - anything that you don't want to put in your purse.
Jennifer Lawrence in Calvin Klein
Oooh, she's ready to party! The great? bad? thing about a dress like this is that it shows every lump and bump like her belly and leg.
Amanda Seyfried in Givenchy
Does she have hickeys or a new tattoo on her neck that she was covering up? Both this and her red carpet dress covered her neck. Inquiring minds want to know.
Karolina Kurkova in atelier Versace
You know what would make this dress better? If the red and yellow piping were glow-sticks.
Amber Heard in Versace
Does anyone else wonder what's going on over on the stairs? Just me? Ok. A gorgeous dress like Amber Heard's would be more gorgeous if it fit around the waist.
Juliette Lewis in Vionnet
I've been staring and staring and staring at this and I still don't know if I like it. I love the print and the shape but I don't know what to think about the bottom of the skirt.
Carolyn Murphy in Calvin Klein
I guess she didn't hear the dress crying out for great accessories. Even now, the dress is whimpering because it couldn't live up to its full potential.
Clea DuVall in Pamella Roland
Some people look relaxed on the red carpet and she does not appear to be one of those people. My shoulders are creeping up to my ears and my face is getting tense in an expression of sympathy for her tense muscles.
Ginnifer Goodwin in Monique Lhullier
It's the perfect party dress! There are pockets, a beautiful colour, it fits, and she looks comfortable.
Michelle Rodriguez
She must live in bathing suits, based on those tan lines, so I wonder if she's wearing one under this shiny towel.
Mamie Gummer (Meryl Streep's daughter)
By all rights I should dislike this dress because it's like a short skirt over a long one. Somehow the floaty top makes the skirt work for me.
Irina Shayk in Stéphane Rolland
Not even pockets can overcome the floaty layers of fabric over the over-exposed breasts and at the skirt front to make this a perfect party dress.
Solange Knowles in Emilio Pucci
While I don't fully understand the point of illusion netting covering just the upper chest, she looks awesome in this dress.
Fan Bing Bing in Oscar de la Renta
Normally I think she can do no wrong but this time her makeup doesn't work with the dress. The doll makeup works with a dress that sin't quite so harsh.
Liberty Ross in Anthony Vaccarello
Turning to the east, Turning to the west, everyone can see her breasts breasts breasts! I just made that up now. It conveys the fact that the top is semi-sheer even when it isn't being photographed and since she didn't cover up her breasts in any way, everyone at the party could see them.
Selena Gomez in Atelier Versace
Count on Versace to create something that evokes a cover of one of those bodice-ripper romance novels after the bodice ripping has occurred. At least she doesn't have to worry about ripping or messing up her dress.
Judy Greer
Nice style but it needs a belt or waist embellishment or long necklaces or something. And a different colour. You know what? Just start over with a new hairstyle and dress.
Chelsea Handler in Masai Payan
The colour-blocking is slimming and very flattering. The necklace is too delicate for the cuff and dress.
Kelly Preston
Wow, this is .... drab. Is it too much to ask for John Travolta's wife to wear something with some shape and colour?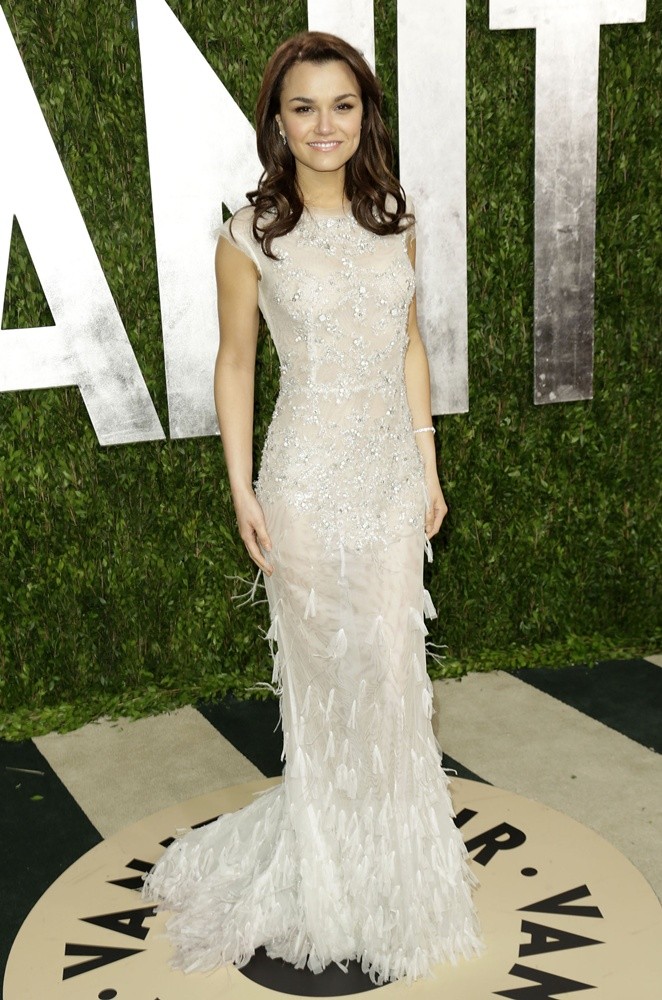 Samantha Barks in Celia Kritharioti
If I could give myself a new body, could I please have one like hers? The dress is gorgeous on her even though (or maybe because) it's a wedding gown.
Sarah Silverman
I read somewhere that she was showing off her quirky sense of humour in this outfit. I'm not seeing the funny in thigh-high boots or stockings and a childlike mini dress. Or is the funny in the collar?
Alice Eve in Safiyaa London
Satin dress + a well-developed bust = uniboob.
Paula Patton in MacDuggal
This dress - with those iconic 80s neckline, shoulders, and sleeves - could be photoshopped into a still photo from Dynasty and wouldn't look out of place. That's not a compliment.
Gabrielle ('Gabby') Douglas in Donna Karan
She's was the first African-American to win Olympic gold in the individual all-around gymnastics competition in 2012. She doesn't have much (if any) fat on her but the ruching around the waist makes her waist look softer and flabbier than it is.
Mary McCormack
This may be black and shiny but there's not much in the way of style to it, is there?
Jessica Lowndes in Maria Lucia Hohan
I can see someone wanting to look completely nude from a distance but why would anyone want to look nude just from the waist up? Appearing to wear just a long, black skirt doesn't read as sexy in my mind.
Rosamund Pike in Christian Dior
While a bronze top might have worked a bit better with the skirt, that skirt is so gorgeous that I"m willing to overlook the black top.
Clotilde Courau in Elie Saab
Another perfect pocketed party dress!
Genevieve Morton
I wonder if she knows that she's got some kind of growth on the lower half of the skirt? If she's not careful, that growth will take over and cover the dress completely.
photo credits: www.zimbio.com, www.stylebistro.com, www.aceshowbiz.com