And here it is - finally! My red carpet post from the Academy Awards. I probably could have finished this sooner if I'd worked on it harder but after being so busy over the last couple of weeks I wanted to take it as easy as possible this week.
There are quite a few interesting dresses on this red carpet which should be no surprise because not everyone knows how to dress to flatter their figure or colouring. I know there are stylists to help but not everyone uses a stylist and not ever stylist knows what they're doing.
There wasn't that much black on this red carpet which was a welcome change. White and nude are still popular colours and there were also varying shades of blue and a few reds which I really liked. There was a lot of beaded and sequin fabrics and embellishments which of course I love :)
Anyways, enough of me blathering on. Let's look at the dresses!
Brandi Glanville in her own design
Apparently she complained that she got a sunburn standing out in the sun with her dress barely hanging on to her boobs. She is one of those Real Housewives of Beverly Hills but I wouldn't expect one of them to look this trashy at the Oscars. Even if she did design this dress herself.
Minako Nakano
This is almost an awesome dress, except for where the tulle covers the embellishments at the waist. Had the flower embellishments been on top of the tulle, this dress would be beautiful.
Tabatha Coffey in Marc Zunino
She was hosting for some tv show so at least we know why she's there. Is it just me or does it look like someone styled her skirt with a bunch of gel? Can she not stay away from hairstyling for a couple of hours?
Louise Roe in Monique Lhullier
The lace is gorgeous (except for that bit at her throat that seems to be choking her) but the tulle is too bridal-y. Imagine the dress without the side bits, as one column - now that would be stunning! Also, is there something wrong with using a comb?
Robin Roberts in Marc Bouwer
This was her first public appearance after a bone marrow transplant as treatment for myelodysoplastic syndrome (MDS). She looks beautiful. Everything about the dress is stunning - the colour, the style, the fabric, the length - but it's her smile that is the bet accessory.
Maria Menounos in Romona Keveza
This prom dress is nice enough but not quite big enough to contain her bosom and about a half an inch too long.
Giuliana Rancic in Rafael Cannamo
There's just too much fabric and too much dress for her. She's drowning in those extra fabric panels and that extra length.
Kelly Rowland in Donna Karan Atelier
There's no way that slit can be hidden; it's always going to be visible, making this a practically a mullet dress. And tacky. At least focusing on the slit takes our attention away from the rather odd sculpture on the bodice.
Lara Spencer in Kaufmanfranco
I've included the close-up so that you can see the unusual ring embellishments on the dress. Apparently when this dress arrived at her door it wasn't hemmed. That's wonderful because it meant that the dress could be (and was) hemmed the perfect length. This dress is beautifully fitted and suited to her.
Sofia Alves
The Make-A-Wish Foundation made it possible for her to attend the event, which is great. However, she's a little underdressed for the occasion. This outfit would be perfect for the Grammys or a smaller award show but this one is the biggest of all and it's a formal occasion. I know that she might not have had appropriate clothes but if the foundation could get her to this event, surely they could provide an outfit for her to wear?
Anne Sweeney in Kaufmanfranco
She's the co-chair of the Disney media group and president of the Disney-ABC television group so she's fairly important. As befits her station, she's well- and suitably-dressed but not flashy.
Jessica Chastain in Armani Privé
Hold up your hand if you love this dress! Jessica, you're wearing the dress - we assume you love it. It's nice, and it fits well, but I wish it was a slightly deeper colour that wasn't so close to her skin tone.
Fatima Ptacek in Bonnie Young
She's the star in the Dora the Explorer tv show and also starred in the short film Curfew. I love her hair but it isn't quite enough to make up for her toilet-paper cover of a dress.
Lianne Spiderbaby in Mara Hoffman with Quentin Tarantino
This is the Oscars - arguably the biggest red carpet event of the year - and I don't think it's too much to ask that the dresses worn at this event be the right length. No one should look like they're sinking into the ground like she does, here. The bodice is interesting... but she could use a necklace because her chest looks a little bare.
Deborra-Lee Furness with Hugh Jackman
There aren't enough women wearing pantsuits on the red carpet. Sure, red carpet wear for women is tradtionally a long gown but a fancy pantsuit like this one works just as well and could be much more comfortable. However, those pant legs are much too long. We're supposed to see the shoes peeking under the pant legs.
Dawn Laurel-Jones with Tommy Lee Jones
Oooh, I love that neckline! The print is a little busy and the bodice a little blousy but I could look at that neckline all day.
Yong Chavez in Oliver Talentino
Is she picking the dress out of her bum? Oops, no, her hand is on her hip; the angle is just a bit weird. And the overskirt looks like it's pulled back and needs adjusting.
Robin Deardon with Bryan Cranston
While no dress should be too long on the red carpet, no dress should be too short. This dress is gorgeous but it's too short to be a long dress and too long to be a shorter dress.
Samantha Barks in Valentino
There aren't enough pockets on red carpet dresses. That this one manages to have both pockets and a plunging neckline and still look easy to wear is an example of great design.
Amy Adams in Oscar de la Renta
That's a whole lot of skirt there. It is a beautiful colour and it fits her perfectly... even if it does have a big shaggy skirt.
Fan Bing Bing in Marchesa
She always looks perfectly put-together every time she appears on the red carpet and this occasion is no exception even though the skirt is a little wide. However, her hair, makeup, and accessories are gorgeous and the dress fits her perfectly.
Reese Witherspoon in Louis Vuitton
The combination of the colour-blocking and the expanse of upper chest there makes her breasts look perilously close to her waist. I wouldn't want to look that way myself but she's clearly much braver than I am.
Quvenzhane Wallis in Armani Junior
She is the youngest academy award nominee ever, at nine years old. I love her dress - it evokes a "princess dress" feel and is the most beautiful colour on her. I love that her shoes and her stole matches her dress and that she's carrying the most adorable purse. This is perfectly age-appropriate and a fabulous choice.
Zoe Saldana in Alexis Mabille Couture
The center front of the skirt comes to a point in front, which I don't much like, but I love the multiple layers of fabric on that skirt. The embellishments on the bodice are the perfect balance to the skirt.
Octavia Spencer in Tadashi Shoji
One thing I love about this dress is that the sleeves and collar widen her shoulders, the skirt widens her hips, and the bodice is slim-fitting. Together, these elements create an hourglass silhouette.
Kerry Washington in Miu Miu
Considering that this is the Oscars, my expectations for red carpet attire are higher than they are for other red carpet events. For example, I expect dresses to be hemmed to the correct length here. This dress is too long, and that annoys me. Also, the dress looks like a bottle of pepto-bismol with a white cap.
Jenna Dewan-Tatum in Rachel Roy
A lace dress is a very bold choice for someone so pregnant. Of course she looks absolutely gorgeous; the lace is beautiful and the dress is sexy without being vulgar.
Jacki Weaver in Rana Salam
Most people who wear normalish clothes usually try to make their proportions look more normal. Unless she has an exceptionally short torso and exceptionally long hips, this is not normalish.
Lucy Alibar in Stephanie Yvonne Alvarez
This looks much like a bridal gown, except that brides wear better fitting dresses. And do something more formal with their hair.
Jennifer Lawrence in Dior
Now THIS is a well-fitting bridal gown. Many brides would love to look this good on their wedding day... unless they have to climb stairs, because this dress also tripped her up as she went up the stairs to accept her Oscar for Best Actress. Is a well-fitting dress worth tripping over?
Amanda Seyfried in Alexander McQueen
Except for the way the bodice makes her bobs look every so slightly droopy and the hair that makes the overall look much more severe this is a nice enough dress.
Sally Field in Valentino
The knot at the waist appears to be pulling her breasts into it. Because who doesn't want to wear a dress that deforms their chest?
Rachel Mwanza in Vlisco
She's wearing an African textile by an African designer and even though it's a mullet dress, the style and colour placement are gorgeous
Olivia Munn in Marchesa
The bodice is a little Wonder-Woman like. If an emergency were to arise, all she'd need to do would be to rip off the skirt, jump in her invisible plane, and save the day.
Helena Bonham Carter in Vivienne Westwood
This outfit fits her aesthetic but I think I prefer the calf- or ankle-length dresses on her over this full-length because her shoes add interest and complete the look. Otherwise, it just looks like she's wearing a bunch of shaggy layers.
Alicia Vikander in Elie Saab
This is one of my favourite dresses of the event. The lace is gorgeous is used perfectly throughout the entire dress. I also love the colour, the boat neckline, and raglan sleeves - really, I love the whole dress.
Catherine Zeta-Jones in Zuhair Murad
This might also be my favourite dress of the event. It's a little sparklier but t love the way the swirls have been placed throughout the dress to emphasize her curves and the transition between bodice and skirt. And I love that it fits her perfectly and flatters her figure.
Jennifer Hudson in Roberto Cavalli
Apparently she spent three days in fittings for this dress. The colour is gorgeous in her and the fit is spectacular. The transition between bodice and skirt is subtle and beautiful.
Melissa McCarthy in David Meister
If she was trying to choose the least flattering dress possible, she succeeded. Between the lack of a waist and the draping at the hip, her hips look much wider than they are and she appears to be round in shape. The colour is flattering on her but because the dress is so unflattering, somehow the colour appears drab. And then there's her hair. I know the 80s are on their way back and there might be situations where that hair would look ok but paired with this dress isn't one of those times.
Jane Fonda in Versace
She looks fabulous and brings a ray of sunshine to the red carpet, at least from the front. The back looks a bit strange, though - the waist embellishment and cutout don't work quite so well.
Norah Jones in Tadashi Shoji
The embellishment lines on the dress are flattering even though there's something weird about the difference between the spacing between the lines on the bodice and the skirt. The more I look at that spacing the more it annoys me so I'll move on now.
Marcia Gay Harden in David Meister
Well, this is new. Normally strapless mermaid dresses are worn with shrugs to keep the shoulders warm and to satisfy modesty requirements in churches. Here, the shrug is made of netting and is attached to the bodice itself. I'd like the embellishments on the arms much more if they didn't look so much like coral growths (unless they indicate that she's turning into a coral reef, which would be an interesting story indeed).
Helen Hunt in H&M
This is the low-cost approach to red-carpet dressing: wearing an inexpensive dress from H&M instead of borrowing or buying an expensive dress. It fits her well even if it does look like a prim dress, is slightly too long, and is terribly wrinkled. How does a dress get that wrinkled on te way over?
Anne Hathaway in Prada
Earlier in the day her people had spread the word that she would be wearing Valentino and then she surprised everyone by wearing this dress.
Word is
that she ditched the Valentino dress because it was too similar to Amanda Seyfreid's dress in that both were lace.
Apparently she picked this dress out three hours before the ceremony so there wasn't time to customize the dress for her. That would explain why her nipples appear to be so prominent (although those might be the ends of the darts, or both). From the front the dress is lovely but that back looks strange with the different strap sizes and that knot. A bow might have been better; not having the bottom strap would have been even better; wearing a different dress would have been best.
Naomie Harris in Vivienne Westwood
I saw a picture of her walking in this dress that showed off a LOT of both legs. I chose to post this picture instead because who needs to see her practically flash her ladybits? The bodice is pretty but the skirt is a little too short in front and much too flashy.
Charlize Theron in Christian Dior Couture
If this were a bridal gown, there would be rhinestones in that slit at the top of the bodice. The lack of sparkle actually makes this look less like a bridal gown although I find myself wishing that there was some jewllery up by her face.
Naomi Watts in Armani Privé
Aside from the fact that the dress is too tight around her waist, this dress is ok. The asymmetry on the bodice adds interest and is well balanced.
Emmanuelle Riva in Lanvin
She was also nominated for an award and I think she might have been the oldest person ever nominated. While I normally don't love something basically shapeless on the red carpet, she looks happy and who am I to argue with someone who looks that happy?
Adele in Jenny Packham
She's wearing her usual black dress again. It's her style and her aesthetic and it works for her; while the dresses might not be exactly fashionable, they're flattering enough.
Adele in Burberry (performance dress)
I prefer her performance dress over her red carpet dress because the silhouette is much more flattering. The shorter skirt length works better with her figure and height.
Jennifer Aniston in Valentino
I think I love the ballgown skirt she's wearing. It's a welcome change from mermaid skirts and it's so beautifully constructed.
Stacy Kiebler in Naeem Khan
Ok, THIS might be my very favourite dress of the event. Aside from the fact that it fits her perfectly and the silhouette is flattering, the embellishments are exquisitely arranged for maximum impact. I only wish that the back illusion netting didn't have a zipper because it looks so heavy and blocky. A side zipper would have been more unobtrusive.
Gloria Reuben in Oliver Tolentino
Is it just me or does that mermaid skirt look like a big, heavy rug? The best thing about this dress is the changing colours, Well, and the fit.
Nicole Kidman in L'Wren Scott
She looks a lot better than she did at the Golden Globes. This dress is a reasonably good choice although the thing at the waist looks like an alien breaking free from her stomach.
Salma Hayek in Alexander McQueen
I hope it's the angle from which the photo was taken because her head looks 'shopped onto her body, doesn't it? So let's avoid looking at her head and look at this gorgeous velvet dress. Everything fits her perfectly even though she's as curvy as ever.
Halle Berry in custom Versace
Apparently she wanted to have a dress that read "Bond girl". Bond girls usually wear dresses that are form-fitting, which this is, and sexy, which this isn't. This is the robot version of a Bond girl's dress.
Jennifer Garner in custom Gucci
She said she loved this from the moment she saw the sketch. This is one of those "work in the front and crazy in the back" dresses where the crazy shows through the front.
Queen Latifah in Badgley Mischka
She's wearing a lovely, simple, well-fitting dress. I love that even though she's a larger lady, she's not afraid to wear something that fits no matter what the label's size is. This just goes to show that you can't go wrong wearing a simple dress that fits properly.
Sandra Bullock in Elie Saab
I like how the lace tiers become larger towards the hem of the dress. However, seeing her legs under the dress is distracting and I think if she was wearing a nude lining (or even better, a grey lining), this dress would be a knockout.
Kristen Stewart in Naeem Khan
Poor Kristen; she had a serious cut on her foot and was hopping around on crutches during this event. She didn't wear the crutches on stage, choosing to hobble to the mic instead and paying for it by grimacing and panting in pain. If her dress was the right size I might not have noticed how much pain she was in.
Sunrise Coigney in Zero + Maria
She arrived with Mark Ruffalo and I'm wondering if he told her that for their date, they'd be going to the Oscars. I suspect he surprised her with these tickets because this dress isn't exactly formal and so doesn't work for the event.
Kelly Ripa in Carolina Herrera
I love this dress on her; it's unusual but flattering and fits her perfectly. I wish it was about one inch shorter because then it would be perfect.
Kristin Chenoweth in Tony Ward
She's so tiny! She's under five feet tall and when she was interviewing people in the red carpet I was sure that all of the interviewees were standing on pedestals :) . This dress is beautiful and I love the embellishments on the bodice.
Nancy O'Dell in Mark Zunino
This colour is positively electric against her skin tone. I don't love the light blue colour or the slit-to-there but the dress fits her very well.
Kelly Osbourne in Tony Ward Couture
The ombre sparkle effect is quite lovely and - wait, is that the outline of her breasts on the bodice there? Here I was going to say that the straps are over-engineered and fussy but thank goodness they're there or else her breasts would be more visible and the focus of the dress.
Renee Zellweger in Carolina Herrera
I didn't love the back view at first but the more I see it, the more I like it. It adds interest and makes the dress unusual. She looks positively amazing in this dress - it fits her and emphasizes her ample curves.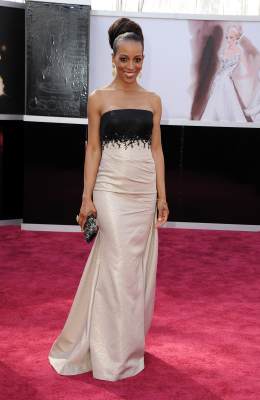 Shaun Robinson in David Meister
The hair is a little bit prom-like which makes the dress look less red-carpet-y and more prom-y. Also, the black bodice is strangely proportioned: it's just a bit too long to be an empire waist. If it were an inch shorter it would be perfect.
Dame Shirley Bassey in Isabel Christianson
Is that fringe on the skirt? Are those sequins above the fringe? That's.... weird. The elbow-length sleeves make her waist look wider and as a woman with a normal body, she doesn't need help making her waist wider.
Dame Shirley Bassey (performance dress)
Of course a gold dress is the perfect thing to wear to since Goldfinger (which she knocked out of the park). Many people thought that she was wearing elbow-length sleeves. She's not. There's illusion netting connecting the dress, collar, and sleeves together. Good thing, too, because those breasts are barely contained as it is! I'm just happy that there's no fringe on that skirt.
Georgina Chapman in her own design
I didn't know that she was pregnant - not that she would tell me or that I actually care. I love the dress with its embellished bodice and empire waist. The elbow-length sleeves work here because of the silver embellishments and empire waist; the narrowest part of the dress is above the sleeves hem at the empire waist.
Aparna Danna in Dinesh Ramsay with Mychael Danna
This is a fashionable version of a sari and I love it. I actually love saris but I think it might be weird (and maybe even offensive) if I wore one. She looks fantastic.
Robin Honan (L) and Cynthia Wade
Robin Honan's dress is pretty enough but it's a little bit tight. Those wrinkles aren't from sitting - they're from the fabric desperately trying to fit over her curves.
Cynthia Wade's dress is fine. It fits her but the colour is a bit blah, don't you think?
Sarah Strayer with J. Ralph
Well this is sort of odd, isn't it? The dropped waist shape doesn't work with the bodice. Maybe it would work better if it actually fit her properly or the colour was flattering. On second thought, not even a better colour could save this dress.
Brenda Chapman (R) and guest
Brenda Chapman was the original writer-director of Brave (there's a bit of a backstory there - read about it
here
). I love love love this Steampunk-style dress which fits her perfectly. The colour brings out her eyes and looks fabulous on her and I love all the lace.
I think her guest might be her daughter but I'm not sure. This dress is pretty, if a bit prom-like, but it coordinates with Brenda Chapman's dress and fits her really well.
photo credits: www.zimbio.com, www.twitter.com, www.accesshollywood.com, www.thesun.co.uk, www.hollywire.com