I'll bet you never thought you'd see another red carpet post from me. I've actually started a few over the last year but by the time I got to working on them it was so far past the event that it didn't seem worth posting them. This time, I really wanted to get one done. So here it is!
Most of the outfits people wore looked ok although there are always a few that are not quite right for the occasion. I'm happy to report that the strapless mermaid dress is fading from view but sad to tell you that the mullet skirt (shorter in front and longer in back) is showing up more frequently. Sparkles and embellishments are more subtle than they used to be which is a pleasant change.
Enough of me talking; go and have a look at the outfits. Enjoy!
Rocsi Diaz in J. Mendel
The geometric lines are quite flattering and make this dress more interesting than it would be as a plain white or ivory dress.
Nancy O'Dell in Marchesa
Pretty colour but the the super-low neckline is a little tacky, don't you think?
Louise Roe in Monique Lhullier
I don't know which is the part that doesn't work: the long lace sleeves, the lace upper bodice, or the lace-covered cutout things under the bust. Maybe the sleeves?
Maria Menounos in Max Azria Atelier
Even though the colour is weird and the cutout lines don't flatter her hips, I like the silhouette and the idea of the cutout lines.
Shaun Robinson
I think she's sticking out her leg so that no one will notice that the dress makes her bust look smaller than it is.
Thea Andrews in Ali Rahimi
The colour is lovely on her but the furry bodice makes her waist look thicker than it is and her hips look longer than they are. A slightly different placement of the furry rosette bits would have been much more flattering.
Laura Carmichael in Viktor & Rolf
That bodice is way, way, way, way too tight - I don't know how she was able to sit through the show, let alone eat. The black skirt bit also looks like an afterthought. She can do better.
Jacqueline Bisset
After
that strange acceptance speech
, how can I talk about a dress? Even this one, which bears a stronger resemblance to an 80s mother-of-the-bride dress?
June Squibb
I don't know who she is but I do love her dress. The colour is gorgeous and I love the juxtaposition of velvet and lace. She looks beautiful.
Melissa Rauch in Romona Keveza
Either the draping on the hips is just a bit too low or the skirt is just a bit too straight. The dress fits her torso like a glove and the shape there is flattering. The colour is a bit dull against her skin; a slightly greener yellow would have been a better choice.
Sarah Hyland in Georges Hobeika
The dress is pretty and it fits and the shape flatters her. A brighter or deeper colour would have been better against her skin tone.
Aubrey Plaza in Oscar de la Renta
I like this even though it's slightly mullety. There's somethign about the asymmetric shape of the skirt and the colours used in the dress that appeals to me. Apparently there's a big bow at the back waist that we can just see behind her arm there but I can live with that. It's a lovely dress.
Monica Potter in Romona Keveza
The bodice is nice and the skirt would be nice if it weren't quite so long. If the skirt were the proper length, it would have a lovely a-line shape but with all that extra hem it looks big and ungainly.
Kristin Connolly in Lorena Sarbu
I hope that she's used quite a lot of double-sided tape to keep that bodice in place because it looks like it's about to succumb to gravity. I like the colour and the use of sheer fabrics.
Zooey Deschanel in Oscar de la Renta
A beige crop top like that would be so much nicer paired with a slim skirt or pants rather than an a-line mullet skirt. Then again, this is Zooey Deschanel, who will wear just about anything if it's cute or twee.
Caitlin Fitzgerald in Emilia Wickstead
I don't normally like mullet skirts but I do like the shape of this one. The bodice doesn't work nearly as well; it sort of looks like she's wearing her top backwards. The colour is gorgeous on her.
Leslie Mann in Dolce and Gabbana
The scalloped bodice is pretty. The peplum is way too heavy and thick to be flattering, however. And black is much too harsh a colour for her.
Margot Robbie in Gucci


There's no point to that leg slit; it's not needed for walking and it detracts from the lovely lines of the dress.
Margot Robbie's Christian Louboutin shoes
When I saw this detail shot of her shoes, I had to post it. Aside from the fact that the platform on these shoes is kind of dated to my eyes, they're at least two sizes too big for her. Can you imagine walking in 14cm (5.5") heels that are two sizes too big? It would be like walking on your tippy toes. Heels this high are uncomfortable enough to wear; wearing them way too big would be excruciating.
Amber Heard in Versace
Now here is a skirt slit with a purpose:to balance the design lines of this dress. The slit works with the one-shoulder bodice and doesn't look strange with the full skirt - although it does go up rather high, doesn't it? The colour is perfect for her. One question remains: why wear black shoes with a navy dress?
Lupita Nyong'o in Ralph Lauren
Many people loved this dress. It is lovely, being well-designed with smooth lines and just the right amount of shoulder showing. I'm not convinced that the colour is super-flattering on her skin but I'm willing to overlook that for this unusual dress.
Michelle Dockery in Oscar de la Renta
Now this is a mullet dress that I don't love. While the hem shape is balanced and the dress shape is tasteful, it's the mulletness itself that just doesn't work for me.
Elisabeth Moss in J. Mendel
On-screen, this dress was brighter and I actually liked it.... at least until I saw that hem. And the lining that cuts off at the knees. Why would anyone take a perfectly nice dress and cut up the hem like that?
Emilia Clarke in Proenza Schouler
The use of a black lining changes this dress from a basic white gown to an oddly-coloured gown. I don't love the final effect; it ends up looking like one of those puzzle things that you stare at and that create a picture.
Lena Dunham in Zac Posen
Oh dear. This may be the least-flattering gown at this event.The colour is not at all flattering, her bust looks both small and squeezed in, and her hips look both wide and super-long. She's a beautiful woman and can do so much better.
Megan Mullally
People didn't like this gown because of the poufy detached sleeve things and the glasses. I say that it's about time women wore glasses to red carpet events. And those sleeves are kind of interesting; they elevate the dress from boring to interesting.
Tina Fey (L) in Carolina Herrera and Amy Poehler in Stella McCartney
The first of three dresses each of them wore. I love both. Tina's dress has a beautiful print, fit, and train, and I love the wrap effect of Amy's dress. I only wish they'd worn these gorgeous gowns on-stage.
Tina Fey (L) in Carolina Herrera and Amy Poehler in Stella McCartney
The second dresses they wore. Tina's dress, with the deep maroon colour, rhinestone embellishments, and sleek fit is beautiful. It might be a smidgen too tight on the hips - she's clearly wearing what used to be called a girdle and is now called shapewear - but it's still gorgeous.
Amy's dress is my least favourite as I find the bodice shape to be unflattering on her. It's not the best choice for her.
Tina Fey (L) in Carolina Herrera and Amy Poehler in Stella McCartney
The final dresses the pair wore. The reddish one that Tina is wearing has that lovely detail on the bodice but other than that, it's nothing special. Amy's dress is quite flattering; the white strip at the top makes the dress much more interesting than it would be otherwise.
Berenice Bejo in Giambattista Valli
That is one hideous jacket. I think it may be uglier than an ugly Christmas sweater.
Laura Dern in Roberto Cavalli
This may look like an animal print but it's actually embellishments in the shape of an animal print. Not that the method of construction makes the dress attractive or the colour flattering.
Ariel Winter in Mikael D
I think this dress could be a little more flattering if it emphasized her waist a bit more. That aside, it fits her well and the colour is lovely.
Lily Rabe in Georges Hobeika
If the bodice had been lined with the same colour fabric as the skirt, this dress would be gorgeous.
Zosia Mamet in Reem Acra
I love this dress. The black embellishment is absolutely stunning; they're arranged in an unusual way that I love.
Hayden Panettiere in Tom Ford
The bodice is ok but the colourblocking and the leg slit don't quite work. What's notable about this dress is that she purchased it where pretty much every other woman on the red carpet was loaned her dress (along with her shoes and jewellery). Apparently she wanted to wear Tom Ford but he only dresses (loans a dress to) one woman per event so she bought this dress herself. Some fashion people were shocked and appalled by this brazen act of buying the dress instead of getting one for free.
Robin Wright Penn in Reem Acra
I love this dress: everything from the neckline to the hem is well-designed and beautiful. The only fault is that while she was onstage, the neckline slipped a bit and we could see her stick-on bra. Clearly she needed more double-sided tape.
Joanna Newsom with Andy Samberg
Very few people would be brave enough to wear a dress like this at a red carpet event. I'm not sure where it actually belongs, but I don't think it's on a red carpet.
Julianna Marguiles in Andrew Gn
Some called this the best dress of the night. I'm not sure I agree with them; the dress is well-balanced and is lovely but the best of the night? No.
Kerry Washington in custom Balenciaga
Apparently there were many rumours that she was pregnant but it wasn't until this red carpet that those rumours were confirmed. I love this dress; it's perfect for her figure and shows off her belly without being vulgar.
Gabourey Sidibe in Daniel Musto with Michael Costello
No one likes what she wears but I think the problem people have is that she's not thin like most people on the red carpet (and I can't tell you how sad I feel because of that). I think a bit of extra draping under the bust would have been slightly more flattering but as it stands, I think this dress is lovely and flattering.
Lizzy Caplan in Emilio Pucci
I love this dress. The contrasting upper bodice, sleeves, and side panels add interest to what is otherwise a basic silhouette.
Kyra Sedgwick in J. Mendel
This just goes to show that tiny people can wear outfits that are too tight and/or too long. The bunching around the waist indicates to me that this dress is too tight for her on the hips.
Kaley Cuoco in Rani Zakhem
The print is kind of drab and the silhouette is nothing fancy. If the print was bolder this dress might work. As it is, it's kind of dull.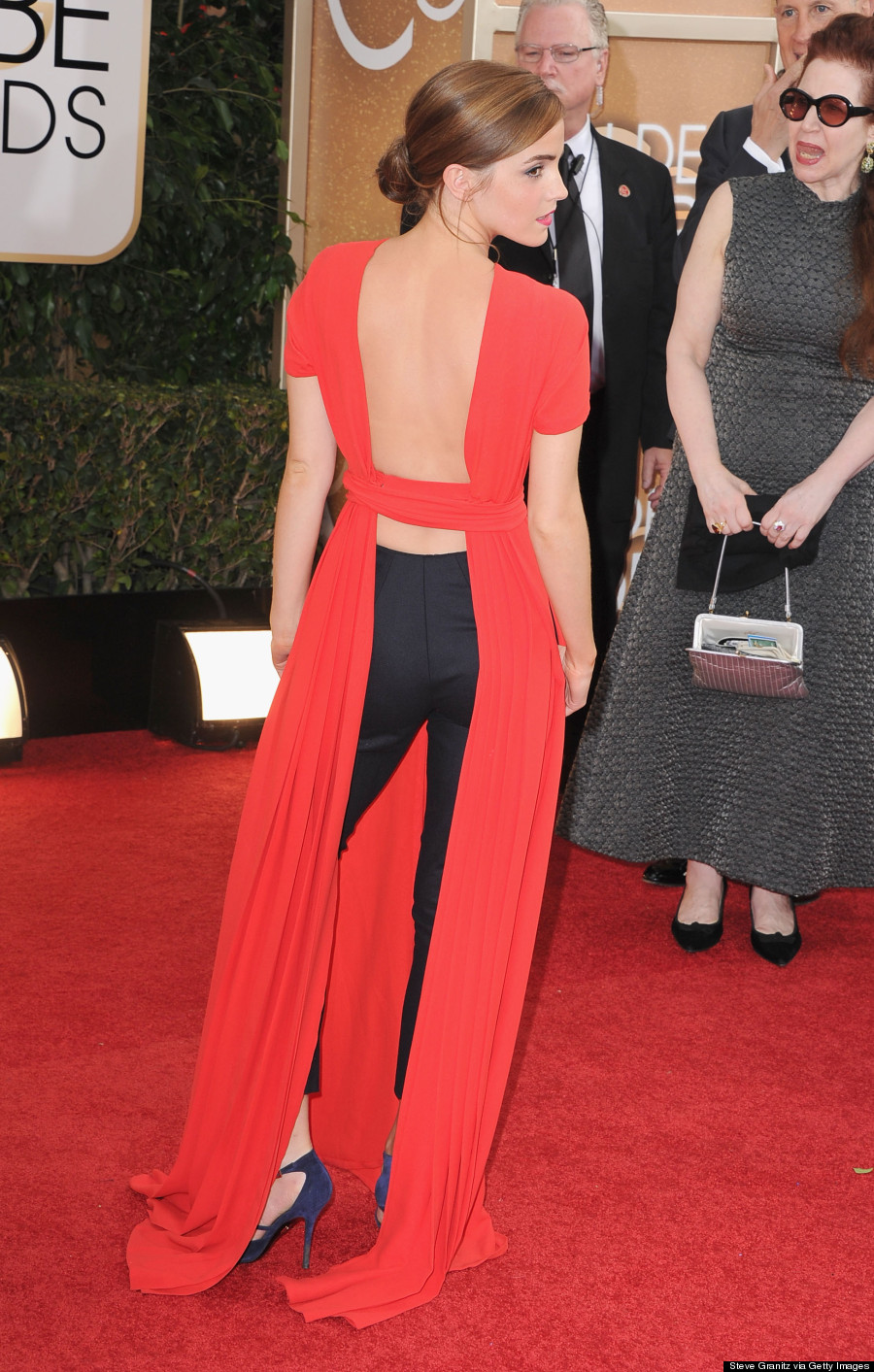 Emma Watson in Dior Couture
Not many people would be brave enough to wear leggings and a backless dress on the red carpet. The front is gorgeous and the back is .... unusual. I don't hate it; I admire the risk she took.
Cate Blanchett in Armani Prive
Another dress that I love. I especially love the lace edging on the neck and sleeve edges. It's gorgeous.
Taylor Schilling in Thakoon
It's important that some people wear unflattering dresses so that I don't just write comments about how much I love each dress. So we should all be thankful that she chose to wear this unflattering 70s negligee.
Kate Mara in J. Mendel
She's such a tiny little thing and those shoulders are just so big. Somehow she isn't pulling off the warrior queen look - or maybe it just doesn't work for her.
Reese Witherspoon in Calvin Klein Collection
Cool, clean, and collected. I'd expect nothing less.
Sofia Vergara in Zac Posen
She's not showing quite as much cleavage as usual and I have to say that I'm grateful for that. She's a beautiful woman but I don't need to see how large her bust is, you know? I love this dress as a work of art: the way the skirt panels are constructed is beautiful. It isn't exactly a practical dress, though, is it?
Sosie Bacon (Miss Golden Globe), daughter of Kevin Bacon and Kyra Sedgwick, in Rhea Costa
This is pretty, if a bit nondescript. Then again, her job was to help people onstage figure out where they were supposed to go so her outfit shouldn't stand out.
Olivia Wilde in Gucci
She is positively glowing! I love the extra sparkly embellishments on the shoulders and across the neckline; they are just enough to add interest but aren't so much that they look tacky. The colour is gorgeous and it fits her perfectly, showing off her belly in a tasteful way.
Taylor Swift in Carolina Herrera
You never know where she's going to show up; in this case, she was one of the Best Song nominees. While I'm thrilled that she's not wearing a white dress and I like the asymmetric poufy thing on the skirt, this dress is way too long and it looks like she forgot to wear her top.
Uma Thurman in Atelier Versace
This halter bodice shape has shown up a lot of this red carpet, hasn't it? I like it because it shows off the shoulders without showing a lot of cleavage. I love love love love this dress on her; it fits her perfectly and the silhouette is gorgeous. Plus it's sparkly and what's not to love about sparkles?
Jennifer Lawrence in Dior Haute Couture
I'm in agreement with most people that this dress isn't all that attractive; it kind of reminds me of an old-school
corn broom
. It fits her perfectly and stays in place, at least.
Melissa Fumero in Randi Rahm
A halter neckline doesn't work for everyone, and this is a case in point.
Kristin Chenoweth in Aiisha Ramadan
I remember the days when she was wearing sequinned towels on the red carpet. I have to say that I prefer this dress to those, although it could use a little bit of jewellery around the neckline as it's just a bit plain.
Julia Delpy in Romona Keveza
That's a crazy neckline; I wonder how it stays in place? If the dress weren't too long, this dress would be so much better.
Julia Roberts in Dolce & Gabbana
Why wear a white collared blouse under a strapless dress? Does she not like strapless dresses? If not, why not wear something else - or else wear an evening blouse under the dress?
Sandra Bullock in Prabal Gurung
I don't love mullet dresses, as you know, but I do like the colourblocking on this one as it makes the shape more interesting.
Emma Roberts in Lanvin
The neckline is a bit weird but the dress fits her. It's a bit boring, though, isn't it? Is boring is better than unflattering?
Mila Kunis in Gucci Premiere
The proportions are a bit weird so she looks short and like she's got a bit of a sagging uniboob. But it's sparkly and floaty, all in one dress.
Zoe Saldana in Prabal Gurung
Apparently he thought of her while he designed it, which begs the question: what, exactly, does he think of her?
Jessica Chastain in Givenchy
This is a nice, simple silhouette with interest added by the crossover pleating at the waist. That gorgeous necklace works with the bodice to fill in that space.
Drew Barrymore in Monique Lhullier
She looks so radiant. I almost love this dress. I love the fabric, and I love the shoes, and I love the bodice, but I really don't love the mullet skirt or the way the slip stops at her knees. If I imagine the dress being a little bit longer and the slip not ending so sharply, I like it.
Allison Williams in Alexander McQueen
I almost like it. The silhouette is simple with a bit of interest, which I like, but the striped bodice just doesn't look quite right to me.
Rashida Jones in Fausto Puglisi
If I cover up her hair and the black belt, I like it. Why a black belt, anyways? Why not gold to go with the trees?
Helen Mirren in Jenny Packham
It's the colour of unwearable bridesmaids dresses everywhere. Sure, it looks nice on her, but this would be so much more gorgeous in red.
Jenna Dewan-Tatum in Roverto Cavalli
Someday strapless mermaid dresses will fade from the red carpet. At least this one has interesting and unusual embellishments.
Paula Patton in Stephanie Rolland Couture
This is the kind of dress that one would wear to a standing-only event because that poufy thing on the left side isn't going to look great when she's sitting down. Worse, she can't actually walk in this dress - and if it's too tight to walk in, it's too tight to sit in.
Kate Beckinsale in Zuhair Murad
I know, this is another strapless mermaid dress and her boobs are being held within an inch of their lives but I love the embellishment and ombre colouring of this dress. In fact, I love the fabric so much that I love this dress.
Edie Falco in Lanvin
This would be a great dress to wear if she was pregnant because there's lots of room for a growing belly and the poufiness on the torso draws your eye right to the belly. But she's not pregnant.
Taissa Farmiga in Elie Saab
Where did she think she was going? This is a lovely outfit for a young teenager, which she isn't, or for a more casual event, which this isn't.
Minnie Driver
Even though this is a short dress, it looks adult enough to be worn on the red carpet. Compare and contrast her outfit with Taissa Farmiga's virginal white dress, above.
Heidi Klum in Marchesa
I think we're all grateful that she's not wearing something tight, short, and shiny but I do wish she'd wear something under which her bust could be fully supported.
Julia Louis-Dreyfus in Narcisco Rodriguez
Is this particular red her best colour? I don't think so. The dress is nice enough, and I like the straps, but the colour falls flat here.
Julie Bowen in Carolina Herrera
I shouldn't like this colour combination, because there is something of the
Red Hat Society
in its colouring, but love it. The bodice is interesting, the skirt fits perfectly, and somehow the belt ties the disparate colours and textures together.
Emma Thompson in vintage Lanvin
She's hilarious. When it was her turn to present an award, she came up on stage with her shoes in one hand and a martini in another. Apparently the shoes are uncomfortable - which is no surprise given the height of those heels, but which is a contradiction to what others say about these shoes. I guess this brand is comfortable if you're used to super-high heels?
Anyways, the dress. Sadly, it's not quite right: the bodice flattens her bust just a bit and the length is weird (although perfect with bare feet so it might work with flats).
Amy Adams in Valentino
This looks like a Frankendress to me: the bodice comes from one dress while the skirt belongs to another. A belt would help. Or another dress.
Sarah Paulson in Marchesa
You can't tell in photos, but this whole dress (and her shoes) twinkled and sparkled under the lights the way I imagine a Disney princess dress does. As much as I love the colour and the way it sparkled, I do wish that the skirt was just a bit longer or shorter... or just different.
Sally Hawkins
Where does one get a top that looks like that, I wonder? I included this not because of the top but because of the skirt and in particular, its hem. Look at it: chunky, heavy, and obvious. Hems aren't supposed to look like that (unless you're actually trying to embellish the hem, in which case you'd want a wider thing there). That hem is just plain awful.
Naomi Watts in Tom Ford with Liev Schreiber
Tom Ford lent her this dress. It's nice but it wrinkles really easily which isn't so flattering. I like the necklace addition which makes the bodice much more interesting than it would be otherwise.
Tracy Pollan in Carolina Herrera with Michael J. Fox
The colour is nice against her skin but the embellishments look a little busy for my taste. The dress is also just a bit too small as it's pulling on her waist.
Melissa McCarthy
If the grey sparkly scarf embellishment thing went all the way around her neck or didn't stop at the back of her neck, this dress would be perfect. As it is, it fits and flatters her figure.
Dianne Wiest in Memeka by Gustavo Cadile
Those sleeve things look like an afterthought and don't flatter her. Also, what's going on with the poufy tulle behind her?
Someone with Eric Singer
I have no idea who she is or who designed this dress but I included it because I love it. It's flowy and soft with a gorgeous bodice. It looks super-comfortable and it's flattering.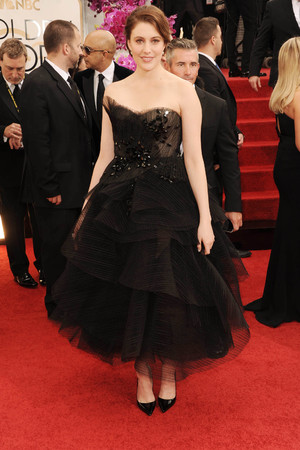 Greta Gerwig in Donna Karan Atelier
I get a ballerina vibe from this dress; I guess it's better that the skirt is shorter because it would be rather overwhelming if it went to the floor.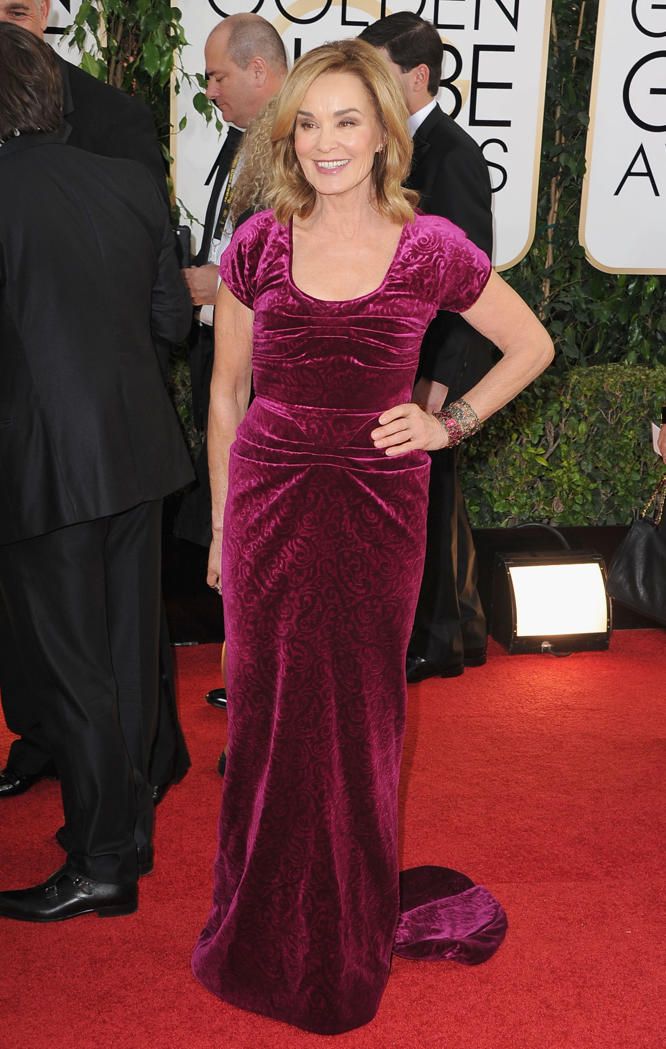 Jessica Lange
This dress was fine when she was sitting down but seen in its full length, it's hideous. Those horizontal pleats, that waist seam, the neckline, and the sleeves all work together to create something that doesn't belong anywhere, let alone here.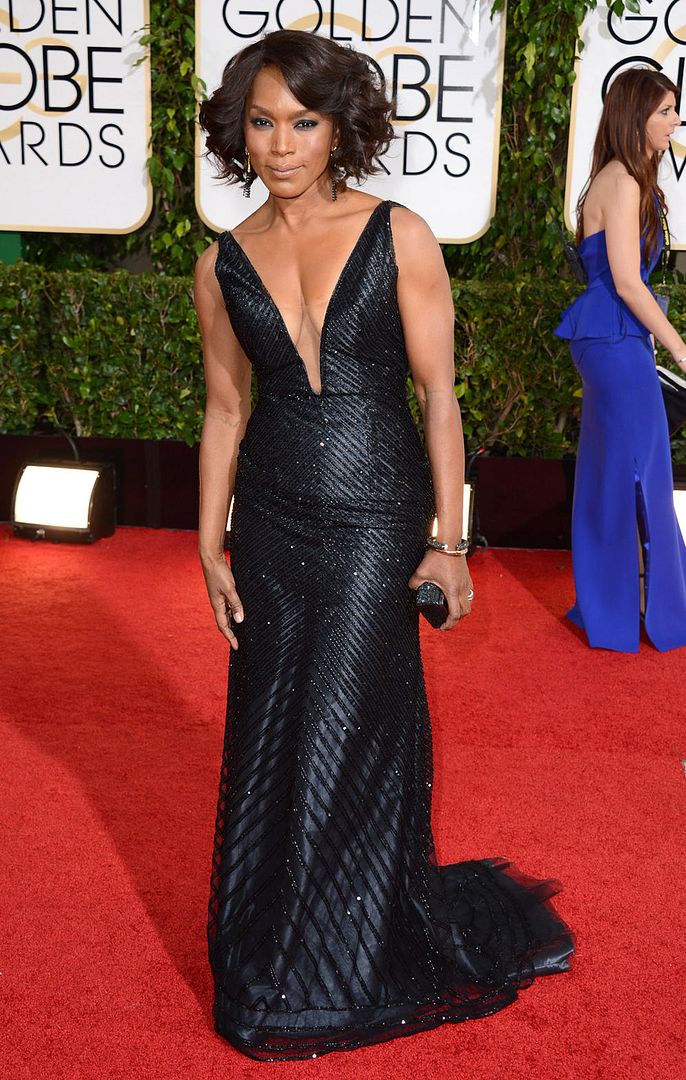 Angela Bassett in Ines di Santo
Gorgeous! The silhouette is stunning and the fabric with its embellishments is beautiful.
Tatiana Maslany in Jenny Packham
The bodice is just a little bit too long for her. I don't know if its supposed to fold there at the waist but it doesn't work for her; raising the straps just a bit would make this a perfect choice.
Anna Gunn in Donna Karan Atelier
If I weren't so worried that the bodice was going to fall down and if the dress weren't the same colour as her skin, I'd love this dress. It fits her like a glove.
Emma Stone in Chanel
For some reason, there were no pictures of her on the red carpet. This outfit was definitely a bold choice since it's basically a top and skirt and the skirt is unusually shaped. It kind of works for her (although not with her hair colour) but it would be better if the skirt didn't have that black yoke.
photo credits: zimbio.com, celebritybug.net, dailymail.co.uk, miamiherald.com, huffingtonpost.com, digitalspy.co.uk